The 11 Best Forearm Exercises You Can Do, According To Trainers
These muscles are key for gripping and grabbing.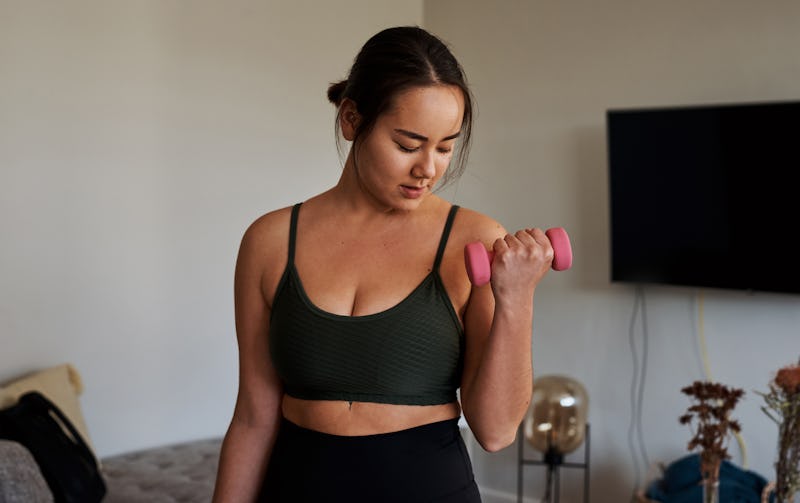 Getty Images/Hiraman
During an arm workout, it's typically the bicep and triceps that get all the love. While it's certainly beneficial to move through sets of bicep curls and tricep dips, adding some forearm exercises to the mix will work wonders for your arm strength.
Even though you don't think about them very often, the forearm muscles are involved in countless movements, says Sandra Gail Frayna, PT, a physical therapist and founder of Hudson Premier Physical Therapy & Sports. From everyday things like carrying bags and opening jars to activities like tennis, rock climbing, and weight lifting, your forearm muscles are what help you grip and grab, she tells Bustle.
Forearm strength also helps protect against injuries like tennis elbow and carpal tunnel syndrome by providing more muscular support, says certified personal trainer Rob Wagener. When you do some good forearm workouts, you're effectively strengthening several different muscles, including the forearm pronators, supinators, wrist flexors, and wrist extensors.
"These muscles control forearm rotation in addition to actions like the flexion and extension of the wrist, finger, and forearm," Frayna explains. "Although the forearm muscles are not typically the main focus of exercises, neglecting them can result in imbalances and weakness that can affect the strength and functionality of the entire upper body." In that case, if you're looking for a good forearm workout, here are 11 forearm-strengthening exercises trainers recommend adding to your fitness routine.
Studies referenced:
Lung, BE. (2022). Anatomy, Shoulder and Upper Limb, Forearm Brachioradialis Muscle. In: StatPearls [Internet]. Treasure Island (FL): StatPearls Publishing. Available from: https://www.ncbi.nlm.nih.gov/books/NBK526110/.
Mitchell, B. (2022). Anatomy, Shoulder and Upper Limb, Forearm Muscles. Treasure Island (FL): StatPearls Publishing; 2022 Jan. https://www.ncbi.nlm.nih.gov/books/NBK536975/
Sources:
Sandra Gail Frayna, PT, physical therapist, founder of Hudson Premier Physical Therapy & Sports
Rob Wagener, CPT, certified personal trainer
Lalitha McSorley, PT, physical therapist, personal trainer at Brentwood Physio
Marshall Weber, CPT, trainer, owner of Jack City Fitness
Michael Hamlin, NSCA, CSCS, personal trainer, founder of Everflex Fitness
David Mason, personal trainer
Ryan Ernsbarger, CPT, certified personal trainer