31 Sex Positions To Try Every Day Of The Month
Make it a nightly challenge.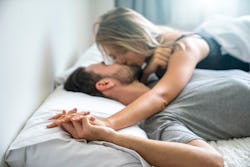 Witthaya Prasongsin/Moment/Getty Images
If you've been with your partner for a while, there's a good chance you've developed something of a routine when it comes to sex. Maybe your brain isn't a catalogue of 900 different sex position names with instructions on how to do them, but you generally know what works for you both and what to expect. Knowing exactly how to get yourself off is great, but throwing down in the same spooning-to-doggy routine every time you do the dirty can get repetitive. Keeping your sex life exciting can be tough, but it's important to make sure you're happy with that area of your relationship. If you or your partner start to feel bored, it can affect your bond.
"A relationship is like a bicycle — when one of the wheels is flat, it will still go, but not well," Eric Marlowe Garrison, sex and relationship counselor and author of Mastering Multiple Position Sex, tells Bustle. "Even if only one partner is in that sex rut, it's going to affect the relationship sexually. When you need something that your partner doesn't need, it's difficult to understand why they don't need it."
How do you keep the spark alive? Part of it involves keeping things interesting in your sex life — and one of the easiest ways to do that is by trying new locations and new positions. "Trying different positions implies a sense of curiosity and comfort in a sexual relationship, and some let you feel things differently," Carol Queen, Ph.D., sex educator and staff sexologist at Good Vibrations, tells Bustle. "Don't think you have to try them all on one date (unless you're with someone who is as eager to do that as you might be)," they add. "Many people find there are several positions that become their go-tos, and they leave others on the table — that's OK! But it's great to try a variety because that's how you discover which suits you and your partner/s best."
So, here are 31 sex positions — thirty freaking one. Use them as you please, whether you do a month-long challenge or just want a database of sex positions to have on hand. These are the best sex positions you can try with a partner — or two.
Mixing up sex positions keeps your sex life fresh, so if you feel like this area is lacking, it's worth trying out some new moves with your partner. Just stay hydrated, because there's a lot to try this month.
Sources:
Carol Queen, Ph.D., sex educator and staff sexologist at Good Vibrations
Amy Levine, sex coach and founder of Ignite Your Pleasure
Lola Jean, sex educator, instructor, coach, and writer
This article was originally published on