15 Flirty Texts To Send Someone Who's At Work
Give them something to look forward to when they, uh, get off.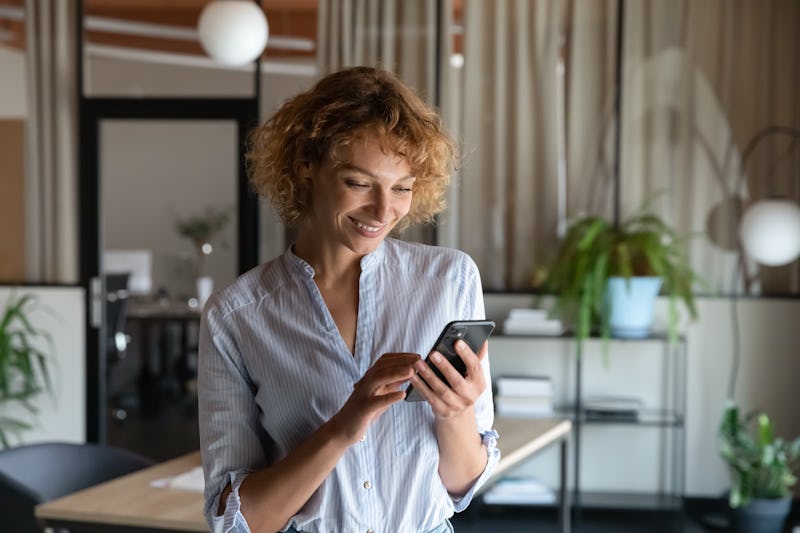 Shutterstock
No matter how long you've been dating, communicating with your partner or crush when you're not together is a great way to stay engaged and show that you're regularly thinking about them. Whether you send some cute selfies on Snapchat, memes on Instagram, or have a standing FaceTime lunch date, there are countless ways your phone can make working in separate offices more manageable. From time to time, even when the ol' 9-5 gets busy, you might want to try sending some flirty texts to someone who's at work.
Sure, knocking out items on their to-do list may be your partner or crush's number one priority, but that doesn't mean you can't offer them a little entertainment by way of a fun and flirty text. It'll keep you on their mind, after all. If you're with a long-term partner who works (far) away from you, doing so can also keep that spark alive, says Erika Kaplan, a professional matchmaker and vice president of membership at Three Day Rule. "It's important to ensure you're sprinkling in some affirmative words of love in your day-to-day texts and other conversations," she previously told Bustle. "Try not to let the mundane day-to-day usurp the fact that you two really do have a romantic connection." Enter: saucy messages sent via SMS.
Here are 15 flirty texts to send someone who's at work — all of which are guaranteed to make your crush (or S.O.) smile at their desk.