6 HIIT Leg Workouts That'll Strengthen Your Entire Lower Body
Work your hamstrings, quads, and glutes as you get your cardio in.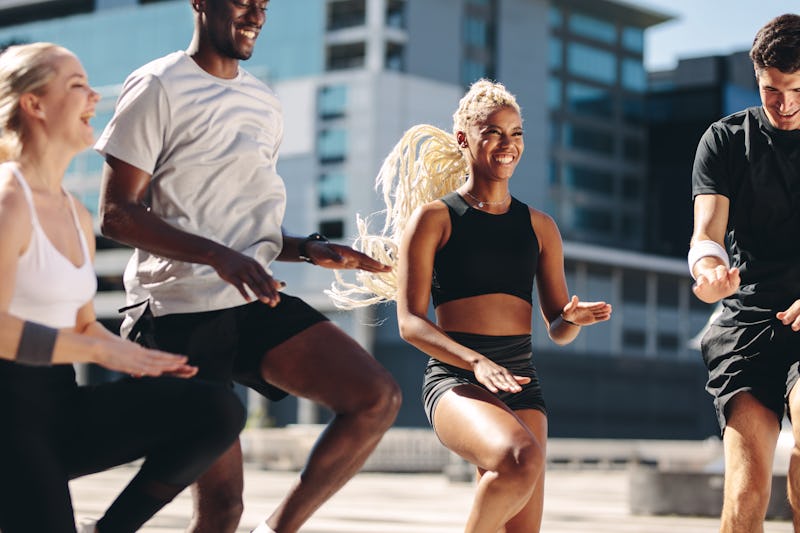 Shutterstock
A fast and furious HIIT session is always a great way to get your heart pumping. With the right exercises, you could also rely on a spicy interval-based session to target certain body parts and turn it into, say, a HIIT leg workout.
If you're not familiar, HIIT stands for high-intensity interval training, which is a form of cardio exercise that involves quick bursts of energy followed by short periods of rest, says Rachel MacPherson, a certified personal trainer and Garage Gym Reviews expert. The goal is to push yourself as hard as you can during the working intervals for an anaerobic workout, she explains. "This is opposed to aerobic exercise, which is more easily sustained and can be done for a longer period of time," MacPherson tells Bustle (think jogging versus sprinting). "With HIIT, you work at about 80 to 90% of your maximum heart rate or a nine to 10 on the rate of perceived exertion scale when you're pushing yourself."
You could turn to a HIIT routine to fire up your lower body muscles, which is beneficial if you want to train for agility or speed, says MacPherson, or to prep for a sport. In that case, "it's best to stick to movements that mimic the same things you do during your sport," she suggests. "If you are a soccer or football player, for instance, sprinting and changing direction quickly are good ways to train. Basketball and volleyball players should work on their vertical jump in their HIIT workouts." Other than that, interval-based leg routines can simply work to increase your lower body strength — which is essential for your everyday movements.
If you're ready to sweat it out, keep scrolling for some fiery HIIT leg workouts that trainers recommend.
Studies referenced:
Foster, C. (2015). The Effects of High Intensity Interval Training vs Steady State Training on Aerobic and Anaerobic Capacity. J Sports Sci Med. PMID: 26664271; PMCID: PMC4657417.
Sources:
Rachel MacPherson, certified personal trainer, Garage Gym Reviews expert
Daniel Cooper, exercise physiologist, personal trainer
Tom Holland, MS, CSCS, CISSN, certified personal trainer