The Best Yoga With Adriene Classes For Tight Hips
These'll bring much-needed TLC.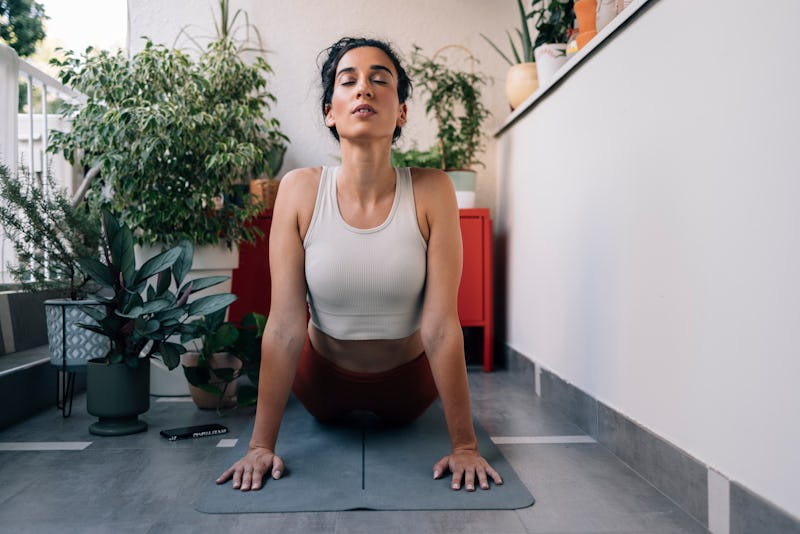 FreshSplash/E+/Getty Images
If you sit a lot for work or school, you might notice that you have tight hips the second you stand up and try to walk. It'll be that annoying pulling sensation that starts in your hip flexors and maybe even radiates to your lower back and legs. That's where a body-opening yoga session can come to the rescue.
Of course, one of the most popular digital destinations for yoga flows is certified yoga instructor Adriene Mishler's super-popular YouTube channel, which is brimming with all sorts of targeted stretch routines for the back, shoulders, neck, and beyond. Then there are Yoga With Adriene hip-opening sessions meant specifically for the all-too-common WFH body ache. These feature all of your fave poses to lengthen, loosen, and lubricate the joints and muscles in the pelvic region — think pigeon, butterfly, frog, and more.
It's important to remember that all of your different muscle groups are connected, as Mishler likes to remind you in her videos. When one area gets tight (like your hips), it starts to pull on other areas (like your lower back), thus creating tension and pain in parts of your body that are seemingly unrelated. That's why, while the yoga flows below zero in on your hips, a lot of them also include stretches for your back and legs, too.
Whether you choose to do a quick 6-minute video or commit to a longer yoga flow, you're bound to find a Yoga With Adriene video that'll stretch your hips in a way that gets you back to your limber self.