So, Does Your Partner Need To Know Everything?
Relationship experts weigh in.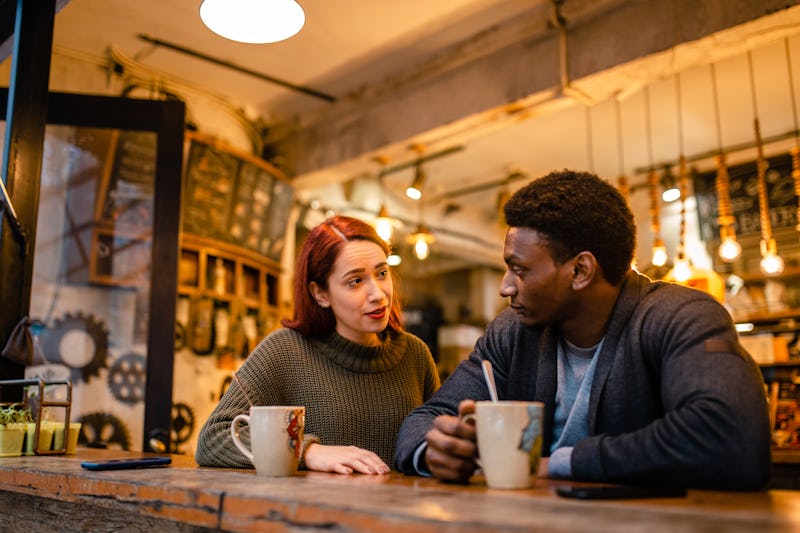 Kosamtu/E+/Getty Images
There comes a point in each budding relationship when you start peeling back petals on your respective pasts. While it may feel tempting to reveal everything, it's OK to be discerning. "Relationships don't have to be a complete open book," says Jonathan Bennett, a relationship and dating expert. "There are some things you might want to keep private because you find them embarrassing or regretful, [or] because your partner just wouldn't want to know."
Former Bachelor Nick Viall agrees. "If there's a big heavy thing you want to share, I think you want to kind of sprinkle it in," he told Bustle earlier this week. "See how they respond to adversity. Sometimes people will want to share these vulnerable stories and they share it with people who don't show grace or empathy and they get judgmental or nervous energy... so I think you kind of want to see [if] people can handle [it]."
According to a 2020 survey from Lelo and OnePoll, the most uncomfortable topic for couples to talk about is their number of previous sexual partners. Of the 2,000 survey respondents currently in relationships, 40% hadn't disclosed "their number," and of the 58% who had, nearly half shared the information within the first three months of dating.
As a guiding framework, weigh the pros and cons. That way, "[you can] proceed knowing that the information is necessary to share," says Anna Gonowon, a relationship coach. Below, six experts recommend topics to share with your partner — and a few to keep close to the vest.
Experts:
Jonathan Bennett, counselor, part-time professor, and owner of The Popular Man
Anna Gonowon, communications strategist and relationship coach
Tina B. Tessina (a.k.a. Dr. Romance), Ph.D., LMFT, psychotherapist
Dr. Joshua Klapow, clinical psychologist
Chelsea Leigh Trescott, breakup and life coach
Kailen Rosenberg, matchmaker, life coach, and founder/CEO of Love Architects
This article was originally published on