Taylor Swift & Lizzie McGuire Have A Lot In Common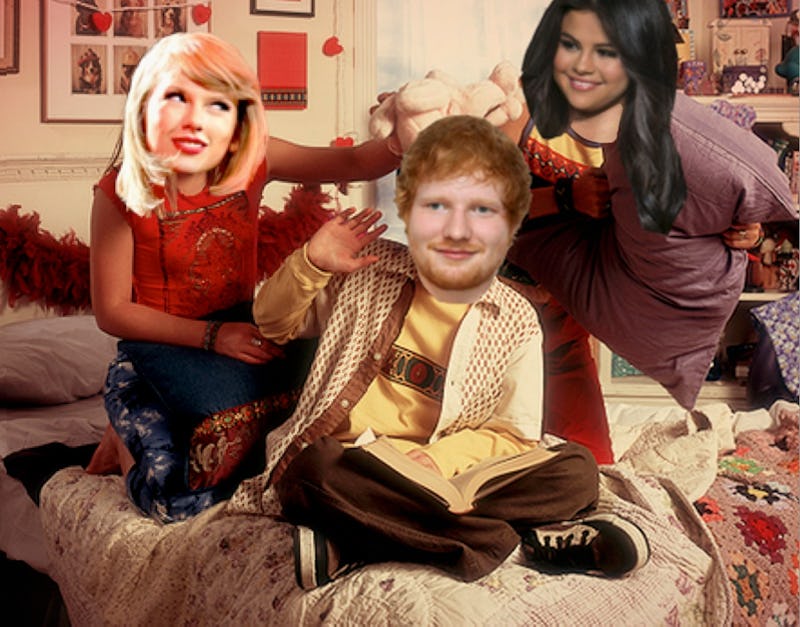 In news that will make any millennial's heart explode with happiness, Taylor Swift and Hilary Duff are huge fans of one another. This isn't necessarily surprising, since T. Swift once referred to Duff as a "magical princess" in a post on Tumblr. Duff later returned the compliment, telling BuzzFeed that Swift is a "pop gangster." Continuing this trend of supporting each other, Hilary Duff attended Taylor Swift's 1989 World Tour at the Staples Center on Saturday night. Afterwards, the Lizzie McGuire actress gushed over Swift on social media. Along with a photo from the concert, Duff wrote, "She's a total G" and a series of emojis to express her appreciation.
To quote Miss McGuire herself, "Hey now, hey now / This is what dreams are made of." This heartwarming friendship made me think, "Wait a minute! Swift is like a grown-up Lizzie McGuire." Trust me, they have much more in common than blonde hair. Just as Swift perfectly summed up what it's like to be a 20-something ("happy, free, confused, and lonely at the same time"), McGuire embodied our adolescence and navigating those tricky teen years.
Not convinced yet? Prepare for your mind to be blown. Here are all the reasons T-Swizzle is a real-life version of Lizzie McGuire.
1. They Both Have Younger Brothers
Even if they sometimes embarrass them, at the end of the day, they're super still close. I bet Austin Swift and Matt McGuire would get along great.
2. Their Dance Moves Are Endearingly Awkward
We're all familiar with Tay's award-show grooving. But remember the music video for "Us Against The World"?
Yeah, Lizzie's dance moves are definitely on par with Swift's.
3. Their Friends Are EVERYTHING
Isn't Ed Sheeran just like Gordo? You know, minus the fact that Gordo has a huge secret crush on Lizzie... Although I wouldn't be too surprised if Taylor and Ed eventually end up together. (Sorry, Calvin!)
Then there's Miranda, who's basically the Selena Gomez topping Swift's endless list of besties.
Lizzie would be nowhere without her friends and the same is true for Tay.
4. They Can Totally Rock Animal Attire
The unicorn sweater that Lizzie wore to picture day was a classic! Ms. Swift once rocked a cat onesie to the airport.
Oh, and let's not forget the time Swift dressed up as a pegacorn on Halloween.
5. They've Perfected The Surprised Face
Doesn't the image above look a lot similar to this?
6. "She's Cheer Captain & I'm On The Bleachers"
Lizzie admits she's not the cheerleader type. Sounds really familiar to a certain song... Watch the music video below to refresh your memory:
7. We've Witnessed Their Awkward Phases
We watched Tay wipe the teardrops off her guitar, just like we watched Lizzie grow up right in front of our eyes.
8. Their Frenemies Have Very Similar Names
Hmmm, Kate Sanders has nearly the same first name as a certain person who inspired "Bad Blood." Coincidence? I think not.
9. They're Big Fans Of Cookies
But then again, who isn't?!
10. They Don't Like Guys Stand In Their Way
In The Lizzie McGuire Movie , Paolo tries to pull a fast one on Lizzie and embarrass her in front of a huge audience. But know what? She still steals the show. She doesn't let lousy guys bring her down and neither does Tay.
11. They're Superstars, But Still Humble
By the end of Lizzie's stint in Rome, she becomes an international pop star. The same could be said of Swift. Despite their ever-growing fame, they keep their heads on their shoulders and don't get let it go to their heads.
See? The resemblance is uncanny! Lizzie McGuire would definitely grow up to be just like T. Swift.
Images: Jamie Primeau/Bustle (Disney Channel); Giphy (19)