A 'Pitch Perfect' DSM Spinoff Needs To Happen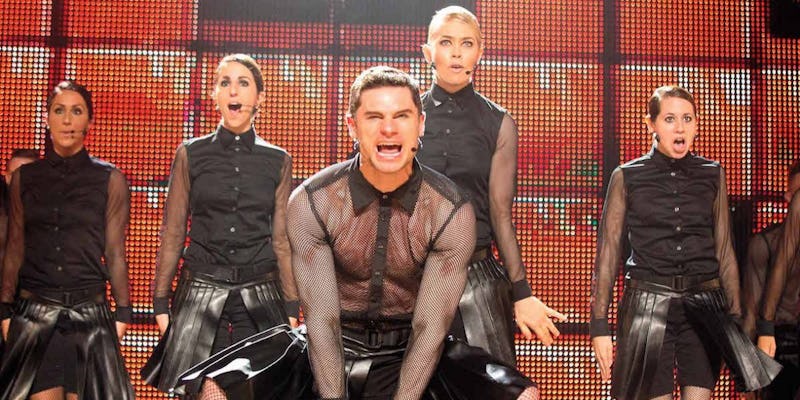 The news that there'd be a third Pitch Perfect movie was exciting, but it didn't come without its drawbacks; although Barden Bellas Rebel Wilson, Anna Kendrick and Hailee Steinfeld are all signed on to star, other Pitch Perfect groups like the Treblemakers and Das Sound Machine have, so far, been left in the dust. None of the Pitch Perfect 3 casting announcements as of yet have included members of either rival a cappella groups, and it's likely that, just as DSM replaced the Treblemakers in Pitch Perfect 2, Pitch Perfect 3 will find the Bellas up against a brand new a cappella foe. With the Treblemakers as the main source of Barden Bella lovin' (here's to you, Jesse and Benji!), it's probably safe to assume we haven't seen the last of these velvet-wearing heartthrobs. But where does that leave Das Sound Machine, the intimidating German group who threatened to end the Barden Bellas? If they don't return for the third film, there should, at the very least, be a DSM Pitch Perfect spinoff. It's only fair.
Yet don't count them out just yet: actors Flula Borg and Birgitte Hjort Sørensen, who played DSM leaders Kommissar and Pieter Krämer in Pitch Perfect 2, have already expressed their desire to return in future Pitch Perfect films. But if for some reason Das Sound Machine isn't featured in Pitch Perfect 3, maybe it's time for a film of their own. But what would a Das Sound Machine spinoff look like? Well, I've got a few ideas.
DSM Heads To Eurovision
After (spoiler) losing Worlds to the Barden Bellas, this German a cappella group will no doubt have to redeem themselves upon their return home. What better way for them to fight their way back to the top than at Eurovision? With their precise dance moves and love of pyrotechnics, there's no doubt Das Sound Machine could take Europe by storm.
Das Sound Machine Gets A Record Deal
DSM + Record Deal + Amurica = Gold. Just imagine Kommissar going toe to toe with music industry producers, and the condescending insults that would follow! Plus, this would be a fun way to explore a fish out of water story, while making fun of American stereotypes.
Pieter And Fat Amy — A Love Story
I know, I know, Fat Amy and Bumper declared their love for each other in Pitch Perfect 2, but love can fizzle, and there's no denying the tension that formed between Pieter and Fat Amy during the Riff-Off. Maybe he has a thing for her and forces DSM to stalk Fat Amy and the Barden Bellas across the globe? Or maybe it's the other way around? Really, I would just watch a movie that consists of Rebel Wilson and Flula Borg exchanging insults.
DSM As New Acapella Announcers
Kommissar's cool, low voice and detached demeanor paired with Pieter's long-winded insults would make for highly entertaining, if not occasionally offensive, a cappella commentary. Watch out, Gail and John!
Pitch Perfect 3 will be released on Aug. 4, 2017, so as the release date approaches, here's hoping we get some DSM news quick.
Images: Universal Pictures; Giphy (5)