A Timeline Of Major Events In Steven Avery's Case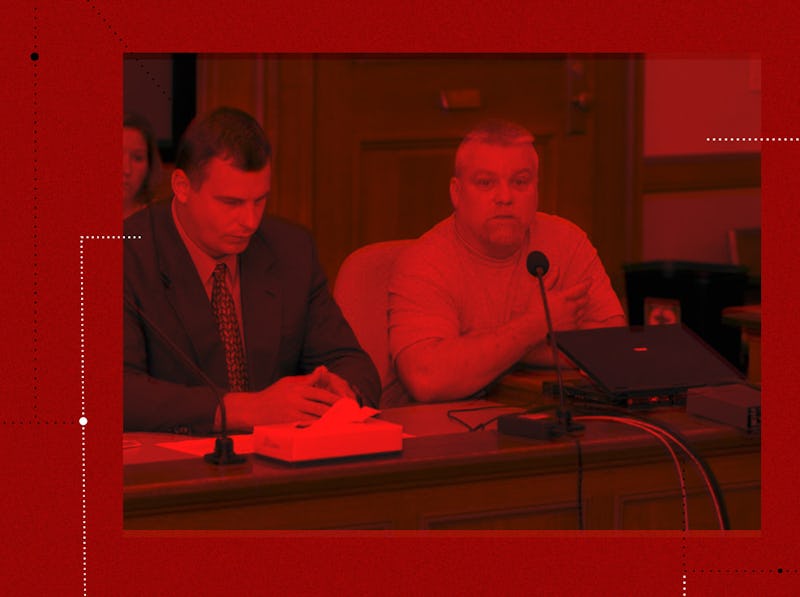 In traditional fictional murder mysteries, there's usually a tidy ending. Sure, there will probably be some sort of big twist on the way to the solution, but, eventually, the savvy detective is successful, the devious murderer is unmasked, and the unfortunate victim receives his or her justice. Sadly, real life rarely works out that way, a fact that was made abundantly clear by Netflix's true crime docuseries Making A Murderer . Unfurling over the course of 10 episodes, the case of Steven Avery and his 2007 conviction for the murder of Teresa Halbach is a veritable maze — That's where this Making a Murderer timeline of events comes in handy.
While Avery is currently serving a life sentence for Halbach's murder, he maintains his innocence to this day. And, this saga is about so much more than one death or even one convicted killer. Avery's story stretches far back, years before Halbach was killed in 2005, unfurling a storied history with the Manitowoc County Sheriff's Department.
Here, in sequence, are some of the most significant events in Making A Murderer, from Avery's first entanglement with the law to the ongoing after-effects the series has had on Avery's case. For more information on the specific events, see the text below the timeline.
Jan. 3, 1985
As seen in the documentary, 22-year-old Steven Avery was brought in for questioning after allegedly running his own cousin, Sandra Morris, off the road and threatening her with a gun. He claimed in the docuseries he "pulled alongside of her ... got out, and [he] grabbed a gun." When asked by police why he did this to Morris, Avery claimed in the series, "Because she was spreading rumors that I was on the front lawn and on the road, bare ass, and she was telling everybody about it and it wasn't true." As seen in the documentary, Morris was married to William Morris, a deputy in the Manitowoc County Sheriff's Department, and she filed a complaint with the department about the incident. Avery was then charged with endangering safety regardless of life and felon in possession of a firearm and sentenced to six years in jail.
July 29, 1985
As seen in the documentary, Penny Beerntsen was attacked and sexually assaulted by a then-unknown assailant (later determined to be Gregory Allen) while jogging on the beach at Lake Michigan. The docuseries showed she was interviewed by Deputy Judy Dvorak, a personal friend of Sandra Morris', while recovering at the hospital. According to the documentary, Dvorak said that Beerntsen's description of her attacker "sounds like Steven Avery."
Dec. 14, 1985
Avery was found guilty of false imprisonment, first-degree sexual assault, and attempted first-degree murder, despite having produced 16 alibi witnesses during his trial, along with a receipt establishing his location over 40 miles away from the attack only 75 minutes after it took place. Avery was sentenced to 32 years in prison.
1995
According to the documentary, a person identifying themselves as a detective called the Manitowoc County Sheriff's Department to inform them that they had a suspect in custody named Gregory Allen, who claimed to have committed a sexual assault in Manitowoc County and that "someone else was in jail for it." According to the documentary, Sergeant Andrew Colborn, who took the call, allegedly informed his superior officer, Lieutenant James Lenk. No report was filed at this time. The Minnesota-based Gazette Review reports:
This phone call remained officially unreported until September 12, 2003. The day after Avery is released for his unjust conviction, Andrew Colborn contacted his superior officer, James Lenk. Lenk told Colborn to write a report, which was then taken by the sheriff and placed in a safe.This report is uncovered only during the litigation of Avery's civil suit against Manitowoc County, more than two years later. On October 11, James Lenk is deposed, followed two days later by Andrew Colborn, with questions about the report. While Lenk's answers are largely evasive and unclear, it is established he instructed Colborn to make a report in 2003. What isn't established is whether at any point earlier Lenk knew of the call.
Sept. 11, 2003
After several failed appeals and petitions for new trials, Avery's case was taken on by the Wisconsin Innocence Project. New DNA testing proved that Beerntsen was attacked by Allen, not Avery. As seen in the series, Avery was released from jail on this date.
Additionally, as seen in the documentary, Allen's paperwork was found in Avery's case file and showed that Allen had previously committed another sexual assault on the same stretch of beach where Beerntsen was attacked two years prior to her assault. "That was evidence that at least made it possible that the DA and the sheriff either knew or should have known that Steven Avery was not the assailant," Michael Griesbach, Manatowoc County Assistant District Attorney, said in the docuseries. After Avery's release from prison, the Wisconsin Attorney General Peg Lautenschlager launched an investigation into all aspects of the case but ultimately concluded that no wrongdoing occurred. "We don't see that there are any criminal actions against somebody or criminal missteps," she said, according to the documentary.
Oct. 12, 2004
Avery filed a federal lawsuit in the U.S. District Court seeking $36 million in damages for his wrongful imprisonment, holding Manitowoc County, along with Sheriff Tom Kocourek and District Attorney Denis Vogel, personally liable despite the Wisconsin Department of Justice finding no basis for bringing criminal charges or ethics violations against anyone involved in the Avery case. The case was settled out of court shortly after Avery was arrested for Halbach's murder.
Oct. 31, 2005
The Avery Bill*, a piece of legislation drafted by Representative Mark Gundrum in Avery's name, passed. Its purpose was to help prevent wrongful convictions. That very same day, a 25-year-old freelance photographer named Teresa Halbach went missing. Her last-known location was Avery Salvage Yard, where she was on assignment for Auto Trader Magazine to photograph a van for sale by Avery.
*The Avery Bill was later re-named The Criminal Justice Reform Bill.
Nov. 9, 2005
As seen in the documentary, Avery was arrested following several days of intensive searching of the Avery property, precipitated when Halbach's missing car was located in the Avery Salvage Yard four days earlier. The next day, the search finally yields Halbach's remains, consisting of bone fragments and teeth inside a "burn pit" on Avery's property.
Jan. 17, 2006
As seen in the docuseries, Avery plead not guilty on charges of illegally possessing a firearm, first-degree intentional homicide, and mutilation of a corpse. Avery was forced to settle his $36 million lawsuit for $400,000 in order to be able to afford legal representation.
March 3, 2006
Avery's 16-year-old nephew Brendan Dassey was arrested following a series of interrogations with lead investigators Tom Fassbender and Mark Wiegert that resulted in a confession detailing his alleged involvement in Halbach's murder. (Dassey later recanted his confession during his April 2007 trial.) Dassey was charged with sexual assault, being party to first-degree intentional homicide, and mutilation of a corpse. Additional charges of kidnapping, false imprisonment, and sexual assault with a dangerous weapon were added to Avery's case. (As seen in the documentary, these three additional charges were later dropped when the prosecution decided not to include Dassey's confession as evidence in Avery's trial.)
Feb. 9, 2007
Avery's trial officially began. His defense team's main argument was that Avery was allegedly framed by the Manitowoc County Sheriff's Department as retribution for the $36 million lawsuit he filed against them. Then Undersheriff Robert Hermann responded to these accusations in the documentary. "It's not realistic. It's impossible ... it's so far fetched it's impractical," Hermann said.
The trial lasted for 19 days and the jury heard from 59 witnesses. Avery's lawyers were not allowed to present theories for alternative suspects, according to the documentary.
March 18, 2007
After 22 hours of deliberation over the course of three days, the jury found Avery guilty of first-degree intentional homicide and illegally possessing a firearm, but not guilty of mutilation of a corpse. In the documentary, a juror who was excused for a family emergency claimed that the initial vote at the start of deliberations was seven for "Not Guilty," three for "Guilty," and two for "Undecided." Avery was sentenced to life in prison without the possibility of parole.
April 25, 2007
As seen in the documentary, Dassey was found guilty of all three charges brought against him. He was sentenced to life in prison with the possibility of parole after 41 years, in 2048, when Dassey will be 59 years old.
2011-2013
As seen in the documentary, the 2nd District Court of Appeals upheld Avery's murder conviction and denied him any more appeals unless new evidence was brought to light. Dassey's appeal made it to the Wisconsin Supreme Court before being denied.
Dec. 18, 2015
Netflix released all 10 episodes of Making A Murderer.
Dec. 27, 2015
Dassey's lawyers, along with the Wisconsin Department of Justice, filed a lawsuit alleging that his arrest and imprisonment were unlawful. The lawsuit is currently under review by federal magistrate Jude William E. Duffin.
Dec. 29, 2015
Hacker collective Anonymous reportedly took to Twitter to announce their intention to help exonerate Avery by publishing evidence that allegedly proved that Colborn and Lenk planted evidence implicating Avery in Halbach's death. This claim that Anonymous was involved was later revealed to be a hoax. Bustle reached out to the Manitowoc Sheriff's Department on behalf of Lenk for a statement but did not receive a response. Colborn originally responded to accusations of framing Avery in 2007. "I hope and pray that [Avery's guilty] verdict puts to rest any suspicions or loss of confidence this community felt toward our department," he said.
Jan. 4, 2016
Almost precisely 31 years to the day since Avery was questioned by Manitowoc County police for allegedly threatening his cousin Sandy Morris, petitions in his and Dassey's names surpassed 200,000 signatures. These included petitions on both WhiteHouse.gov and Change.org demanding an immediate Presidential pardon for both men.
Jan. 7, 2016
The White House responded to the petitions announcing that it was a state matter and as such Avery and Dassey cannot receive Presidential pardons.
Jan. 8, 2016
Lawyer Kathleen Zellner took Avery's case claiming she "won't quit until he's out."
Images: Dawn Foster/Bustle (2); Netflix (16); Getty