15 Feminist Authors To Add To Your Reading List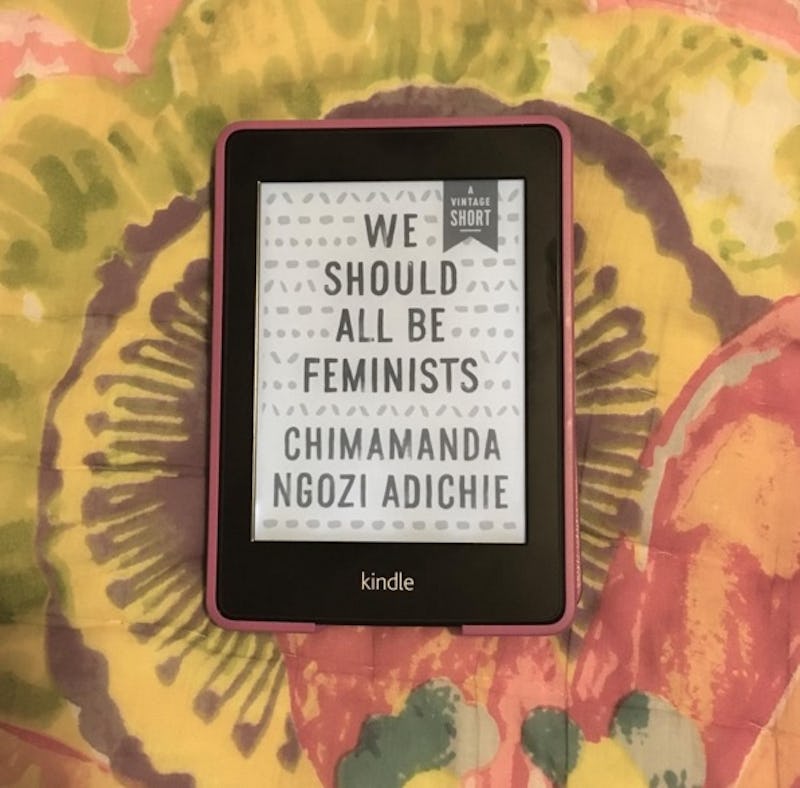 When it comes to curating your personal library, there are some very important factors to consider. Are your shelves filled with good storytellers, relateable characters, thought-proving subject matter, and, most importantly, enough books by feminist authors? The year is 2016, and it's about time to start embracing feminism in every aspect of life, especially the TBR pile.
If you're thinking that, in order to read feminist authors, you have to read all critical texts and only critical texts, then you couldn't be more wrong (though, to be honest, you totally should). Feminist authors, like feminism itself, comes in all different shapes and sizes, from a essay collections to a social critiques to an extraterrestrial sci-fi thrillers, so no matter what your typical reading style is, there's room for feminist authors in your life.
And why shouldn't there be? Feminist authors create insightful, inspiring, transformative works that, whether they're based on scientific studies, social theory, or an entirely made up story, all have one thing in common: they raise the voices of women everywhere. Can you hear them calling you yet, because believe me, it's getting pretty loud.
From the long form essayist to the novelist, the social activist to the radical poet, here are 15 kickass feminist authors you need to add to your reading list.
1. Simone de Beauvoir
A groundbreaking writer and feminist, French author Simone de Beauvoir is probably best know for her thought-provoking analytical work The Second Sex , a book that examines the role of woman in the context of a Western culture. But like the woman herself, who was not only a writer, but a political activist, social theorist, and resistant philosopher, de Beauvoir's writing is vast and varied. In addition to her critical essays and nonfiction works, she also penned biographies, novels, and her own autobiography. Her writing is smart and readable, so even if you don't think you're ready for feminist theory, you're ready for something by de Beauvoir.
2. Caitlin Moran
Hilarious, frank, and biting, Caitlin Moran's writing is a must-read for modern feminists. A journalist-turned-author-turned cultural icon, Moran is a weekly columnist at The Times where she writes about pop culture, but she is also the author the now feminist manifesto, How to Build a Girl , as well as an equally riveting autobiography, How to Build a Woman . Her writing is brilliant, honest, and funny, and all we can hope is that she has still got plenty more to say.
3. Chimamanda Ngozi Adichie
A dazzling writer no matter the format, Americanah author Chimamanda Ngozi Adichie has penned several different kinds of works, including short stories, novels, and nonfiction, and all of them are much needed additions to the feminist reading list. An author and an advocate, Adiche's writing reflects her passionate convictions about women's rights and offers a diverse voice in an all to often white washed conversation.
4. Audre Lorde
A lifetime activist for civil rights, Audre Lorde was an outspoken feminist and, in her own famous words, a "black, lesbian, mother, warrior, poet." From her emotional and moving poetry collections like Undersong to her powerful, influential essays like the ones in Sister Outsider , Lorde is required reading for any feminist.
5. Rebecca Solnit
The first regular female columnist Harper Magazine's "Easy Chair," Rebecca Solnit, contributing editor to Harper's, has written over a dozen books about everything from the environment to art, but her feminist writing, including the hilarious and all too true Men Explain Things to Me , is essential reading for the modern feminist. Witty and honest, Solnit's writing will at once make you laugh out loud and challenge you to examine the modern misogyny that has become common place in our current culture.
6. bell hooks
Born Gloria Jean Watkins, bell hooks has published over 30 books under her pen name since she became an outspoken feminist, activist, and author in the 1970s. Her scholarly body of work may seem intimidating at first, but one of the best things about the works of bell hooks is how accessible she makes them through her clear, thoughtful prose.
7. Gloria Steinem
One of the first authors I read when I began to embrace my own feminism in high school, Gloria Steinem will always hold a special place in my bookish heart. Her writing is personal, profound, and inspiring, and her latest autobiographical work, My Life on the Road , proves that she has a lot more to add to the feminist library.
8. Maya Angelou
Raw and powerful, the writing of Maya Angelou has touched the hearts and souls of generations of feminist readers. Whether through her autobiographical books, like her highly acclaimed memoir I Know Why the Caged Bird Sings, or her poetry, including Phenomenal Woman , Angelou's writing is a cornerstone in black feminist writing.
9. Kate Chopin
An author who focused on fiction in the form of novels and short stories, Kate Chopin often comes up when discussing feminist writing. Her 1899 novel, The Awakening , was considered ahead of its time in relationship to its portrayal of womanhood and sexuality, and its open critique the social attitudes of the time. Considered one of the first feminist authors of the 20th century, Chopin may have written more than 100 years ago, but her words still ring true.
10. Naomi Wolf
Author of nonfiction books such as The Beauty Myth and Vagina , Naomi Wolf became the face of third wave feminism in the 1990s, and is still writing about and fighting for women's rights today. Her books are informative and empowering, and although she has come under a fair share of criticism for her exaggerated writing, her work is still worth looking at with a critical eye.
11. Octavia Butler
Science fiction has been criticized for being a genre resistant to female empowerment and feminist ideals, but Octavia Butler changed all of that with her groundbreaking writing. A true trailblazer for black, female authors, Butler's body of freaky, extraterrestrial-inspired work is not only a fun read, but an enlightening one, too.
12. Charlotte Perkins Gilman
A true pioneer of feminism, Charlotte Perkins Gilman is still an inspiration to feminist nearly a century after her death. The author of "The Yellow Wallpaper," Gilman was one of the first female authors to take on issues of women's health, mental health, and feminism. A prolific writer, add Gilman to your reading list ASAP.
13. Roxane Gay
Arguably one of the most talked about feminist authors of the last year, Roxane Gay is a writer to watch. Her 2014 bestseller, Bad Feminist , helped introduce and entire confused, fumbling generation of women to modern feminism in all its glory and all of its shortcomings. Now if only we could get her to publish her new memoir, Hunger , sooner than June....
14. Anne Sexton
While there are so many feminist poets worth reading, Anne Sexton is a must. Her work is intimate and honest, and Sexton is the kind of poet who isn't afraid to hide her personal life or her emotions. Truly moving, Sexton's poetry is something to be enjoyed again and again.
15. Gertrude Stein
As a Jewish lesbian in the late 19th and early 20th century, there aren't many obstacles that Gertrude Stein did not face. Perhaps it's her determination in the face of blatant antisemitism, homophobia, and sexism that makes Stein's literary work so powerful. From her revealing memoir to her works of fiction, Stein's revolutionary writing is something to cherish.
Images: Betterthanbooks/Instagram; Wikimedia Commons (19); Rebecca Solnit/Goodreads