11 Underwear Hacks Every Woman Should Know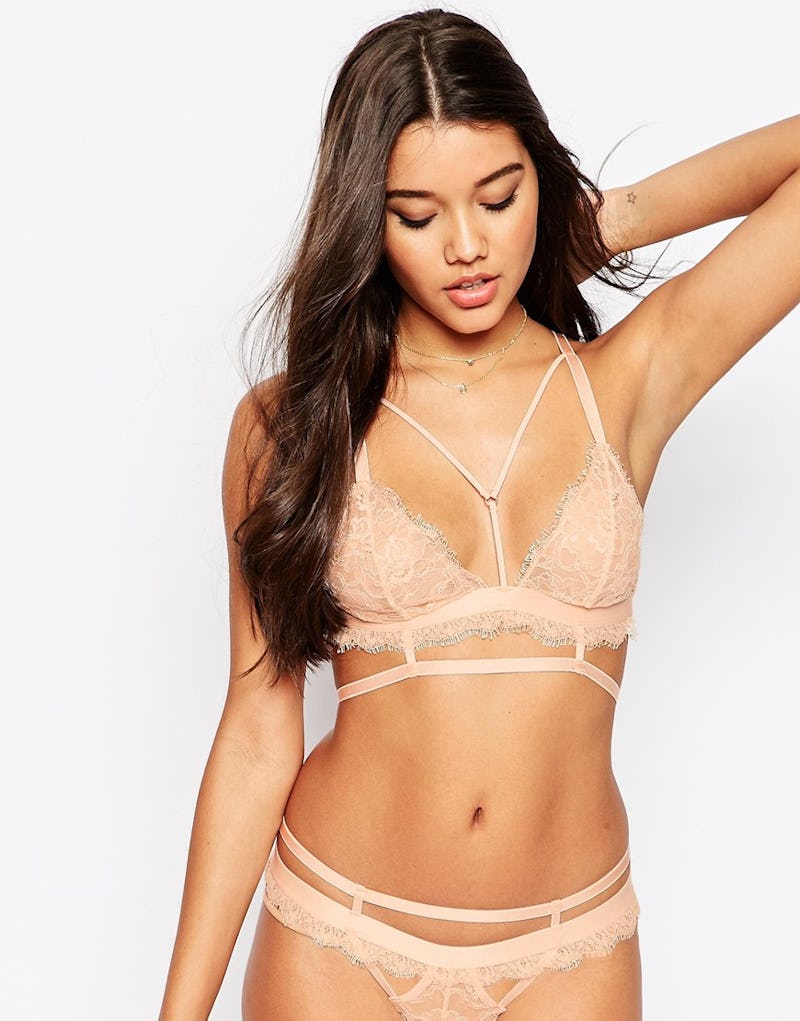 Underwear seems simple enough. You buy it, wash it, wear it, and repeat. But just because you don't think about it doesn't mean you shouldn't, because your underwear needs attention and up-keep more than you may think. Thankfully, these underwear hacks every woman should know will ensure your delicates, panties, bras, and all, will be maintained so that they do everything they need to (and more) with a few simple, easy-to-make changes.
I admit that the phrase "underwear hacks" seems a bit silly. You may be saying, "underwear is such a small thing, why does it even need hacks?" To that I reply: underwear is the foundation for all our armor. Before we put our clothes on for the day, we put on underwear. And unless you're going commando all the time (in which case, brava!) then you're probably going to want that foundation to be as good as it can be. Which brings me to the specific ways you can maintain your bras, undies and everything in between, so that it all gives you the support you want and need.
Ahead you'll find 11 underwear hacks every woman should know. From little things to washing them in a delicates bag to being prepared with extra pairs, these hacks ensure your foundation, ahem, your underpants, are supporting you in the best way possible. So, with these said and done, maybe you won't have to think about underwear after all!
1. Sort Through Them
I think it's fair to say that since underwear is such a "simple" thing, it often gets neglected. And that means there are probably some gross old forgotten pairs stored in your underwear drawer. If any of the pieces in your collection meet these underwear-to-throw-away characteristics, it's time to toss them. Because let's be real, you weren't going to wear those undies with the questionable stain on them anyways.
2. Organize Them Accordingly
Once you've throw away all the unnecessary pairs, the next step is to make sure your undies are all organized in a way that's most helpful to you. Invest in a small organizer that let's you divide your underwear into certain categories. Then, get sorting! Whether it's by color, type, or even material, this will make it so that you won't even have to look in your drawer to know where the undies you need are.
Try: MIU Color Organizer Drawer Set, $13.99, Amazon
3. Keep Basics/Favorites On Hand
Hanro Cotton Seamless Full Brief, $38, Amazon
You know that feeling of throwing on your favorite pair of underpants? It's bliss. But why reserve it for only one pair? If you've found a style that you love and that makes you feel confident, stock up on them. Same goes for basics, like a good tan bra, or a truly no-show full-coverage brief. These are the pieces you'll reach for the most, so keep them in large numbers in your underwear collection.
4. Wash Them In A Delicates Bag
Mesh Wash Bags, $3.99, T he Container Store
Washing your undies and bras separately doesn't have to be a tedious laundry chore if you simply throw them into separate delicates bags. These washer and dryer friendly bags will just ensure that your lacey panties and soft bras don't get caught in the holes of your distressed denim or pull on the fibers of your favorite blouse.
Try: Mayin Mesh Laundry Bags (Set of 5), $9.89, Amazon
5. Invest In Helpful Tools
Bra Extenders 6-Pack, $8, Bare Necessities
Tools for your underwear? Yes, they do exist! And by "tools," I don't mean a screwdriver or wrench, but rather a bra extender or a bra converting clip. If you ever do run into an issue with your underwear, it's small things like these that can seriously save the day. Store some of these on-hand, or throw them into your handbag. I promise, you won't regret it in a time of underwear emergency.
Try: Maidenform Two-Hook Bra Extender, $7, Amazon
6. Know Which Ones Are Best For Your Health
Cotton Lingerie Bikini Panty, $8.50, Victoria's Secret
Underwear might not seem like a factor in your health, but what you're wearing down there certainly can affect how you feel. Stay away from thongs when you're working out Dr. David Bank told Shape, and stick to cotton panties according to Jan Sheehan of Everyday Health. It's important to be aware of choosing the best kind of underwear for your health as to avoid UTI's, yeast infections, and other less than extraordinary things that can happen down there.
Try: Calvin Klein Cotton Bikini Panty, $12, Amazon
7. Stick To A Neutral Color Scheme
ASOS Blake Eyelash Lace Strappy Triangle Bra, $31.00, ASOS
Don't you hate when all your colorful undies end up showing through your clothes? A good way to avoid that is sticking to a neutral color scheme with your panties and bras. I know, it's tough to avoid that gorgeous bright pink lacy bra, but sticking to nudes, whites, and blacks will definitely help you avoid a "what undies to wear with this outfit" headache in the future. Of course, you can still invest in fun colors, but generally sticking to neutrals for everyday is a good way to go about it.
8. Buy Lots Of Sets
Aerie Boybrief, $7.50 (7 for $27.50), American Eagle
Buying one or two panties or bras here and there is not exactly the most effective way to go about purchasing underwear. Instead, buy them in sets so that you can replace big numbers and have a good amount on hand. Take advantage of semi-annual sales, or online deals like buy seven for a set amount, or even free shipping.
Try: Calvin Klein Radiant Cotton Bikini Panty 3-Pack, $30, Amazon
9. Plan Your Undies Like You Do Your Outfits
Torrid Plus Size Strappy Lace Bralette, $34.50, Amazon
In a perfect world where we all have enough time and energy at the end of the day to plan our outfits, we would also have enough time to plan our underwear as well. Yes, I know planning seems unrealistic and somewhat ridiculous, but it only takes a few minutes, and being able to pick out your underwear ahead of time reduces the frequency of the "you can see my panty lines and my lace bra through my clothes" scenario.
10. Invest In The Right Support
Savior Faire Lace Cheeky Boyshort, $14.95, hipsandcurves.com
Underwear can get pricey, but it's important to have the right garments that can truly support your body and give you that comfortable foundation all undies should have. If you tend to wear high-waisted items, opt for high-waisted underwear. If you've got a larger cup size, be sure you're looking for bras that are designed with support for bigger busts in mind. There are so many brands out there that cater to different sizes, shapes, etc, so be sure to do your research to find the one that's the best for you.
11. Focus On Comfort
Women's Bikini, $16, meundies.com
Last but not least, the biggest hack you should always remember when it comes to underwear is to wear something that feels comfortable and gives you the support you need every day. There's really no need to suffer for something sexy or that doesn't make you feel like, well, you! Like I said before, underwear is the first layer of armor we put on every day. And it should be super comfortable.
There you have it. These 11 underwear hacks every woman should know will lead you in the right direction. Here's to good undies!
Want more fashion and beauty tips? Check out the video below and subscribe to Bustle on YouTube!
Images: Melodi Erdogan/Bustle(2), Courtesy Brands(9)