11 Beautiful & Cruelty-Free Makeup Brushes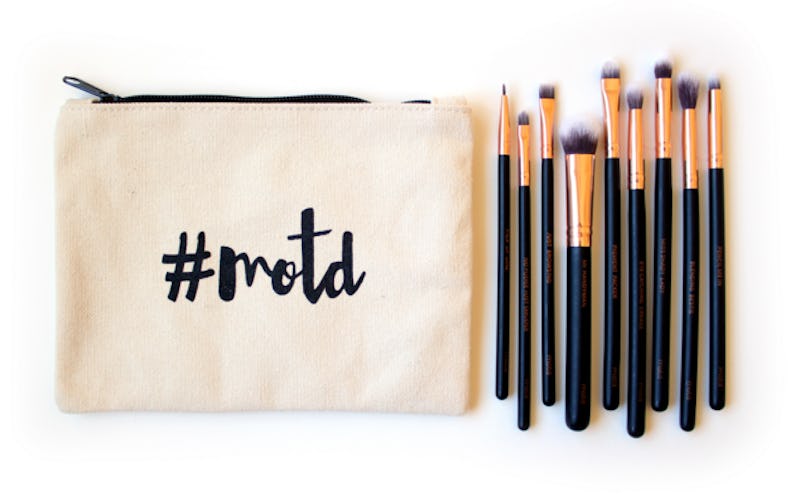 As consumers, it's super easy nowadays to find out more about the beauty products we love – a quick Google search will help you to discover how ethical a particular company may (or may not) be. To save you the trouble, you might be interested in cruelty-free makeup brushes, so you can begin to create a more ethical makeup bag. According to a recent survey by Anisa International, 65 percent of women have no idea what their makeup brush heads are made of. Isn't it time we found out what we were putting on our faces?
Your makeup bag may not be the first place you'd look for animal-derived products; you'd probably look in your fridge or in your closet first. Unfortunately, there are makeup and beauty companies that still test on animals. Although you might be consciously steering away from these brands and their products, you might not realize that your favorite makeup brushes contain animal fur or hair. Aside from the fact that IMO, it seems pretty bizarre to stroke animal hair on your face in the first place (especially if the animal was most likely harmed or even killed), it's totally unnecessary. There are so many other options out there for you to choose from.
If you're a vegan, someone wishing to lead a more compassionate lifestyle, or you just love animals here are some awesome cruelty-free, synthetic makeup brushes to help transform your collection.
Naked Flushed Double-Ended Brush, $26, Urban Decay
This cruelty-free, double-ended vegan brush is made from recycled PBT plastic bottles and it'll help you apply bronzer, blush, and highlighter. If you're into Urban Decay products, you'll be pleased to know it was especially made and sized to complement Naked Flushed. All of Urban Decay's brushes are vegan so you've got plenty more to choose from to add to your collection.
Lux Vegan Eye Makeup Brush Set, $70, Motd Cosmetics
From a Large Shader to a Fine Liner brush, this vegan brush set has got everything you need to create a wide range of eye makeup looks.
S9 – Deluxe Flat Kabuki, $5, Morphe Brushes
This seriously cool kabuki brush is made of the highest grade Japanese synthetic bristles, that will help you to blend a range of makeup types consistently.
Mr. Right Perfect Powder Brush, $36, Too Faced
Aside from the fact that this brush is totally charming, Mr. Right is made of luxe synthetic hair and can be used wet or dry. It's a match made in heaven!
Contour Brush, $2, Wet n' Wild Beauty
This pink-tipped contour brush will make you blush in delight! Not only is it super pretty but Wet N Wild makeup brushes have to be among the most cheap, cruelty-free brushes out there.
E.L.F. Stipple Brush Travel Set, $15, Elf Cosmetics
This affordable travel set will make jet-setting a breeze for cruelty-free beauty babes!
Brush #005: Angled Blending Brush, $28, OCC Makeup
This angled blending brush will help you on your quest to get into all those hard to reach places. Obsessive Compulsive Cosmetics are one-hundred percent vegan and cruelty-free, so you can mix and match any of their brushes to create an animal friendly makeup bag.
Mermaid Dreams The Glam Clam, $86, Spectrum Collections
Mermaid fans will adore these quirky, colorful makeup brushes from Spectrum that come encased in a pastel pink, clam shell clutch.
Mini Essentials Set, $6, Eco Tools
Need some mini cruelty-free brushes to pop in your purse when you're on the go? This set from EcoTools should do the trick!
Shade + Light Eye Contour Brush, $27, Kat Von D Beauty
Apply your eyeshadow with one end and flip it over to blend it with the other. This edgy Kat Von D makeup brush even comes in its own quirky coffin shaped case!
Purple Bambu Sultry Eyes 5pc. Brush Set, $30, B Dellium Tools
Made of sustainable bamboo handles and featuring synthetic, hypoallergenic bristles, these lovely brushes will fit perfectly into your cruelty-free makeup collection. If purple's not your color, you can pick green, yellow, or pink instead.
At the end of the day, no animal needs to have their hair or fur removed or be killed for vanity in order to have a great makeup brush. And plus — the more options, the better!
Images: Courtesy Brands