I Wore One Color Outfits For Five Days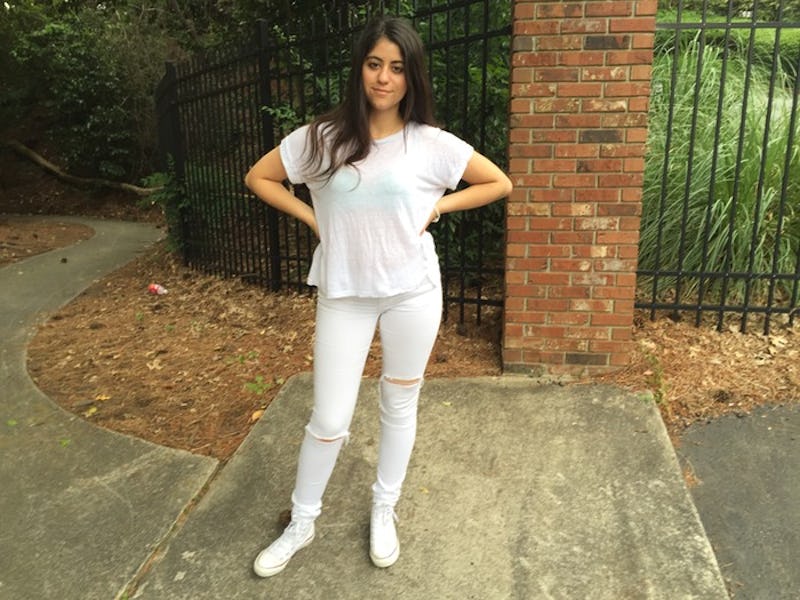 I love being creative with style. For someone who relies on experimenting with different colors and patterns on a day-to-day basis for both self-expression and to practice creativity, the biggest risk would be taking out that crucial part of the equation completely. That's right — I wore one-color outfits for five days to see how exactly it would affect my style, my fashion choices, and my creativity. And while I didn't expect it, monochromatic ensembles certainly had a real impact on me.
I would describe my style as feminine, edgy, and on-trend. And as much as I like the monochromatic thing on others, there's something a little more stressful about rocking one-color ensembles over the span of five days than just trying out a look to see how you like it. Even just writing that is giving me anxiety (seriously). My favorite approach to style is mixing and matching, pairing things that don't necessarily "go" to achieve a unique and interesting look. So to neglect that completely for almost a week and simply pair clothes together because they are the same color was a bit of a foreign concept, to say the least.
But alas, I proceeded with the experiment to see if it truly will be that weird. Here's what happened.
Monday — Gray
Clearly, I was intimidated by this experiment, because on day one I dressed myself completely in gray, which is hard to mess up. From my shirt, to my jeans, to my shoes, I wore different tones but stuck to the same color scheme. I wanted an easy start so I chose a simple color that would be easy to match with, well, itself. I wore my grayed-out outfit to my office job and to run some errands post-work.
I was surprised none of my co-workers commented on my relatively dull choices, since wearing a completely gray outfit is very unlike me. I often walk into the office rocking blue blouses and even purple skirts (more on that later) but it was a pretty gloomy Monday so maybe I just happened to match the weather.
This ensemble definitely felt forced, but I wasn't completely uncomfortable in it. Because gray is such a common color, and since my outfit was pretty laid-back and casual, I don't think day one had too much of an impact.
Tuesday — Black
On day two I wimped out again and went for a color I often wear alone: black. So maybe I did cheat a little, but you'll give me a break once you see the rest of my ensembles.
Wearing only black just feels so right. I felt confident in my body con midi dress, and I was seriously feeling myself, as Beyoncé would say. So much so that I didn't even get slightly embarrassed when I asked a stranger to snap the photo above.
This is definitely a color you'll find a lot of in my wardrobe, and I often reach for black pieces when I'm in a style rut. So even if it was a cheat day, there's no doubt I was feeling great.
Wednesday — Purple
I'm not afraid to call myself out — the first two days were a little too easy to truly put my wardrobe to the test. So on day three I got a little more gutsy with this purple/magenta ensemble. I pulled out all the pieces I could find in this general color family from my closet and wore them all at once. From the shoes to the skirt to even the pendant on my necklace, everything was purple.
The bright purple color made me smile every time I passed a mirror or looked down at myself. Plus, I thought the darker purple on my skirt looked great paired with the brighter shade of my blouse, even though I never would have thought to pair the two together. On top of all that, I got a lot of compliments at my office job. My boss even said, "I love the color you're wearing today." I was walking with a pep in my step for the rest of the day.
Thursday — Red
I hardly ever wear red. So, with the continued hope that this experiment would be a challenge, I chose day four as an excuse to wear this shade. Yes, I know I'm rocking a black belt, and I didn't have red shoes on hand. But there's no denying the skirt and the blouse make enough of a statement to get the point across. Plus, I wanted to make the outfit actually wearable, and I thought the belt and the shoes made it prettier without taking away from the striking color.
I wore this outfit to run some errands after a short work shift. I totally forgot what I was wearing, and mindlessly strolled into Target. I got some weird looks, probably because it was such a bold look for day. After that, I stopped by a coffee stop and got a few more weird looks. Maybe I seemed super dressed up?
Either way, I felt nice in this ensemble. The color brightened my mood, just like the day wearing all purple the day before. Plus, my S.O. said I looked nice. So all in all, red was a good day.
Friday — White
By day five, I was running out of clothes to put together one-color outfits with. But since I was on a high from how well the experiment was going so far, I decided to make the best of it by reaching for an outfit made of ~the absence of color~. OK, fine, it was an entirely white outfit.
Even though I had my hesitations about an all-white outfit, from being a stain target to looking too Labor-Day chic, it was all I could pull together with my wardrobe. Even so, I liked the white denim paired with a white T-shirt and white Converse kicks. It was casual and laid-back, but looked even more fashion-y and chic than a regular T-shirt and jeans because of the monochrome.
I somehow made it through the day sans stains, and also got quite a few compliments on my attire. On top of all that, I felt confident and comfortable wearing it. Well, you know, as long as I was a good five feet away from any type of red sauce.
Conclusion
Getting dressed in monochromatic outfits over the span of five days was a real style challenge. I don't normally reach for the same colors to make an outfit (except with the color black) so it initially felt odd and uncomfortable to wear these outfits out. But based on the positive reactions and how I felt towards the end of the five days, I realized it forced me to get more creative with my ensembles in a way that was previously unknown to me. Plus it showed me how much of a difference color makes in an outfit — there's no doubt the brighter colors made for much more striking looks than my usual gray T-shirt and blue jeans getup.
Ultimately, I was pleased with how the five days turned out. My creativity and personal expression didn't take a hit. In fact, it turned out to be quite the opposite. And my anxiety was for nothing, because planning these outfits was actually a lot of fun. So to anyone who ever had hesitations about wearing monochromatic looks, I would recommend trying it before you completely rule it out.
After this experience, I can say with confidence that there are plenty more one-color outfits in my future!
Images: Melodi Erdogan/Bustle (6)