You'll Want To Revisit These 'New Girl' Moments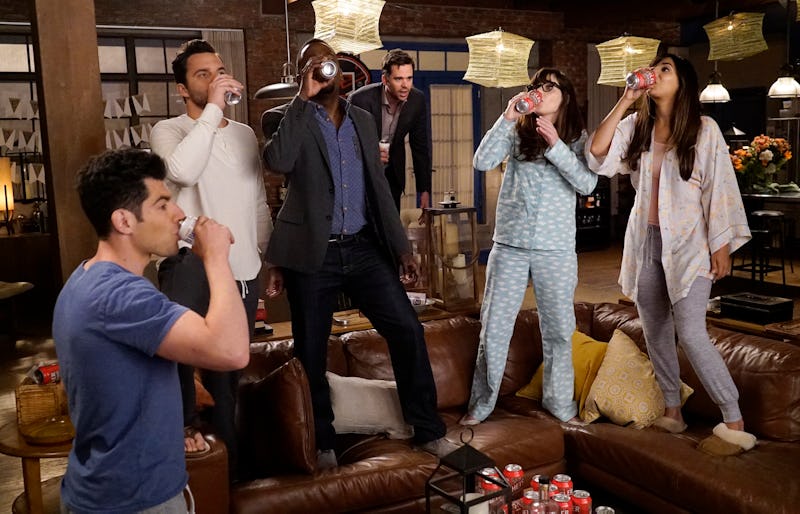 Between Cece and Schmidt's wedding, Winston finding love with Aly, the return of Sam with Jess, and the bond between Reagan and Nick, New Girl Season 5 had a huge focus on the loftmates' romantic lives. If you are already excited to relive all those moments after the season finale on May 10, then you'll want to watch Season 5 of New Girl on Netflix. However, you most likely will have to wait until September to watch the series on the streaming service, but as anyone who watched Season 5 knows, it will be worth the wait.
New Girl got a little sappy in Season 5 and while there were some missteps (like accelerating Winston's relationship to Aly too quickly), it was hard not to get emotionally wrapped up in the love fest that was this most recent season. Although Zooey Deschanel's absence led to a new character who threw a wrench in the hopes of Nick and Jess 'shippers — Megan Fox's Reagan — this season also showed the characters maturing more than ever before. Not to mention, it was just as hysterical as fans of New Girl expect the series to be.
Season 5 had a wacky schedule because of Deschanel's pregnancy and so the series didn't premiere until January instead of its regular September. The delay in Season 5 being on FOX also meant a delay for Season 4 of New Girl being on Netflix, since FOX and Netflix had both released on Jan. 5. Knowing that, Season 5 should be on Netflix the same day that Season 6 premieres on FOX.
While FOX announced that New Girl was renewed for a sixth season on April 12, there is no premiere date yet. Since every season before Season 5 premiered in September, I'm confident that barring any other real-life surprises, the show will return to its normal schedule. If that's the case, then New Girl Season 5 will be on Netflix in September.
Waiting for September is much easier than waiting for January like fans had to do this season, but I still understand the struggle. So here are the best moments from Season 5 that you have to look forward to rewatching (or watching for the first time) once New Girl Season 5 is on Netflix. This season was an emotional rollercoaster, so get ready to feel all the feels all over again.
Harold & Kumar Go To New Girl
Both John Cho and Kal Penn came to New Girl for Season 5. Cho unfortunately only had a brief stint as one of the lawyers during Jess' jury duty, while Penn played a total jerk as Aly's boyfriend, the animal agent. Either way, having both Harold and Kumar on the series — even for a short time — was epic.
Cece & Winston Went Dress Shopping
One of the best things to come out of Jess being sequestered as part of jury duty as a way to have Deschanel off the show while on maternity leave was that Cece and Winston became friends. After Winston became a "bridesman" for Cece, the pair went wedding dress shopping and got a bit too tipsy on the free champagne. What emerged was a terrible wedding dress, but an awesome friendship.
Seeing 18-Year-Old Jess & Cece Again
The flashbacks are one of the most beloved features of New Girl and seeing Cece and Jess when Cece first moved to Los Angeles when she was 18 was a sweet (and scary — based on the status of her apartment) way for the women to reminisce before Cece moved into the loft.
How Available Cece Was For Emotional Support
A plus of Cece moving into the loft was that she and Jess were able to instantaneously discuss their personal issues with each other since they were roomies again. Cece got to be there for Jess during the sex dream helmet incident, when Cece coached Jess through Sam's potential proposal, and when she subtly helped Jess realize she loves Nick.
When Jess Made Out With Schmidt's Dad
We didn't get to see the make out between Jess and winery owner (and Schmidt's dad!) Gavin happen, but Jess asking him, "Have you ever had your eyebrows combed by a woman you just met?" was nearly as satisfactory. Better yet was that his response was a serious, "Yes."
And That Peter Gallagher Played Schmidt's Dad
Could this casting have been any better? Peter Gallagher was thriving as the flaky and marijuana-loving father of Schmidt. The fact that Nick also talked some sense into Gavin on behalf of his BFF was just gravy.
Jess' Feminist Car Buying
Although it was a B-plot, I truly loved when Jess brought back her brand of feminism and took over her car buying experience from the sexist sales guy. Turn up that heat in the car, Jess, since us ladies are always cold!
That Rhonda Was Played By Sonequa Martin-Green
Winston got married in Season 5 for no reason and while I anticipate it might cause some issues for him and Aly in Season 6, I'm totally OK with it since he married Rhonda, portrayed by The Walking Dead 's Sonequa Martin-Green. I may never understand Rhonda's pranks like Schmidt eventually did, but I loved seeing Martin-Green show off her fun (and pranking) side.
Furguson's Acting Career
Penn's character may have been the worst, but his introduction meant that Winston's cat Furguson had an opportunity to show off his acting skills when Schmidt and Winston tried to get Furguson cast in the next Avatar. Winston's adorable feline friend will always be a star to me.
The Bachelor Party Fight
Schmidt needed to feel manly after being emasculated in front of Cece and so the guys set off on a bachelor party to Las Vegas. They never made it to Sin City, but they did get in a fight — which they were all terrible in. Nick even showed his mushy side by talking up what a great husband Schmidt will make.
High Jess
For Cece's bachelorette party, Jess obtained some weed for a chill day. The girls watching the Anne of Green Gables miniseries stoned was one of my favorite moments of their friendship. Jess continuing to be ridiculously high during the breadmaker shenanigans made for some of the funniest moments of the season even if viewers most likely won't see High Jess ever again.
The Guys Singing "Alison"
I have debated if this was too corny for a "best of" list, but considering how long I had Elvis Costello's song "Alison" stuck in my head after the groomsmen serenaded Aly, I decided the joke worked. Bonus points for Aly not even being short for the name Alison.
How Seamlessly Nasim Pedrad Fit In With The Group
Nasim Pedrad has been around before as Winston's police partner Aly, but when their relationship became romantic, Aly showed how she can fit into the loft gang perfectly. Sometimes a new romance can ruin the group dynamic, but that was not the case with Aly. Props to Pedrad for her hilarious likability and to her real-life sister Nina Pedrad, who is a writer and producer on the show, and gets credit for helping to create this great character.
Schmidt's Wedding Workshop
Since Schmidt is one of the only men at his job at Associated Strategies, he turned the men's bathroom at work into a wedding workshop to help plan his wedding to Cece. It was one of those great New Girl moments where the gender norms were flipped.
Jess' Selfless Act
As an ardent Jess and Nick 'shipper, I obviously thought Jess and Sam should not be together. Yet, Sam's return wasn't completely unwelcome and it helped show how completely caring and compassionate Jess is when she gave Sam's long-lost love Diane (Masters of Sex's Caitlin FitzGerald) the platform to confess her feelings.
Schmidt Accepting His Mom's "Friend" Susan
Schmidt has an extremely close and bizarre relationship to his mother Louise and Season 5 showed that he was too naive to accept that his mom's friend and roommate Susan was actually her girlfriend. When it was revealed that his mom was going to propose to Susan (portrayed by Coach's real-life aunt, Kim Wayans), Schmidt embraced his mom's soon-to-be wife to the joy of everyone involved.
"It's Nick"
After reliving the True American night from Season 2's "Cooler" as a way to delay Sam proposing to her, Jess got a truth bomb dropped on her — that she cares for Nick even if she doesn't want to admit it to herself. Did everyone squeal when this long-awaited moment happened or was it just me? Thanks, Sam!
Cece & Schmidt Having An Adult Relationship
I didn't need the sitcom trope of wedding mishaps with Schmidt missing his wedding to Cece, but seeing how in love Schmidt and Cece are and how their relationship has become mature and sincere was one of the greatest highlights of Season 5. I'm down for more healthy committed relationships on TV and as Jess and Nick are sure to stumble with their feelings in Season 6, Cece and Schmidt can explore the joys of marital bliss.
With Jess finally realizing her true feelings for Nick in Season 5, I'm already on the edge of my seat to see New Girl Season 6. But while I wait, I'll love watching Jess come to the realization again and again once Season 5 of New Girl hits Netflix.
Images: Jennifer Clasen/FOX; Giphy (17); Caitlin Gallagher/Bustle (3)