21 Movies On Netflix Animal Lovers Will Adore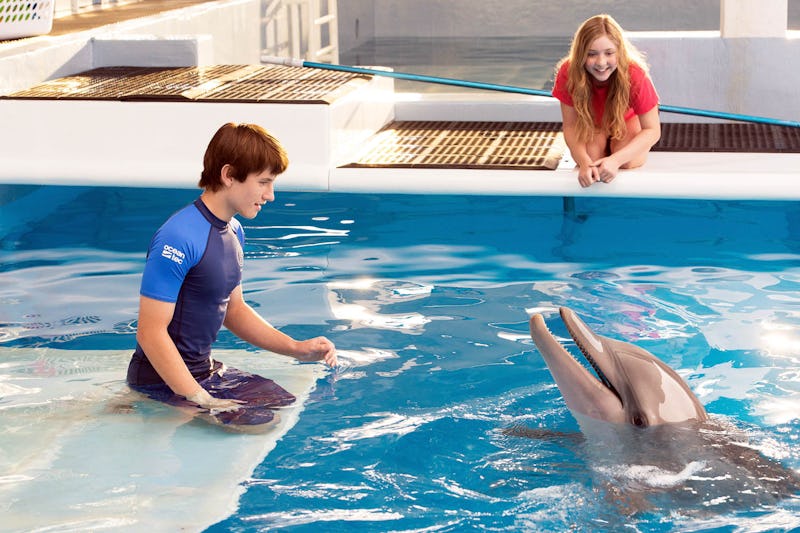 I am of the general opinion that animals are better than people. Animals don't have any agenda, they don't exhibit malice, they just try to live their lives and go about their business. And in the case of pets, they are capable of the most loyal love a human is ever likely to encounter. And I'm hardly the only person who feels this way. There are a ton of animal lovers out there, and sometimes the need strikes among them to watch some animal-based entertainment. Thankfully, Netflix is full of movies for animal lovers.
This shouldn't be too surprising, given that the streaming service has an enormous library filled with all sorts of types of movies. The types of animal films you'll see basically fall into one of two categories: Children/family movies, and documentaries. In the former category, you'll find timeless classics based on beloved books, as well as newer, more lighthearted comedy fare. And of course, a few inspiring tales sprinkled in here and there. As far as documentaries go, some of them depict rarely seen animals in their natural habitats, while others focus more on the people who are trying to make the world a better place by helping our furry and feathered friends. So take a look at these 21 movies for animal lovers on Netflix.
1. Where the Red Fern Grows
There are a lot of "boy and his dog" style movies, but none (except for maybe Old Yeller) are more tear-inducing than this classic.
2. Charlotte's Web
This live action retelling of the beloved children's book about a pig and a talented spider features a star-studded cast including Julia Roberts, Steve Buscemi, and Dakota Fanning.
3. My Side Of The Mountain
What kid didn't want to run away to the woods and live with the animals? This kid actually does it, in another classic novel adaptation.
4. The Wild Thornberrys Movie
In a story too big for the Nickelodeon show, the Thornberrys let loose.
5. Flicka: Country Pride
The third installment in the Flicka series, about a wild mustang and a girl who must tame it.
6. A Cat In Paris
Who says movies about animals can't be artsy?
7. Paulie
Do you want to hear the life story of a wisecracking talking parrot? Of course you do.
8. The Jungle Book: Mowgli's Story
While this live action 1998 Disney film didn't receive the fanfare of this year's The Jungle Book, it's still a charming adventure.
9. Second Chances
A young disabled girl finds a kindred spirit in a crippled horse. Locate your tissues before streaming.
10. Beverly Hills Chihuahua 2 & 3
The original installment of this Disney franchise is absent from Netflix, but you can still watch a bunch of adorable dogs acting ridiculous in these two sequels.
11. Dolphin Tale
Based on a true story, this drama tells the incredible tale of a dolphin who receives an artificial tail.
12. Hachi: A Dog's Tale
Another true story, this one is sure to get the waterworks going. Hachi the dog would meet his owner at the train station every day after work, but one day his owner didn't show up — he had died. Undeterred, Hachi continued to wait for his owner's arrival every day for the next ten years.
13. How to Train Your Dragon 2
OK, so dragons aren't real animals, but the relationship between Hiccup and Toothless is as real as any pet/owner relationship.
14. Mystery Monkeys of Shangri-La
This documentary gives a rare look at China's elusive and almost mystical snub-nosed monkeys.
15. Give Me Shelter
This one is tough to watch, but if you're an animal lover you should familiarize yourself with the problems with pet stores and animal shelters in order to help fix them.
16. Pelican Dreams
You will never look at pelicans the same way after watching this humanizing documentary about the sea-faring birds.
17. Wings Of Life
Disneynature puts out some incredible documentaries, including this look at the importance of pollinators; narrated by Meryl Streep.
18. The Crimson Wing
Another Disneynature effort, about a community of flamingos on the edge of the world.
19. Pandas: The Journey Home
Everybody loves pandas, but this National Geographic documentary will actually help you to better understand them.
20. The Champions
This heartbreaking, inspiring tale follows the pit bulls who were rescued from Michael Vick's fighting ring and given a second chance at life.
21. Honey Badgers: Masters of Mayhem
Honey badger may not care, but you'll definitely care about this informative look at these amazing animals.
Netflix has so many great options for the animal lover, so curl up with your fur baby and start streaming!
Images: Warner Bros. Pictures/Summit Entertainment