11 Awesome '90s Things Your Parents Made You Wear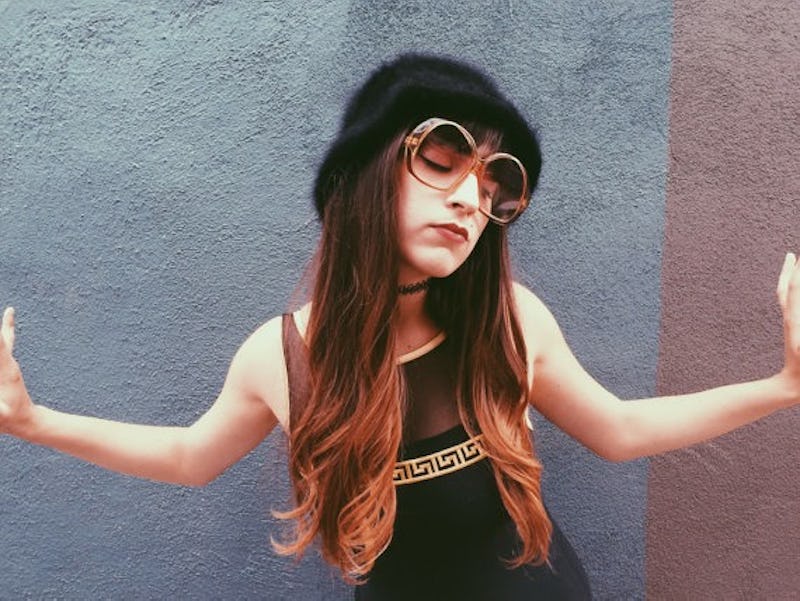 When it came to '90s fashion, your parents were probably clueless most of the time. Once in a while, however, mom (or dad) really did know best. There were a handful of awesome '90s clothes your parents made you wear that you actually approved of — even if you'd never let them know as much.
Most of the stuff your 'rents dressed you in during your childhood was horrendous, obviously. They may have made you match a sibling, sport something ridiculously garish, or put you in an outfit that made you feel so babyish you thought you might actually cry.
The 1990s were supposed to be about wearing the coolest brands at the height of their popularity. For instance, L.A. Gear light-up sneakers were every '90s kid's dream shoe. It was a very fickle decade during which an item was in one week and out the next. It was also a very materialistic time: If you weren't seen in the raddest threads, you might not have been accepted into the popular crowd at school. Your parents were usually blind to all of this, though, choosing instead to dress you in their misguided interpretation of "in vogue."
That said, there were some things they made you wear that you actually liked. So here's a little peak into the fashion and accessories you agreed upon. After all, siding with your parents back in those days was a total rarity.
1. Bucket Hats
'90s Vintage Black Fuzzy Angora Bucket Hat, $20, Etsy
Your parents had no idea that bucket hats were actually pretty grungy in the '90s, so this was a secret sartorial bonus for you. You loved your bucket hat even more if it was of the fluffy variety.
2. Jelly Sandals
Silver Sparkle Heeled Jellies Sandals '90s, $30, Etsy
You'd been hoping your new summer footwear would be a pair of jelly sandals, so you were delighted when your mom and dad made you wear these glittering beauties.
3. Sweatpants With Poppers
Joggers Adidas, $41, ASOS
A pair of sweatpants seemed like the most sensible option for a young lady to sport on adventurous days out. They were great for gym class, field trips, and afternoons at the park, so your parents probably bought you more than one pair.
The best types were the ones with poppers down the side so you could cool down as you ran around, pant legs flapping all over the place. Your mom or dad likely didn't see the function of the additional poppers. But they may have picked up a popper-embellished pair by accident, in which case you were one lucky kid.
4. Sunglasses With Colored Lenses
When summer came around, your parents took you shopping for sunglasses. Before you even stepped foot in a store, you knew the exact style you wanted. The specs you hoped to find where small, round, and had colored glass, just like Mary-Kate and Ashley Olsen's sunnies in Billboard Dad . Your 'rents didn't care which sunglasses you chose, as long as your peepers were protected.
5. Headbands
When your parents wanted you to look like a well-rounded, presentable human being, they'd make you wear a headband that matched your outfit. At first, you resisted. But then you saw The Parent Trap and realized how cool headbands actually were. You also wished you had a twin, but you just had to make do with faking a British accent.
6. Coppertone Kids Colorblock Sunscreen
Remember this magical sunscreen that went on blue or purple and dried clear? It was the stuff of an 8-year-old's dreams. Coppertone Kids Colorblock Sunscreen wasn't a clothing item, but it was undoubtedly an accessory: A novelty item that your parent bought to appease you, but was also functional (they could easily make sure you hadn't missed a spot). This stuff made everyone happy.
7. Overalls
Denim Early '90s Baggy Overall Shorts, $55, Etsy
Sure, you felt like a Rugrat when your mom first dressed you in a pair of overalls, but it wasn't until you got to playing outside with your friends that you realized how practical they were and how free you felt. You would never admit it, but your parent totally nailed it with this fashion purchase.
8. Fanny Packs
Early '90s Ninja Turtle Fanny Pack, $32.10, Etsy
When your dad took you fanny pack shopping for your vacation, your heart immediately filled with dread at the thought of yourself looking like a total nerd abroad. However, when you hit the mall, you realized there were a whole host of fanny pack designs out there, including ones with your favorite cartoon characters on them. You felt relieved that you'd actually look too-cool-for-school on your jollies.
9. Scrunchies
They kept your hair out of your face and you got to channel Clarissa Darling... What was there not to love about scrunchies?
10. "The Rachel"
Everyone went mad for Jennifer Aniston's haircut in the '90s. All you had to do was pop into your local salon, whisper those two words, and your stylist would know exactly what to do. Your parent made you get this haircut because they were tired of having to style your long locks every morning. Plus, you wouldn't stop going on about it, so they eventually caved in.
11. Babydoll Dresses
'90s Sunflower Denim Babydoll Mini Dress, $46, Etsy
Anything that made you feel like a mini Baby Spice was A-OK with you, even if your parent made you wear a babydoll dress because it kept you looking like their little girl. There was little hope for bagging a pair of skyscraper platform boots, so a babydoll dress would have to suffice.
Turns out your parents were actually way cooler than you realized, or perhaps they were oblivious to the trendiness of some of these styles. Either way, you were likely ecstatic when your 'rents made you wear this stuff.
Images: Thunder Pictures (1); Bright/Kauffman/Crane Productions, Warner Bros. Television (1); Walt Disney Pictures (1); Warner Bros. (1); Courtesy Brands (6)