Sartorial Lessons From The "Lady Marmalade" Video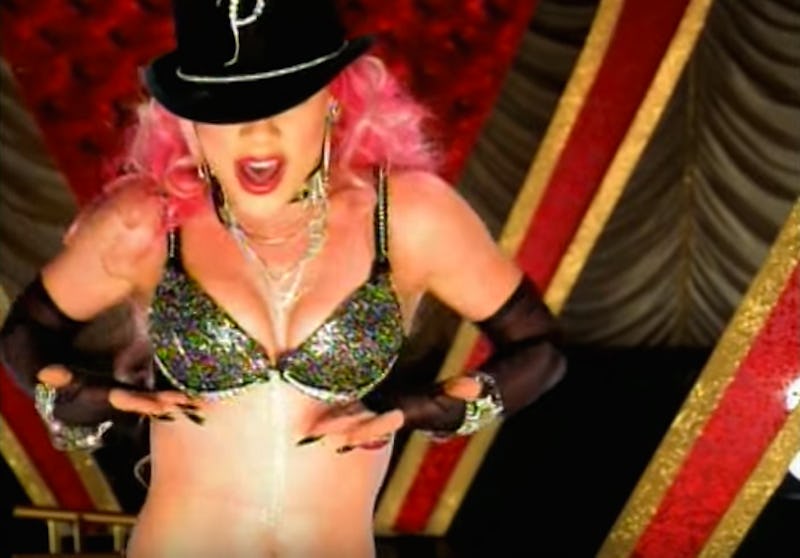 I sincerely doubt I was the only tween to fall under the spell of Baz Luhrmann's 2001 masterpiece Moulin Rouge! There was so much to love about this vibrant film, from the epic love story, to the beautiful ballads, and even the spin-off "Lady Marmalade" music video inspired by Bob Crewe and Kenny Nolan's 1974 original. The latter made many fans of Moulin Rouge! fall even harder for the movie, and who could blame us? The video was full of enchanting fashion and beauty looks and it starred some of the most popular songstresses of the time.
Christina Aguilera, Pink, Mya, and Lil' Kim came together harmoniously, both in the musical and sartorial senses of the word. For me, this decadent video came at a time in my life when I was on the brink of teendom. As someone who went to a Catholic school, it either contained or made references to everything I wasn't really supposed to like. It was an almost taboo insight into specific aspects of being a woman that I hadn't yet discovered, such as celebrating my sexuality and feeling confident enough in my body to flaunt foxy clothes.
My friends and I became so enamored that we entered ourselves into a local talent show, performing "Lady Marmalade" ourselves. Although we were probably too naive to understand all of the lyrics, we definitely had fun strutting our stuff in slightly more modest costumes. So here are some fashion and beauty lessons I learned from the "Lady Marmalade" music video.
1. Corsets As Tops Are Freaking Awesome
Sure, you might need a couple of mates to help you lace it up, but a corset is well worth the effort. Corsets add a seductive, luxe appeal that's difficult to find in any other single garment. So next time you want to feel empowered on a night out or at a party, try one on for size and discover how it makes you feel.
2. Crimped Hair Looks Good With Anything
It was the early '00s and you might have thought that the popular '90s hair trend of crimping your hair was dead and buried, but you were wrong. Christina Aguilera resurrected the crimp and made it look more majestic than ever, proving that trends come and go, but individual style lasts forever.
3. You Can Look Unique While Also Achieving #SquadGoals
Just like the Spice Girls and The Powerpuff Girls , the "Lady Marmalade" gang proved that you can stay true to your own unique style, while simultaneously looking like part of a posse. Eat your heart out, Taylor Swift and the "Bad Blood" gals.
4. There Is No Such Thing As Too Much Sparkle
Aguilera's eyes have so many crystals on them that they collectively look like stars in the sky. Plus, she's also wearing a blinging nose ring. That's a lot of sparkle on one face. It looks fabulous, though; and IMO, it proves that you should never go lightly on the glitter.
5. Feathers In Your Hair Equal Showgirl Whimsy
Can't choose between ravishing showgirl and ethereal angel? When you rock a feather in your hair, you don't have to.
6. Glitter Bras Are Everything
Even if nobody but you is going to see your underwear, a sparkling bra can lift your mood and make you feel like a million dollars. If you're having a bad day or someone's trying to rain on your parade, it doesn't matter. You're wearing a bra that is worthy of a unicorn queen.
7. Wigs Can Transform Your Look In An Instant
One minute, Lil' Kim's rocked luscious Jessica Rabbit locks; the next, she looked like Roxie Hart in Chicago. Lil' Kim's a woman who likes to experiment with her look, proving that wigs aren't just for cosplayers.
8. Bird Cage Veils Will Give You A Demure Vibe
Aguilera sported lingerie and suspenders during "Lady Marmalade," but you probably wouldn't have guessed it from this ladylike close-up of her rocking a bird cage veil. If you want to tone down a raunchier outfit, pop on a bird cage veil to give your aesthetic a demurer aura.
9. Statement Necklaces Never Go Out Of Style
Sometimes less is more, but there's nothing like wearing a huge, bejeweled necklace that's totally classic. So don a statement necklace at your next lavish event for a spot of excessive opulence.
10. A Top Hat Will Make Any Outfit Look More Formal
During the number, Pink is seen dancing around in a glittery bra, making her one of the most "naked" singers of the group. However, her dashing top hat added a formal air to an otherwise racy ensemble. When in doubt about the formal feel of your outfit, add a top hat to up the ante in the formalwear stakes. If you don't feel like rocking a full-sized top hat, opt for an adorable mini one instead.
11. Opera Gloves Lend Your Look A Fancy Vintage Vibe
Are you looking for a way to give your outfit a nod to the past? Opera gloves are a gal's best friend. No matter the style or material, these long gloves will instantly give your ensemble a Hollywood glamour vibe and make you look elegant AF.
Not only do these fearless gals teach us a lot about fashion and beauty, but they also remind us to be ourselves and feel confident at all times – even in our underwear.
Images: CAguileraVEVO/YouTube