The 37 Funniest Movies You Can Watch On Netflix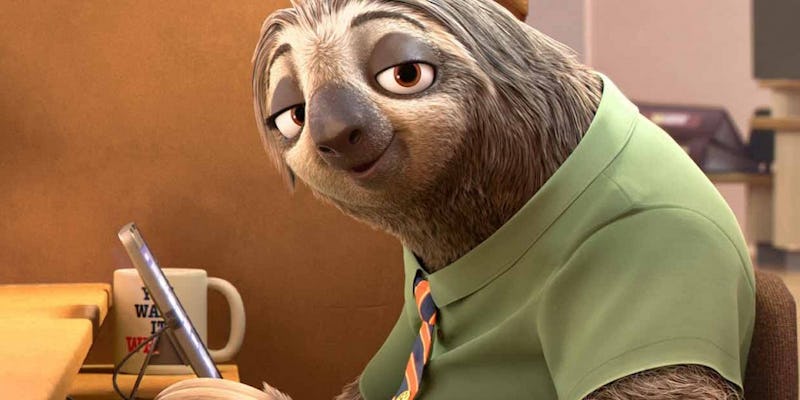 Comedy is quite possibly the most difficult genre of film to produce. Drama, horror, romance — these genres all achieve their intended response with relative ease compared to comedy. In order to make someone laugh, a lot of things have to go right. The audience's familiarity with the subject, the unusual thing that enters the picture, and the timing of that unexpected twist all have to click in order to achieve the guffaw that the movie is aiming for. That's why there are a lot of comedies out there, but not very many good comedies — comedy is hard. Thankfully though, you can watch some of the funniest movies around on Netflix.
Netflix's library is massive, and although their collection of comedies features a ton of movies you probably haven't heard of (a lot of which aren't very funny), several of them are laugh riots; and a few even rank among the greatest comedies ever made. You'll find big comedic stars like Will Ferrell, Bill Murray, and Kristen Wiig; along with works produced by some of the most hilarious filmmakers like Albert Brooks, Amy Heckerling, and Wes Anderson. So take a look at the 37 funniest movies you can watch on Netflix right now, and just try and hold in your laughter.
1. Zootopia
Netflix's big Disney deal is starting to bear fruit with this, the funniest Disney animated feature in years.
2. Dazed And Confused
Before he was winning Oscars as a dramatic actor, Matthew McConaughey was making fans laugh at his townie loser.
3. Ferris Bueller's Day Off
A classic from '80s comedy great John Hughes.
4. A Night At The Roxbury
It's hard to believe this SNL sketch was stretched into a full movie, and even harder to believe that it's funny.
5. Kingpin
A vastly-underrated Farrelly Brothers movie, this is worth watching for Bill Murray's hairpiece alone.
6. The Addams Family
Its sequel, Addams Family Values , was probably funnier, but the '90s original still has its share of laughs.
7. Superstar
Another SNL movie, and proof that Molly Shannon deserves more starring roles.
8. Clerks
If you're into Kevin Smith's brand of witty banter, then look no further.
9. Galaxy Quest
Like Three Amigos in space, but with the late Alan Rickman.
10. Can't Hardly Wait
For the '90s teen comedy fans out there.
11. Swingers
Wondering where Vince Vaughn's fast-talking comedic persona came from? You can literally see him becoming a star in this film.
12. Spies Like Us
Dan Aykroyd and Chevy Chase in a Cold War comedy directed by John Landis. It doesn't get anymore '80s than that.
13. Coming To America
Beverly Hills Cop gets the most attention, but for my money, this is Eddie Murphy's funniest movie.
14. Pleasantville
Super original and clever, and funny to boot.
15. The Princess Bride
The funniest fairy tale of all-time.
16. Wet Hot American Summer
Amy Poehler, Paul Rudd, Bradley Cooper, Elizabeth Banks... It's hard to imagine a comedy with a deeper or more talented cast.
17. Modern Romance
Albert Brooks deconstructs the rom-com in this classic.
18. Lost In America
Another Brooks feature, this one takes aim at the American Dream.
19. 13 Going On 30
Does this movie have some creepy themes when you stop and think about it? Sure, but it's still funny.
20. While You Were Sleeping
Sandra Bullock is never not funny.
21. Welcome To Me
This is certainly a dark comedy that's not for everyone, but Kristen Wiig is one of the most talented comedic actors of all-time, and she gives a superb performance here.
22. Clueless
One of the best comedies ever. Period.
23. Casa De Mi Padre
Will Ferrell's Spanish language Western is an odd duck for sure, but it somehow works.
24. Heathers
"Dark cult '80s teen comedy" is a niche consisting of basically this movie and this movie alone.
25. Legally Blonde
The rare film that can both make you laugh and leave you inspired.
26. South Park: Bigger, Longer, And Uncut
It's hard to believe this satire still seems relevant nearly 20 years later.
27. Tommy Boy
David Spade and Chris Farley are a timeless combo in what might be the '90s funniest movie.
28. 50 First Dates
People have a lot of opinions on Adam Sandler movies, but most would agree this is one of his best.
29. Moonrise Kingdom
Wes Anderson's quirky brand of humor was never more on point than in this charming coming-of-age romance.
30. Bring It On
Bridging the gap between teen comedies of the '90s and early '00s since 2000.
31. Scrooged
Bill Murray standing in for Ebenezer Scrooge in a modern version of A Christmas Carol? It's even better than it sounds.
32. In Bruges
Under the radar British crime caper full of non-comedic actors like Colin Farrell being very funny.
33. Hot Fuzz
Another UK export, and one of the best from Edgar Wright and Simon Pegg.
34. Road Trip
I'll leave it up to you to determine how well this time capsule holds up, but you know you loved it as a teen.
35. Pee-wee's Big Adventure
The story of a man and his bicycle.
36. Major Leauge
Sports movies are generally uplifting films about the triumph of the human spirit. This is not one of those movies.
37. Mean Girls
I don't remember the last time I went a day without quoting this film.
These 37 movies on Netflix should all make you chuckle, and with such a wide range, you're guaranteed to find one that you'll absolutely love. So start streaming and let the good times roll.
Images: Walt Disney Pictures