The One 'Gilmore Girls' Revival Theory To Know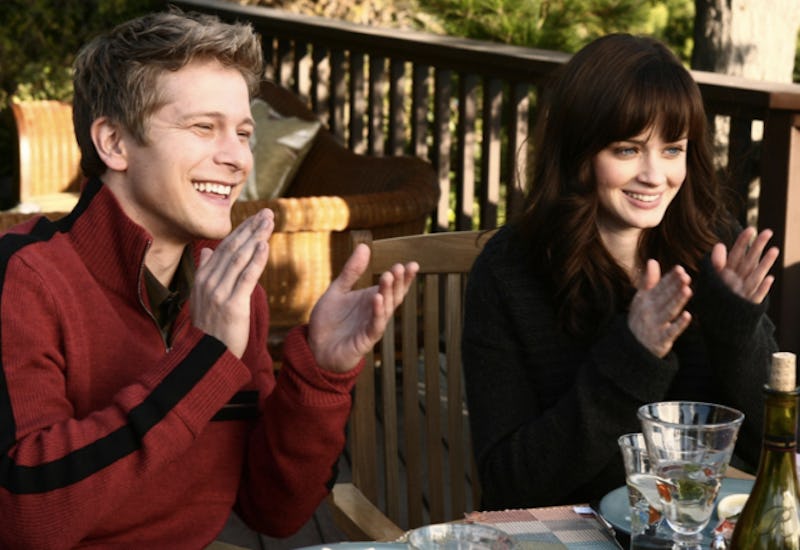 The most exciting event of 2016 has to be Gilmore Girls: A Year In the Life arriving on Netflix on Nov. 25. Since there are still a few weeks to go until the episodes are released, fans are perfectly within their rights to be examining as many Gilmore Girls theories as possible. While everyone has their own hopes for what might have happened to their favorite characters since the series originally ended in 2007, there are some pretty interesting ideas doing the rounds on the internet, some of which are pretty plausible. And there's one Gilmore Girls revival theory that's so crazy it just might be true — at least, in my opinion.
Much of the speculation surrounding the new episodes of Gilmore Girls revolves around Rory's boyfriends — Dean, Jess, and Logan. It's beyond incredible that all three are returning for the show's revival, and fans are understandably desperate to find out who, if any of them, Rory ends up with. Based on the evidence so far, the Gilmore Girls theory that I think could happen, despite being more than a little cray, involves Logan and Rory having a baby. Forget a wedding — it seems pretty clear that Logan and Rory are endgame, and a baby Gilmore would be the perfect way to end the show.
So why do I think Rory might be having Logan's baby in Gilmore Girls: A Year In the Life? The biggest clue of all has to be the fact that some of the filming took place in London. This was confirmed by actress Alex Kingston, who revealed that she'd been filming opposite Alexis Bledel. Entertainment Tonight reported that Kingston also revealed that she plays, "a very eccentric character in a couple of those episodes," and I'd hazard a guess that she's a medical professional who's enlisted to look after Rory through her pregnancy.
We also know that Logan lives in London, as the Warner Bros. Costume Department released a video detailing how the outfits and looks of our favorite characters have changed since the show wrapped in 2007. If Logan and Rory are both in London, they're either married or dating, or there's a reason that they have to see each other, and that reason could be the impending birth of their child.
Adding weight to the theory, Hollywood Life wrote in Aug. 2016 that one of the promotional shots for Gilmore Girls: A Year In the Life implied that either "Lorelai or Rory have a baby on the way." The photo features an apple on a plate surrounded by Pop Tarts, which references the fact that the only time Lorelai craved an apple was when she was pregnant with Rory. While this could simply be a throwback to Season 1 of the show, it makes the theory that Rory is pregnant in the Gilmore Girls revival seem more possible.
Finally, fellow cast member Tanc Sade, who plays Finn on the show, shared a selfie with Alexis Bledel and Matt Czuchry, with the caption, "Chillin' with #Rory & #Logan. Will they? Won't they? Hmmm." Not only did the pair look super cute back together again, they looked so relaxed too.
I'm ready to place all of my money on Team Logan right now, and even if the theory that Rory is having Logan's baby is a little out there, I think it's definitely possible now.
Image: Warner Bros. Television