The Musical Impact Of The Drake & T. Swift Rumors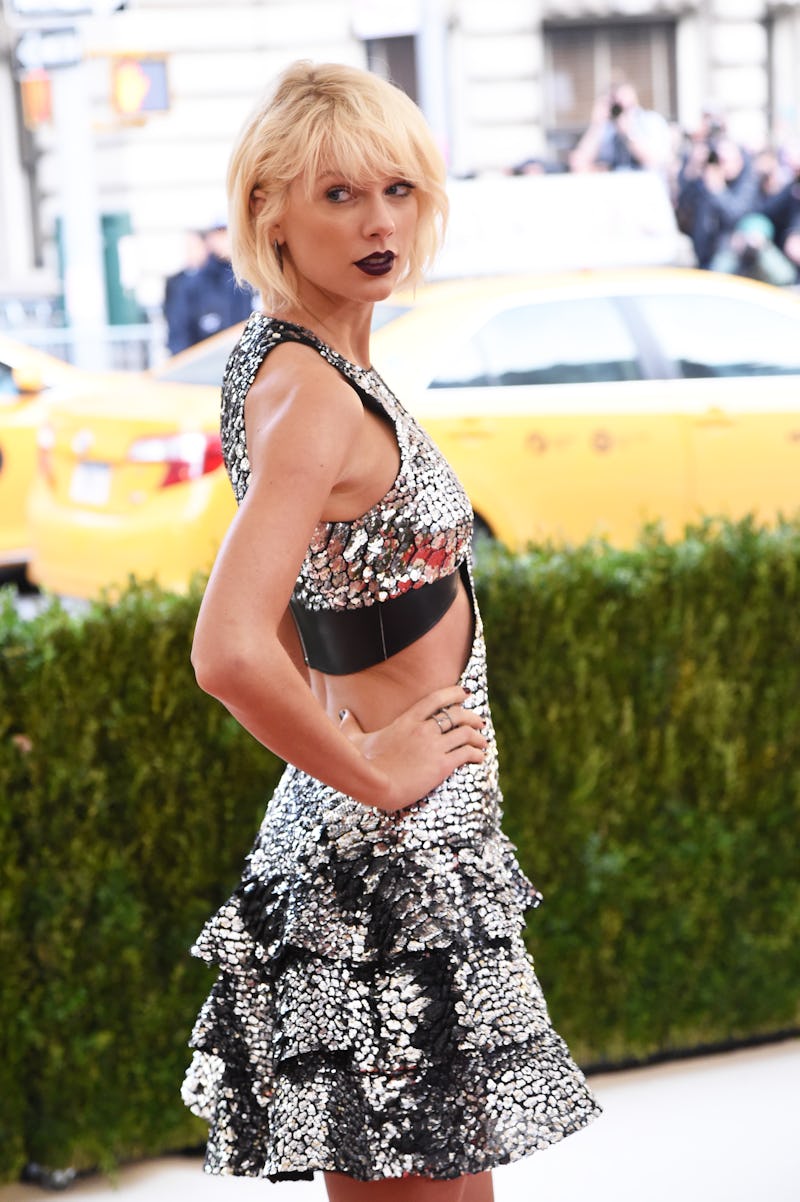 For someone who's so honest in his songs about every single thing he's feeling, your boy Drake is surprisingly secretive when it comes to who he's dating, and I've had enough of it. Fans never even got a straight answer on whether he and Rihanna were a couple, yet all of a sudden Drake and Taylor Swift are rumored to be dating? The speculation already has me exhausted, so I'm going to skip the step of digging through social media and interviews looking for clues. Instead, I'm moving ahead to what it would mean for Drake and Swift's music if they're together.
Right off the bat, these two are well-known for including references to past relationships in their music. Drizzy's Views was littered with songs about exes, and you can't get much more obvious than Swift's song "Style," which is linked to her ex Harry Styles right in the name. So of course, if they are together, I'd expect to see the references get a lot more clear and way more blatant. It's one thing when only one member of the relationship is mining it for potential inspiration, and it's another when both of them are doing that. (Would they ever even need to talk to each other? Or would they meet up, have one slightly weird interaction, and split off for the night to try to resolve it through lyrics? Whoever has the best song wins?)
No but seriously, one thing I can see happening pretty easily is these two collaborating. It's not a direction (no pun intended) that Swift has gone before, as she's never guested on an former flame's track or vice versa. But Drake has done many songs with Rihanna at this point and they're some of my favorites. I wasn't a huge fan of Views, but I did listen to "Too Good" nonstop, and the video for "Work" was spicy. Since Drake has had good luck working along romantic lines in the past, I wonder if he'd do it again with Swift. I hope so. They both would certainly have a lot to gain through a collaboration. They're so different as artists that I wouldn't have any idea what the end result would even sound like, except that it would be awesome and I'd need to hear it right away.
And speaking of being different kinds of artists, part of me wonders if dating Drake would push Swift more toward rap. After all, 1989 was her first album that was self-identified as purely pop with no country influence, and that happened after dating Styles. So it isn't out of the question that her next relationship — whoever it's with (cough cough) — could push Swift into an entirely new genre, like rap or hip hop. All I'm saying is dip a toe in, girl, the water's fine; and you've already met Kendrick Lamar, so you're well on your way.
The final thing that might happen if Drake and Swift date is that she might write a song for him, like she did with Calvin Harris' "This Is What You Came For." This would be the easiest way to see how her musical sensibilities are being influenced by who she's dating. I don't think Swift would have ever released "This Is What You Came For" on her own, but it was a way to try out a new sound without putting herself all the way out there. It worked well enough, so I bet fans might see it again.
At the end of the day, these two would make a delightful couple. And if they are together, my Spotify account and I are more than ready to see it influence their songs.
Images: Stephen Lovekin/REX/Shutterstock; Giphy (2)