Cheese, Kylie's Surprise, & More In Today's Huddle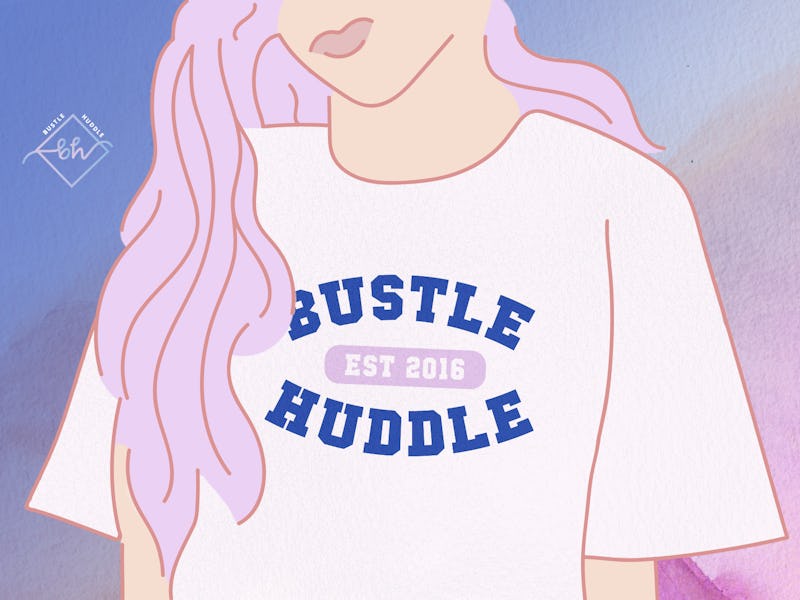 It's Fri-YAY!! Are you at happy hour? Cuddled on your couch? Still at work (like me)? Plotting the next viral meme? Well, it doesn't matter where you are, because here's all the news from today that you *cannot* miss. The world has been graced by the salty AND sweet cheese treat of your dreams. Kylie Jenner is making more money. Kanye West really let us down. It's been a day! Here's what we couldn't stop talking about at Bustle today, and also, here's everything you need to know going into your weekend. Bonus: Your weekend love horoscope is your reward for reading all the way through this today. Scroll on!
Donald Trump + Running For Your Life
Another day, another viral Donald Trump moment — except this one doesn't really involve Trump for once. Videos of the Trump's Coming challenge are currently sweeping the internet. If you've somehow been able to avoid the chaotic challenge, here's what it's all about. In a crowded area, someone shouts "Trump's coming!" and then everyone else literally starts running for their lives. Too. Real.
Speaking of coping after the election: Donald Trump finally settled his own outstanding legal issue. The office of New York State Attorney General, Eric Schneiderman, annouced today that the Trump University lawsuit has been settled for $25 million. Calling Trump's decision to settle a "stunning reversal," the official annoucement also denounced Trump University as "fraudulent" and "phony."
(More) Donald Trump + That Attorney General Job
President-elect The Donald has offered the job of attorney general to Alabama Sen. Jeff Sessions. Since he'd be the top dog deciding on America's law and order if he were to get the job, Sessions needs to first accept his nomination and then be confirmed by the (Republican-controlled) Senate. Sessions, a longtime Trump ally, is a controversial pick for a multitude of reasons — one being racist comments from his past. He could possibly face a harsh confirmation process for attorney general, like he did back in 1986 when he was not confirmed for a federal judgeship.
"Fun" Election Fact: Kanye West finally weighed in on the presidential election today. West says his pick was Donald Trump — that is, if he had actually bothered to go out and vote. Oh yeah, he also teased his own run for president in 2020.
Cheese + Your Sweet Tooth
OK, you need a little good news after that Kanye BLOW. Love cheese? Love chocolate? You're in luck. The internet is currently freaking out over chocolate cheese, the sweet and salty food of your dreams. "Choco 21" is made of blue cheese which is then aged IN chocolate liquor. Once that magic happens over time, the cheese is then covered in cocoa and chocolate pieces. Just FYI, though: This is only sold in Melbourne, Australia, and it's also already sold out.
Shopping Break: Speaking of weird s--t, here's 32 random, but cool things people are buying on Amazon. 'Tis the season to spend too much money on random gifts!
Kylie Jenner + New Business Ventures
Kylie Jenner's playing games with our hearts at a prime hour this Friday. The saavy business woman and social media BOSS just dropped a new Instagram post that has us all saying, "What?" and whipping out our wallets. In a caption on her personal Instagram account, she directed us all to a new Instagram account for The Kylie Shop (@thekylieshop). We have no idea what this "shop" is going to be beyond a pop-up, but here's everything we can assume so far about Kylie Jenner's new shop.
Fun Fact: Just kidding. You guys all know so damn much about the Kardashians that I have nothing new for you on this fall Friday.
Gilmore Girls + T-minus One Week
In exactly one week, Gilmore Girls fans everywhere will be hunkering down with coffee and all the snacks for the much-anticipated revival, Netflix's Gilmore Girls: A Year in the Life. Be sure to catch up on everything you need to know about the series leading up to the revival with Bustle's massively handy guide: Everything You Need to Know about Gilmore Girls before the Revival.
Fun Fact: The Bustle offices are chock-full of Gilmore Girls superfans. We actually have a picture of shirtless Jess Mariano hanging on the wall. Only SEVEN. MORE. DAYS.
What To Watch: Harry Potter fans, make sure to "accio" your ticket for Fantastic Beasts and Where to Find Them, in theaters this weekend. You won't want to miss this magical spinoff.
Horoscope: Still torn about whether or not to bring bae home to the family next week? Here's your weekend ~love horoscope~ .
Design: Chelsea LaSalle, Alyssa Foote/Bustle