The 17 Most Meta Moments In The 'Gilmore' Revival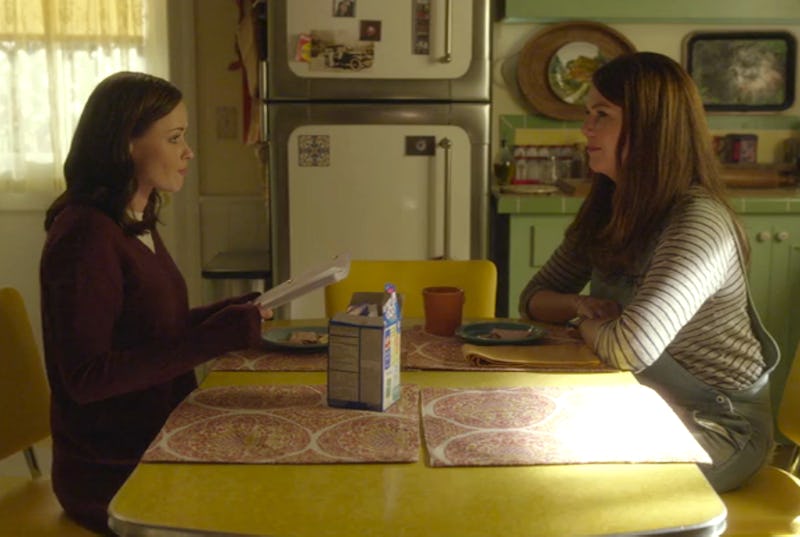 With nearly a decade between the original Gilmore Girls and the Netflix revival, there was plenty of time for Amy Sherman-Palladino and Daniel Palladino to reflect on their earlier work. And that might help explain why Gilmore Girls: A Year in the Life revival had so many meta references. Gilmore Girls is known for its plethora of pop culture references, which were of course still intact, but the revival was much more self-referential than the original series ever was. Yet, with time comes perspective, so it makes sense that the Gilmore Girls revival would go meta on its fans to add another layer of enjoyment.
The whole idea around something being meta is that it is aware of its place in the world. While I may be playing a bit fast and loose with the exact definition of meta, all of these in-jokes from Gilmore Girls: A Year in the Life are worth a shout-out. Whether they are nods to the original series or deeper meanings behind the pop culture commentary and fantastic cameos, the Netflix revival had something to dissect at every change of season. So here are 17 times that Gilmore Girls: A Year in the Life was meta.
1. Where Rory Leads, Paul Will Follow
If you were grumpy that Carole King's song "Where You Lead" didn't start every episode of A Year in the Life like it did for the original series, then you might have been delighted to hear Rory's boyfriend Paul tell her, "Yes, I will follow" as she headed into the kitchen. Another fun connection is the fact that Paul actor Jack Carpenter had a small role on The Good Wife, which starred his romantic rival for Rory's affections — Matt Czuchry (aka Logan).
2. Gypsy Was Berta
Some viewers with keen eyes realized that Gypsy actress Rose Abdoo portrayed Emily's new (and only!) maid of the revival, Berta. Since the original Gilmore Girls was known for having one actor play two characters, Abdoo doubling up seemed to be alluding to that trend, even if Lauren Graham said that Berta wasn't specifically written for Abdoo.
3. Her?
Arrested Development fans quickly realized that Paul was the Ann Veal of A Year in the Life. Unfamiliar with the cult classic TV show? Well, Michael Cera's George Michael dated Mae Whitman's Ann and no one in George Michael's family — particularly his father — could ever remember her name, let alone that she existed. (Unlike Rory though, George Michael always knew where his girlfriend was.) While the Paul joke could have just been an homage to Arrested Development (which also had its own Netflix revival like Gilmore Girls), it was actually super meta since Ann Veal herself had a cameo in A Year in the Life.
4. Mae Whitman's Cameo
As just referenced, the Arrested Development joke made Whitman's appearance even greater. However, the more apparent reasoning behind Whitman's small cameo in the revival was because she portrayed Graham's daughter — Amber Holt — in the TV series Parenthood. Seeing this other mother-daughter pair reunite over crodocakes was thrilling for Parenthood fans.
5. Jason Ritter's Cameo
And Whitman wasn't the only Parenthood alum to join Graham in A Year in the Life. Jason Ritter was the first park ranger Lorelai encountered during her Wild trip to California to hike the Pacific Crest Trail (PCT). He portrayed her on-again, off-again love interest Mark Cyr on Parenthood. To top it off, Ritter was also Alexis Bledel's love interest in the never-aired show Us & Them. Dating both Gilmore girls is pretty damn impressive.
6. Peter Krause's Cameo
Think you're done with the Parenthood connections? Well, Peter Krause was the second park ranger, who antagonized Lorelai at the PCT trailhead. Not only did he portray Graham's brother on Parenthood, but the actors are romantic partners in real life. Awww!
7. Kirk's Movie Soundtrack
Cosmopolitan caught that the Terms of Endearment theme played in the background of Kirk's second movie. (It's when he's holding Petal after the pig is hit by a car. Poor Petal!) Kirk used many songs in his comeback film, but using the theme from the movie about a troubled mother-daughter relationship seems intentional for Gilmore Girls — not to mention Lorelai referenced the Shirley MacLaine and Debra Winger tearjerker in the original series.
8. The Reese Witherspoon Bag
Lorelai's Wild-inspired trip came out of nowhere if you didn't see her reading the book in the beginning of "Summer" at the pool. But she also had the adorable Totes Y'all bag with her at this point, which is from Reese Witherspoon's fashion line Draper James. Even though Lorelai wanted to hike the PCT because of the book Wild, Witherspoon famously starred in the movie Wild.
9. Doyle As A Screenwriter
Doyle actor Danny Strong is a successful screenwriter in real life, so it's extremely amusing that Paris cites Doyle becoming a Hollywood screenwriting sellout as the reason they are divorcing. Strong has written the HBO movies Recount and Game Change (for which he won an Emmy for) and the big screen films Lee Daniels' The Butler, The Hunger Games: Mockingjay – Part 1, and The Hunger Games: Mockingjay – Part 2. He is also one of the creators of Empire, so he's kind of a big deal.
10. Buffy the Vampire Slayer
Another nod to Strong's life outside of Gilmore Girls came in the form of both Paris and Rory (at separate times) referencing the TV series Buffy the Vampire Slayer since Strong portrayed Jonathan Levinson on Buffy before he was on the other WB series, Gilmore Girls. Rory had referenced Buffy back in the original Gilmore Girls days and it was still a great tie-in.
11. The Darling Doctor Who
Doctor Who fans were pumped to see River Song — aka Alex Kingston — portray Naomi Shropshire, the eccentric woman Rory was writing a book about. In her first scene in "Winter," Naomi refers to a "darling doctor," who she steals food from. Later in "Fall," Luke mentions Doctor Who while criticizing diner patrons who are using his Wi-fi to stream old episodes of the British sci-fi show. Bonus fun fact: Bledel appeared in the final episode of ER, which Kingston starred in for seasons.
12. The Real Paul Anka
This was meta the first time around, but it was great to see that even after all these years, the real Paul Anka was down to channel Lorelai's dog Paul Anka for one of her surreal dreams.
13. The Other Town Troubadour
The opening credits song for the original Gilmore Girls featured not only King, but her daughter Louise Goffin. In "Winter," the town troubadour's sister was singing on a corner before he chased her away. This second town troubadour was portrayed by Goffin for a pitch-perfect Easter egg.
14. Sophie's Song
Speaking of King, she portrayed her original series character Sophie for A Year in the Life. After Taylor said they might not be able to use ABBA songs at the end of Stars Hollow: The Musical, Sophie offered up some songs she had written to be used. King performing her actual song, "I Feel the Earth Move," was amazing, but Taylor decided the song just wasn't "catchy" enough.
15. Broadway Comes To Stars Hollow
If you're a fan of musical theater, you were probably able to live with the amount of time allocated to Stars Hollow: The Musical since it starred two of Broadway's biggest stars (and previously married couple) — Sutton Foster and Christian Borle. Another Broadway veteran, Kerry Butler, was Foster's character's understudy, but she had more screen time as Lorelai's therapist Claudia. Seeing these ridiculously talented people struggle on a community theater stage was genuinely hilarious — if you weren't angry at the revival for spending so much time on this bizarre detour. Foster is also a Sherman-Palladino favorite since the actress starred in Bunheads alongside Emily Gilmore (Kelly Bishop) and other featured actors in the revival.
16. Luke At Baseball Camp
While the actors Scott Patterson and Kiefer Sutherland don't appear to be connected, Luke says he met Sutherland at baseball camp in "Fall." Before his acting career, Patterson was a baseball player in the 1980s with People magazine writing back in 2002, "Drafted to the minor leagues in 1980, he spent the next eight years pitching for the AAA and AA teams of the New York Yankees, the Atlanta Braves, and the Texas Rangers." Now that helps explain the backwards baseball cap!
17. The Gilmore Girls
Rory's working title for the book about her and her mom is The Gilmore Girls. Lorelai suggests dropping the "The" from it because it's cleaner. This is a direct reference to The Social Network, but it's also oh-so meta since Lorelai gives Rory the name of the very show that you're watching.
While you would have watched Gilmore Girls even if it had been called The Gilmore Girls, the revival knew how to blend throwback references and new storylines for a delicious meta melting pot.
Images: Netflix (18)