Bustle's Editors On Kanye + 'Rogue One'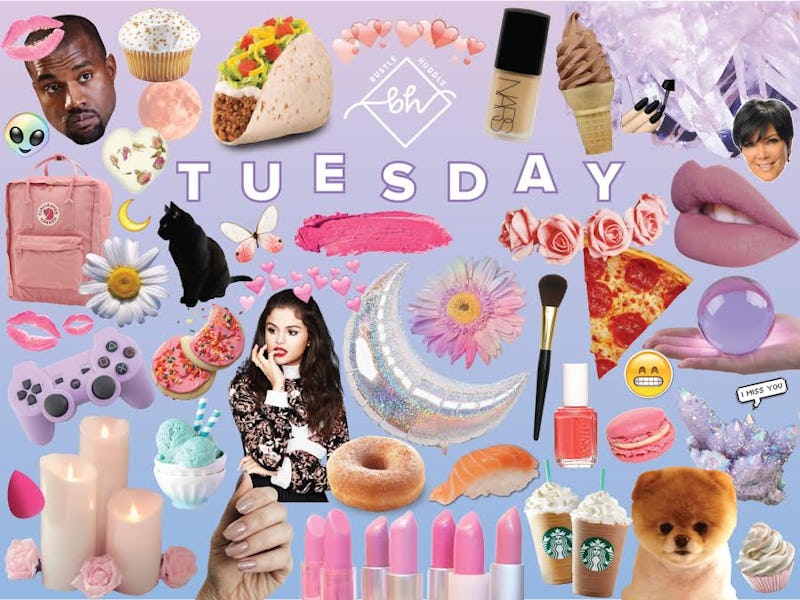 Hope everyone had a good Tuesday! This day has been quite, um, interesting, seeing that it started with a Donald Trump-Kanye West meeting that seemed too strange to be real and yet actually, somehow, took place. It seems like even with just a few weeks to go, 2016 is continuing to get weirder and weirder with every passing day.
For more on that odd Kanye-Trump meeting and so much else, read on for the news that had Bustle's editors talking and tweeting about today, Dec. 13.
Kanye West + Donald Trump
Oh, boy. On Tuesday morning, photos and videos of Kanye West entering Trump Tower to take a meeting with the president-elect sent the world into a frenzy. Did West really vote for Trump? Was West the next person appointed to Trump's cabinet?! (Kidding. Kind of.) Why were these two – of all people – meeting? Well, shortly after, Trump shared that the duo discussed "life" and Kanye becoming an "ambassador of sorts." Then, on Tuesday afternoon, West weighed in to reveal exactly why he and Trump met, so we're a *little* less confused now.
Meme Alert: The Yeezus-Trump meeting has, unsurprisingly, inspired plenty of great memes and jokes. This one, below, is a particular favorite.
Rex Tillerson + Secretary Of State
After several weeks of rumors, it's finally official. Trump has chosen Rex Tillerson, the head of Exxon Mobil, to be his Secretary of State. This is causing a great deal of concern, as Tillerson has no diplomatic experience and has significant ties to Russia, a pretty huge issue considering the whole Russia-might've-hacked-the-election thing.
Quote Of The Day: "I have a very close relationship with [Putin.] I don't agree with everything he's doing. I don't agree with everything a lot of leaders are doing. But he understands that I am a businessman. And I have invested a lot of money, our company has invested a lot of money, in Russia, very successfully." — Tillerson, to students at the University of Texas in February. Great.
New Emojis + Gender Diversity
Happy early Christmas, everyone! iOS 10.2 is here and it comes with plenty of new emojis. There are clowns, avocados, gorillas, and more, but most excitingly, there are way more female professions emojis than there were in the past. Women can now be detectives, firefighters, and much more with these new emojis — how cool is that?!
Deal Of The Day: Hamilton fans, this Schyler Sisters throw pillow, $25 on Red Bubble, is the perfect accessory to have around your house. Whether you're an Angelica, Eliza, or a Peggy, you'll want this pillow in your life.
Rogue One + Feminist Heroes
Star Wars fans everywhere are getting excited for the release of Rogue One, the first standalone movie in the franchise, and for good reason. Not only is the movie a darker addition to the series than its predecssors, but it features a heroine, Felicity Jones' Jyn Erso, who's the kind of fierce, compelling character rarely seen in blockbuster films. In a recent interview, Jones herself told Bustle that she believes Jyn is " a good role model" and a character fans will identify with. Explained Jones, "She's come from nothing and she's in a bit of a not great situation when we meet her and I think it just shows that she's an ordinary woman in extraordinary situation." Hell, yeah.
Behind-The-Scenes: "Not only is Felicity Jones just a joy to watch kicking ass on screen, but the film itself is such an expression of fandom," says Bustle's Senior Entertainment Editor and resident Star Wars superfan Kelsea Stahler, who interviewed Jones for the profile above. "The director, Gareth Edwards, is the biggest, most dedicated Star Wars fan of all time, and when you see the movie, it really shows."
Snapchat + Groups
Raise your hand if you currently have a group text with friends, group message on Instagram, and 10-person long email thread going. Same. Well you, ma'am, are in luck because Snapchat just rolled out Groups, an insanely cool feature that allows users to chat with up to 16 of their friends at once. Go tell your friends. I know you will.
Fun Fact: As if group messaging isn't enough, you can use Shazam on Snapchat now too. Have fun, kiddos.
Today's WTF Moment: As of Tuesday, you can now use Tinder on your Apple TV — yes, really. Now the whole family can get involved with your swiping.
What To Watch: With Rogue One coming to theaters this weekend, it's time to catch up on your Star Wars and rewatch the previous seven movies in the franchise. They're not streaming on Netflix, sadly, but they're all available to stream or boy via Amazon.
Design: Chelsea LaSalle, Alyssa Foote