I Tried Glitter Strobing IRL & It Was Kinda Rad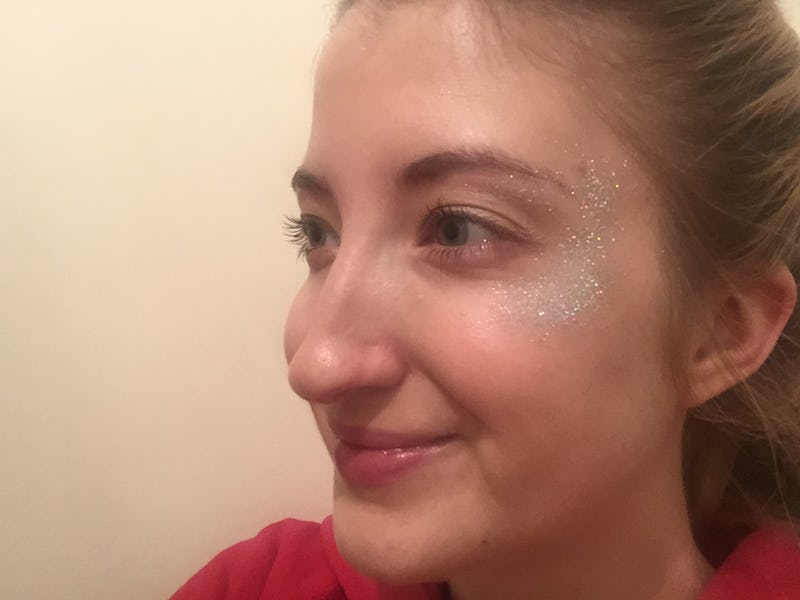 Over the course of the past few years, glitter became a popular player in plenty of beauty looks, so it seemed natural that strobing (highlighting key points of the face) would become more, well, sparkly. As a fan of magical makeup looks, I tried glitter strobing in everyday life to discover if this was a look that could work during day-to-day events.
Folks have proved that glitter can literally be used in any look, from glitter embellished armpits, to quirky glitter eyebrows, and sparkling glitter manicures. This obsession with glitter may have stemmed from the '90s trend that came back into vogue recently, as body glitter was a huge trend during the decade. Using glittery makeup (or actual glitter) in your beauty look is a trend that's spread like wildfire. In autumn 2016, celebs went mad for Pat McGrath's Lip Kits that injected some serious sparkle into A-list pouts and made the rest of us mere mortals lust (004) after their otherworldly lips.
With the holidays just around the corner — and with glitter taking a front row seat in the beauty world — I had to try out glitter strobing to see how it worked IRL. Would it be too much or not enough?
The Inspo
For those in the dark, strobing is all about illuminating and drawing attention to certain areas of the skin — it's kind of the opposite of contouring. For my glitter strobing look, I took my inspiration from this beauty YouTuber, who applied a MAC Reflects Pearl Glitter to her cheekbones and her brow bones. In the above tutorial, she mentions that she believes this isn't an everyday highlight, but she thought it would be great for a party or photographs.
However, I was going to try rocking this ethereal look in everyday life, to see if it's actually a wearable trend that can be worn at any time of day or night and not just for special events. I felt kind of lucky that at the time of my glitter strobing experiment it was a few days from Christmas — IMO, it was more seasonally appropriate for me to be wearing glitter on my face in December than say, April. That being said, one should always wear what they want, whenever they want, but in terms of fashion, I felt I was set to look on trend for autumn/winter.
The Method
I prepped my face by giving myself a natural makeup look and leaving my cheeks and brow bones bare. I chose to rock a natural look on the rest of my face because I wanted the attention to be on the glitter strobing.
I grabbed my pot of Lime Crime Zodiac Glitter in "Ophiuchus" and emptied a little into the lid, as I wanted to create a layered look rather than go full-on heavy metal from the off. I rubbed a little Vaseline in a "C" shape along my cheekbones and up towards my temples, with a small slick on each brow bone.
I used a medium sized makeup brush to dab and sweep the glitter onto the areas of Vaseline.
I was quite pleased with the result, although I was already feeling that this look was a bit much for everyday wear.
But, I did enjoy how the glitter made me feel like a mermaiden on land or a unicorn IRL.
I was ready to take on the world! Or at least the small town in the North of England that I call home.
Glitter Strobing IRL
As I stepped out onto the streets it was already dark! Darn the Great British Winter! I felt like the darkness might have made my sparkly strobing less noticeable, but I knew it would really show up when I went indoors into stores.
I felt like my glitter strobing looked better online than it did IRL; perhaps it was something to do with the soft filters versus the harsh lights inside the mall and in most of the shops I entered. It looked more subtle and ethereal on Instagram, whereas I felt in reality, it looked like I'd literally brushed glitter on my cheeks.
I made my way around the shops, while running my festive errands. The polite lady in the first store I entered said nothing at all about my makeup, but when I popped into the local coffee shop that my friend owns, I spotted an acquaintance who told me she thought my glitter strobing looked great and "Christmassy!" I was reminded that I had picked a particularly good time of year to try out this new trend.
I popped into a fair few stores and none of the staff mentioned my festive face. I came across another acquaintance in a clothing store who was doing some last minute Christmas shopping — she too complimented my new look, which boosted my confidence even more.
I took the above sneaky picture next to the Christmas tree in the mall, when I thought nobody was looking. My town is a little like Star's Hollow, where you're bound to bump into someone you know whenever you leave the house, so I didn't want anyone I know spotting me trying to take a shameless selfie with the Christmas tree. As you can see, my glitter strobing was not actually as obvious as I thought it was.
Towards the end of the day, we made a trip to my partner's sister's home to deliver some gifts to his nieces and nephews. I liked how even the streetlights made my face shiny in the dark. However, no one breathed a word about my glittering makeup, but this could be because they're used to regularly seeing me with unusual beauty looks.
In hindsight, they may not have mentioned my glittery face because during the day, some of it had rubbed off. It had become patchy and had started clumping together slightly, which was not a great look.
Is Glitter Strobing Suitable For The Everyday?
Glitter strobing is definitely wearable —and yes, even everyday. If you're a fan of all that glitters, you should definitely try out this cool beauty trend. I felt like I was wearing a ton of sparkle on my face, but in reality, it wasn't overly noticeable.
The general response from others was positive, but I wasn't sure if this was because of the time of year. With it being almost the holidays, I thought folks might be more inclined to a spot of aesthetic festive cheer in the form of a glittery face, so I'm not sure what the response would have been at a different time of year. Having said that, I think this look makes people subconsciously feel nostalgic about the '90s and if they grew up in this era and liked wearing body glitter, it could bring back good memories for them. Perhaps I was giving off these same vibes.
All in all, if you try glitter strobing, be prepared for more attention — it's not something that everyone walks around with on their faces everyday, so you may get some comments. Plus, if you hug or kiss others, they will be left with a sparkly aftermath; for me this was especially comedic as I hugged my partner and he was left with what appeared to be a holiday appropriate glitter beard.
If you like this celestial look, be prepared to spread holiday cheer in the hearts of others and leave a trail of glitter in your wake. If you're lucky, you might also experience side effects of feeling like a fairy princess, which may or may not be something you can check off your bucket list.
Images: Phoebe Waller