15 Funny & Easy Pop Culture Halloween Costumes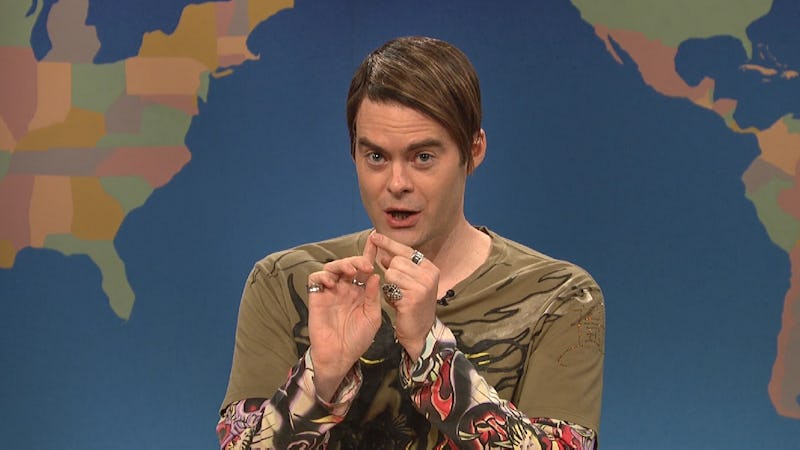 Still stumped about what to be for Halloween? There are so many costumes to choose from! It's hard to decide whether you want to go as a movie character or a celebrity or a sexy version of something. There are a lot of options and some require more effort than others. The other problem you run into on Halloween is more than one person dressing as the same thing. But to avoid repeat costumes and put together a simple outfit with little to no effort, you could always go with a funny pop culture costume.
With just a couple of weeks until the big night, you might not want or have time to make a really elaborate costume. But the good news is you can pay tribute to a pop culture event from the last year in just a few easy steps. Don't worry, I'm not going to tell you to be Miley Cyrus because that is so 2013. It's always fun and funny to go as a pop culture trend like the Ice Bucket Challenge or Grumpy Cat. But because I believe in you, I think you can get a little more creative than that while still keeping things easy-to-make.
So keep things simple this Halloween with these 15 ideas for funny, relevant pop culture Halloween costumes.
THE CARLTON
Alfonso Ribeiro brought back this Fresh Prince of Bel-Air dance on last week's DWTS so it's timely and nostalgic. Plus, the costume will give you an excuse to dance like a mad man all night long.
GRUMPY PRINCE GEORGE
Sure, you could do a Grumpy Cat costume, but why not up the pop culture level by channeling the Monarchy's most entertaining Royal? All you need is an expert frown and some preppy clothes to showcase your classy Royal attitude. As a bonus you get to call people peasants.
STEFON
Fingers crossed that Bill Hader brings this beloved character back when he hosts Saturday Night Live. But even if he doesn't, you can pay homage to him with some gaudy Ed Hardy clothes. Then keep your hands in front of your face like you're trying to suppress laughter all evening.
T. SWIFT + CAT
I don't know if I recommend walking around Halloween night with a real pet, but a fluffy white stuffed animal version should suit your needs nicely.
OSCARS SELFIE
Print out a large version of the epic picture and cut a hole for your head so you can join in the fun.
NICK VIALL FROM THE BACHELORETTE
Easy-peasy, throw on a scarf and keep your eyes realllly wide open all night long. You don't want to miss the love of your life at the Halloween party.
MEAN GIRLS + BURN BOOKS
The 10th anniversary of Mean Girls this year means your Plastics-inspired costume has never been more relevant. So gather some buddies, throw on a mini skirt, and make your own burn book accessories.
THE RYAN GOSLING/EVA MENDES BABY
This costume is perfect for those of you who don't want to go out on Halloween. No one really knows if this child even actually exists so if people ask where you were at such-and-such party tell them you were there, but were keeping a low profile to stick to your costume.
THE HOW I MET YOUR MOTHER FINALE
Walk around being a disappointment all night. Hand out veggies instead of candy, complain that you're too old to dress up, and just in general be annoying. Or if you want to be a little more literal, print out everyone's angry tweets about the ending and tape them to your body. You'll be a walking example of how Ted & crew failed us all.
KIM KARDASHIAN FROM HER iPHONE GAME
Anyone can go as regular Kim Kardashian. You'll be the only one wearing a paper cutout of her avatar over your face.
SAD BRAZIL FANS
Remember the World Cup and this poor guy? Honor him and his team's loss by dedicating your Halloween costume to him. Throw on some yellow clothes, clutch a trophy, and look sad all night.
JOHN TRAVOLTA AT THE OSCARS
Mispronounce everyone's names all night long.
KIM KARDASHIAN'S SELFIE BOOK
Print out her Instagram snaps, tape them to yourself, and tell everyone that you're an advanced copy of her book Selfish .
NON-TRADITIONAL ICE BUCKET CHALLENGE
A lot of people are probably going to go the ALS challenge route with their Halloween costumes, so draw inspiration from celebs who bucked the norm like Charlie Sheen who dumped cash over his head or 50 Cent who challenged Floyd Mayweather to read Harry Potter. You can follow this Ice Bucket costume tutorial but then experiment with what you want in place of ice.
BINGE WATCHER
Put your makeup skills to good use to draw dark circles under your eyes. Then put on some comfy clothes, grab your favorite TV watching snack, and be sure to use phrases throughout the night like, "Just one more episode" or "I hate buffering."
Happy Halloween!
Images: NBC, hollywoodobsessed; Getty Images; mtv; jupiter2/Tumblr; Kim Kardashian: Hollywood; popsugar; Kim Kardashian/Instagram; huffingtonpost