9 Feminist & Diverse Movies From 2014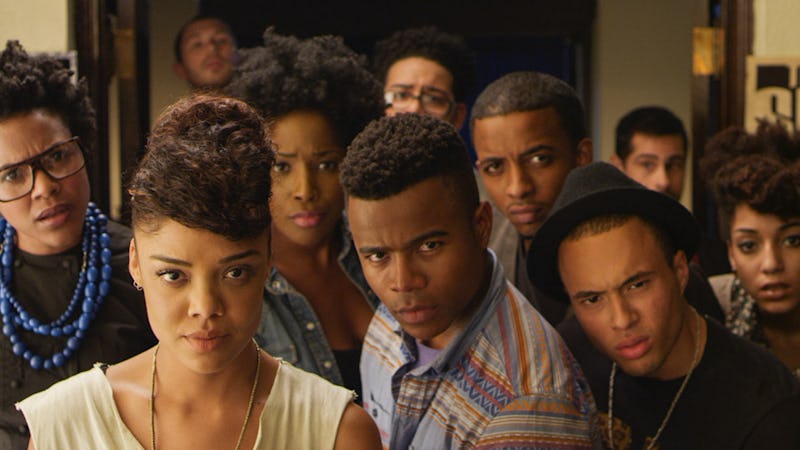 So here's the bad news: the Oscars did pretty badly this year when it came to honoring women and people of color. From Selma 's near shutout to the major lack of female-focused movies in the Best Picture race, 2015's Oscar nominations are about as homogenous as can be. Now, here's the good news: despite what people might think, the Oscars don't actually honor every single worthy movie that came out in a year. Meaning: there are plenty of high-quality films that didn't make it into the competition's major races, including many that honor both women and diversity.
Some of the movies I've listed below were lucky enough to be included in some Oscar races, such as Wild, which received two acting nods, and Selma, which scored a Best Picture nomination despite being ignored in most other categories, but most of the others were unfortunately snubbed completely. Regardless of their awards potential, though, all of the movies here deserve to be seen — both for their powerful stories and the fact that they, unlike so many other films in 2014, put focus on people other than white men. Below, nine of the best movies of the year that the Oscars (mostly) ignored:
Selma
The story of Martin Luther King Jr.'s famed march for civil rights, Selma started out awards season as the most talked-about, acclaimed film in competition. By January, though, controversy over its historical accuracy lost it some fans, and when nominations came around, expected nods for Director and Actor never came. Yet there's no doubt about it: Oscar love or not, this wonderful movie about black Americans' fight for equality is one of 2014's best.
A Girl Walks Home Alone at Night
About a female vampire who stalks an Iranian ghost town, Girl earned rave reviews and nominations from festivals. Some critics took issue with its lack of depth and distracting visuals, but as one reviewer said, "the image of a female vampire clad in a black hijab is one you won't soon forget."
Belle
Directed by a black woman and starring a biracial woman, Belle deals with the issues of race, class, and feminism with eloquence and urgency. It may be a period piece, but as events of the past year have proven, its themes are just as relevant as ever.
Wild
There have been many films in the past few years about solo journeys, but Wild is one of the most significant, thanks to its feminist themes and beloved source material. Stars Reese Witherspoon and Laura Dern earned Oscar nods, but the movie itself lost out, helping to make this year's Best Picture race the most male-centric in recent history.
Obvious Child
It's a disservice to call Obvious Child "an abortion movie," because this funny, affecting film is so much more than just its subplot. Still, there's no denying that the abortion it features is important, as its inclusion helped bring major attention to women's rights and the stigma still associated with utilizing them.
Dear White People
Focusing on the lives of four black students attending an Ivy League college, Dear White People is exactly the kind of hilarious, spot-on satire that the Oscars love to ignore. Still, critics loved it and audiences flocked to it, giving support to a movie that Hollywood, and the public, desperately needed.
Get On Up
Even if Get On Up had been included in the Best Picture race, there's no question it wouldn't have won; compared to films like Birdman and Boyhood, it doesn't hold up in quality. Yet neither do several of the other films in the race — looking at you, American Sniper — so there's no reason this enjoyable James Brown biopic didn't even get a chance.
Gone Girl
Early in the Oscar race, Gone Girl was a front-runner for Best Picture, Director, Actress and more, but by the time the nominations came around, it'd lost much of its momentum. Only star Rosamund Pike ended up earning a nomination, and while I'm thrilled that her superb performance as Amy got noticed, I wish the movie's other aspects had fared as well, too. Yet the snubs are no reason to ignore Gone Girl if you missed it the first time around; this whip-smart, mind-twisting thriller, told from the unique perspectives of both its male and female lead characters, was one of the most exciting movies of 2014.
Ida
Two Oscar nominations — Best Foreign Language Film and Best Cinematography — is nothing to sneer at, but it would've been wonderful to see this European dramedy go even further in the race. About a Polish nurse who discovers her Jewish heritage, Ida is widely considered one of the best movies of 2014, and it's a shame it hasn't gotten more notice.
And five more to check out:
A Most Violent Year, which many predicted would earn star Jessica Chastain an Oscar nomination; We Are the Best!, an acclaimed Swedish drama about punk rock; Still Alice, starring Julianne Moore as a woman afflicted with Alzheimer's; Mockingjay, featuring the best YA heroine currently kicking butt; and Beyond the Lights, a powerful feminist film starring Belle's Gugu Mbatha-Raw.
Images: Fox Searchlight (2); Paramount; SpectreVision; A24; Roadside Attractions (2); Universal; 20th Century Fox; Soloban