Leo's Man Bun & More Great 'SNL 40' Moments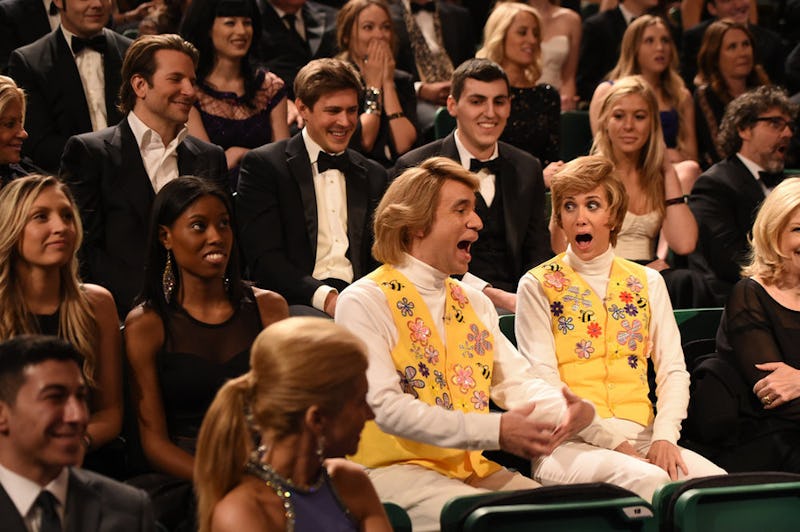 From start to finish, SNL 40, Saturday Night Live 's 40th-anniversary special, brought on the nostalgia and the laughs. It all kicked off with Jimmy Fallon and Justin Timberlake's musical opener and included some fan-favorite sketches like Celebrity Jeopardy, an all-female Weekend Update reunion with Amy Poehler, Tina Fey, and Jane Curtin, an interesting character from Taylor Swift, unearthed SNL auditions from famous cast members, and much more. Although there was plenty of unforgettable comedy happening onstage, some of the best moments happened in the audience — some scripted and some completely spontaneous. With a slew of A-list celebrities and former SNL cast members all mingling together in their seats, it was even more star-studded than award season. Plus, given the sheer amount of comedians sitting in Studio 8H, it made for some hilarious moments, even if they didn't realize they were on camera. (See: David Spade sippin' on tiny bottles of vodka all night long.)
Check out nine of the best audience moments from the big SNL celebration, from Sarah Palin and T. Swift's uncomfortable seating arrangement to Bradley Cooper cracking up at Kat and Garth's music (a.k.a. Kristen Wiig and Fred Armisen's completely-ad-libbed infamous bit). Hopefully we don't have to wait another 40 years for another gathering this epic.
Taylor Swift And Sarah Palin Looking Uncomfortable
Do they both dislike Fifty Shades of Grey's Dakota Johnson? Maybe they can bond over that.
Sarah Palin Asking If She Should Run For President Again
The governor asked Jerry Seinfeld how much Lorne Michaels would pay her to run for the 2016 election alongside Donald Trump. Please make this happen.
David Spade Drinking Airplane-Sized Bottles Of Ketel One
Full YOLO.
Michael Douglas Calling Himself A "Sexual Icon"
Actually, just his wife Catherine Zeta-Jones' reaction. That's the best part.
Leonardo DiCaprio's Man Bun
All eyes on DiCaprio! OK, maybe not just him, because Paul Rudd is ageless. In 40 years, he'll look exactly the same. Eddie Murphy, Zach Galifianakis, Charlie Day, Tim Meadows, and Taran Killam can also be spotted in this shot while Bob Odenkirk talks to Seinfeld.
Jerry Seinfeld & Larry David's Adorable Hello
David questioned whether he was actually a writer on SNL, and he and Seinfeld got nostalgic together. The next best part was Kerry Washington and Vanessa Bayer giggling together behind David.
Actually, Seinfeld's Whole Q&A With The Audience
Just watch it! It includes a fun moment with John Goodman, James Franco being James Franco, and so much more.
Jon Lovitz Reacts To His "Death"
Lovitz's "death" was joked about twice: first during Steve Martin's opening monologue, then in the In Memorium segment. The very-much-alive actor's reaction is priceless.
Bradley Cooper & Chris Lowell Cracking Up At Kat & Garth
One of the many amazing moments during Martin Short and Maya-Rudolph-as-Beyoncé's sketch was the return of Kat and Garth, Kristen Wiig and Fred Armisen's completely-improvised bit. Bradley Cooper and Chris Lowell could not stop cracking up behind them in the audience.
Images: Theo Wargo/NBC (3); YouTube (2); Giphy (2)