This Bridgerton Season 3 Theory Predicts A Lady Whistledown Twist
Might someone else pick up the quill?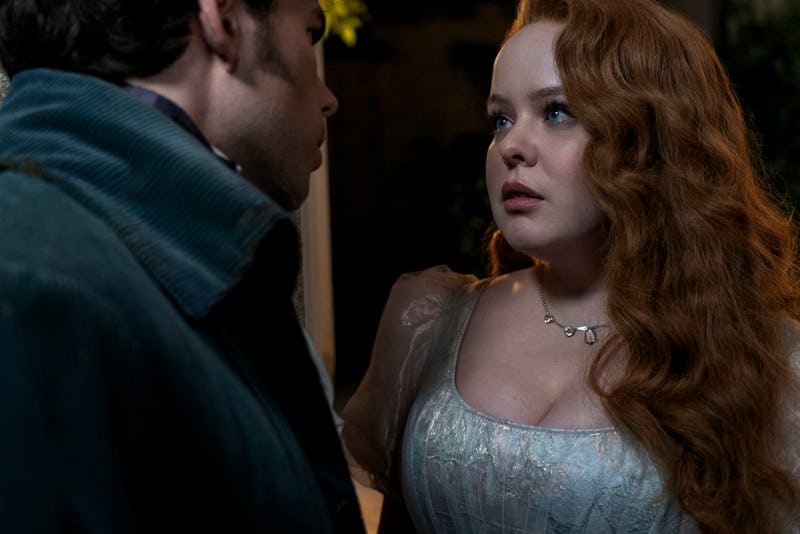 Liam Daniel/Netflix
In many ways, Penelope (aka Lady Whistledown) is the heart of Bridgerton — cleverly chronicling the relationships around her and, in Season 3, getting a love story of her own. Ever since the Netflix series jumped ahead of Julia Quinn's novels and revealed Lady Whistledown's identity in Season 1, fans have wondered how the show might handle the dramatic irony that is Penelope's secret gig. A new Reddit theory proposes one daring idea: What if Lady Whistledown continues beyond Penelope?
As Redditor u/GemmaaLD96 posited in a July 11 post, Penelope could give up her gossip column in Season 3 — "but someone else will start publishing" in her place. The user even went so far as to imagine the final scene of the season: "A new issue of Whistledown being delivered across the ton. Penelope promises this has nothing to do with her and is equally as horrified as the rest."
The twist would revive the mystery that had Season 1 viewers theorizing back when the show premiered in 2020, u/GemmaaLD96 explained. "It also allows the show to keep the narration and avoid ruining Penelope. Let's face it, LWD in the show has been super damaging to a lot of people and a big family round of applause isn't going to fix it," they explained, referencing the manner of Lady Whistledown's reveal in Quinn's book Romancing Mr. Bridgerton.
User u/Unusual_blacksmith commented a variation of the theory — that perhaps Queen Charlotte finds out Lady Whistledown's identity first, "and they'll reach an agreement and LWD will morph into something else entirely but it will still be Penelope doing it."
Either way, a twist could work! The Netflix series has diverged from Quinn's books in this area before, like when it revealed Lady Whistledown's identity to viewers at the end of Season 1, rather than making them wait (like readers did) until Colin and Penelope's entry in the Bridgerton saga.
Another key change, of course, was Eloise finding out her best friend was Lady Whistledown — prompting a tense confrontation that didn't happen in the books. Mild book spoilers ahead. On page, Eloise finds out about Penelope's secret identity well after everyone else. And when the truth finally comes to light, Eloise is impressed by her friend's guile rather than upset.
Sure, ending the Lady Whistledown enigma might have worked for the books — as Quinn once explained in response to a reader's question, the social scribe didn't even appear in To Sir Philip, With Love "because Lady Whistledown had nothing to do with the plot" of that book. But the Netflix series is a different environment, and it makes sense to connect past and future seasons with Julie Andrews' lovely narration. Plus, a new Lady Whistledown would surely keep the ton on its toes.
Nicola Coughlan told People that Season 3 "stays very true to the books," so it's possible that Lady Whistledown's tenure indeed comes to an end with a straightforward retirement — or maybe the Derry Girls star was just referring to the #Polin relationship aspect of the season, which sounds very swoon-worthy even by Bridgerton standards. "There were a lot of moments on set where we filmed something and we'd turn around and everyone was sort of clutching their chest being like 'Oh my God,'" Coughlan recalled to the magazine. "It was that kind of love."