20 Years Later, These Brooke Davis Quotes From One Tree Hill Still Ring True
Times may have changed, but Brooke's wit and wisdom never go out of style.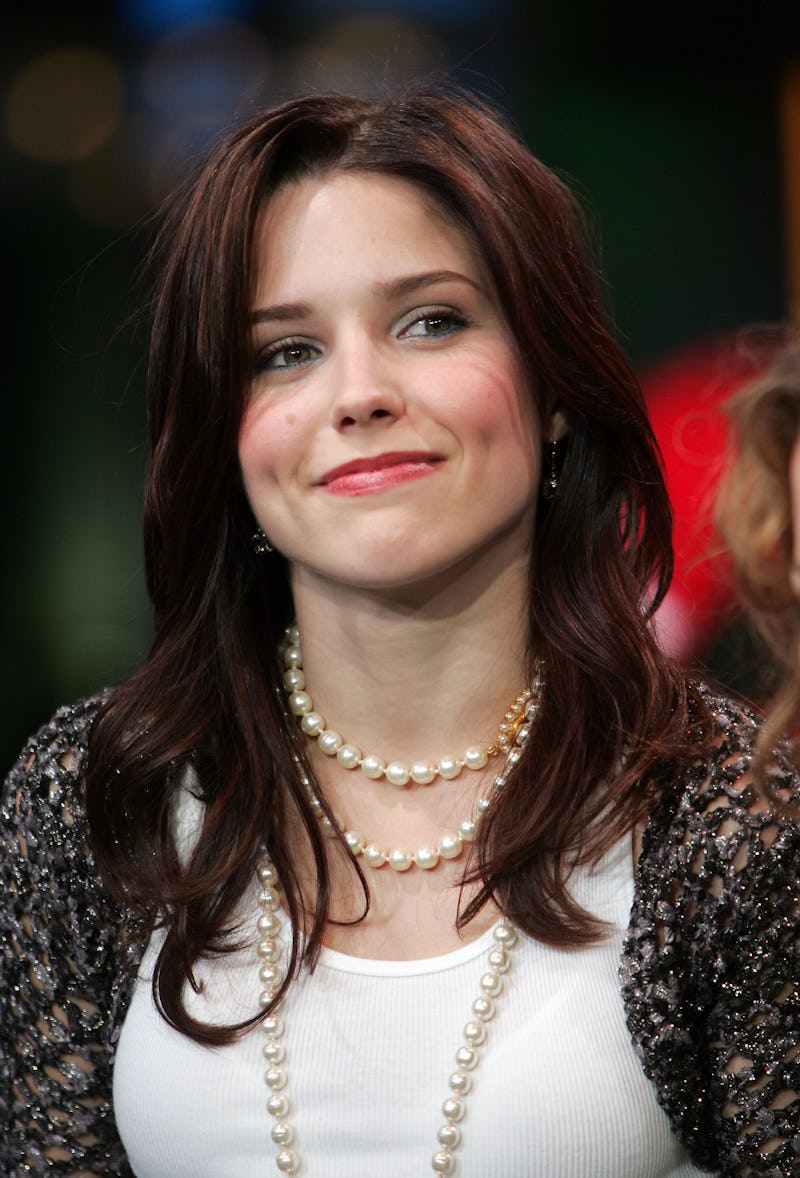 Scott Gries/Getty Images Entertainment/Getty Images
It's been 20 years since One Tree Hill made stars out of its cast and viewers still can't get enough of the CW show. It's one of the reasons the show's alums Sophia Bush, Bethany Joy Lenz, and Hilarie Burton launched the Drama Queens podcast, where they rewatch an episode weekly and reminisce on their time on set. "It's so much fun for us to have an excuse to hang out for three hours a week and also to reclaim our show," Bush told Hollywood Life in October 2021.
In the early aughts drama, set in the fictional Tree Hill, North Carolina, half-brothers Lucas and Nathan Scott (Chad Michael Murray and James Lafferty, respectively) initially compete for basketball fame, as well as love. They eventually establish a bond as brothers and go through grief, heartache, and parenthood with each other and the rest of the cast.
Bush, who played Brooke Davis in all nine seasons of One Tree Hill, quickly became a fan favorite in the wildly popular drama. She enters the show as a sassy cheerleader and frequent party girl who grew up neglected by her parents, but she quickly evolves into a smart, savvy businesswoman. She even launches "Clothes Over Bros" in high school which grows into a multimillion-dollar business, cementing her character as an intelligent and empowered young adult. With all of the difficulties she faced in her personal and professional life, Brooke proves herself wise and resilient by the hit show's 2012 finale, and her arc on One Tree Hill spawned countless one-liners that still resonate with viewers to this day.
When asked if she'd reprise her role in her Hollywood Life interview, she expressed interest but said she'd only do it on her own terms, as the original show featured many situations that'd be deemed problematic today. "I think we have such nostalgia and love and loyalty for our characters, and to be frank, if there was a way for us to do something that wouldn't further empower the people that were so inappropriate to us then, I'd be open to that."
All 187 episodes of One Tree Hill are currently available to stream on Hulu, but even if you don't have time for a full rewatch, these 18 quotes will prove that Brooke Davis' wisdom still rings true two decades later.
1. "There's a day when you realize that you're not just a survivor, you're a warrior. You're tougher than anything life throws your way."
When her BFF Peyton was upset, Brooke uttered these words of encouragement. Brooke knew all about enduring difficulties, as she survived both emotional and physical attacks throughout the show's run. For anyone feeling like there are huge hurdles to overcome, here's a quote from Brooke.
2. "At the end of the day, you are who you are, and it's probably who you've always been."
While talking to a fellow cheerleader, Brooke was asked if she thinks people can truly change. Not according to Brooke. She knew people tend to not veer from their true nature. And many can learn a thing or two from this philosophy. It's a sister quote of Maya Angelou's famous, "When someone shows you who they are, believe them the first time."
3. "People are gonna label you. It's how you overcome those labels — that's what matters."
Throughout Brooke's stay in high school, she was labeled many things — not pretty enough, not smart enough, and not talented enough. By her senior year in Season 4, Brooke poses for a school photo with those labels and flips them on their head. Be like Brooke. Those labels don't matter.
4. "You think you know me, but you don't. And that means you don't know what I can do."
Brooke used the fact that people underestimated her as her superpower. She continuously proved herself to be strong and capable (remember when she launched her label after her designs were stolen?). And she soared in ways no one saw coming. No one but her.
5. "Love can be for a boy or a girl or a place or a way of life or even for a family. Where you find it is up to you."
Brooke's love life had its ups and downs, but that's exactly why she understood the importance of surrounding yourself with people you care about. She built her life exactly how she wanted and chose to find love in it.
6. "First, you're gonna let go. Now, we're going to sit, and you are going to cry on my shoulder for as long as you need to."
One Tree Hill was ultimately a show about friendship, and Brooke was always committed to being a good friend.
7. "I am who I am. No excuses."
Brooke didn't always fully love herself, especially in the show's earlier seasons. But when people were labeling her as a party girl in high school, she fully accepted that that's who she is.
8. "You don't get to have me — not my body and sure as hell not my heart."
As a teenage business owner with a troubled home life, Brooke had to grow up quickly, which gave her a strong sense of personal autonomy.
9. "When you stop fighting, you stop living. We all need that thing that's worth fighting for. Maybe it's a certain someone, or a special place, maybe just an idea. So find your fight, and fight like hell 'til your battle is won."
Brooke's POV may come from the fact that she lived — and survived — a life of turmoil, but it's a perfect example of Brooke's wisdom.
10. "And once you lose yourself, you have two choices: find the person you used to be... or lose that person completely."
Moving on is rarely easy, but Brooke understood the importance of starting fresh. Especially when the alternative is losing yourself.
11. "If you had a friend you knew you'd never see again, what would you say? If you could do one last thing for someone you love, what would it be? Say it. Do it. Don't wait. Nothing lasts forever."
Brooke never shied away from giving advice, especially with this line from the series' 2012 finale.
12. "I used to be a bit of a b*tch just for the sake of being one, but now I am a b*tch for the sake of my friends and family. You do not want to test that!"
Brooke was unabashedly confident and fiercely loyal. She was always ready to stand up for her loved ones — the kind of friend you'd want on your side.
13. "Sometimes my heart aches at how my life turned out... in a good way."
Over its nine seasons, One Tree Hill saw Brooke go from a troubled teenager to a successful mother, wife, and self-made entrepreneur. And she knows to think back on her growth and just how grateful she is for the life she crafted.
14. "People who are meant to be always find their way in the end."
At the beginning of the series, Brooke said this line about Keith and Karen, when she was trying to win Lucas' affection. Unfortunately, it made Lucas think of another girl. Still, her philosophy never changed and she ended up with her perfect man, Julian.
15. "I stopped letting boys define me and I started believing in myself."
Brooke's most obvious character development is from her freshman to her senior year. In the show, Brooke and her friends found self-worth in romantic relationships. But by the time she's a senior, she's shed that belief.
16. "Let me tell you something about love. It does not knock often. And when it does you have to let it in."
After being burned by love before (hello, Lucas, over and over), Brooke started to close off her heart to love. She even freaked out when Julian told her "I love you." But, she learned to trust love in time. They even tied the knot and had twins — proof that her wise words work.
17. "Success is wonderful. But finding someone to love and having them love you back. Love is what it's all about."
Brooke became a mega entrepreneur. She even dated an equally successful film producer. But, a true romantic, at some point she learned to prioritize love over her other successes.
18. "You do not have to compromise. Not if you don't want to."
And she also said this nugget of wisdom about setting boundaries. It's a lesson many are still trying to learn in 2023. Brooke Davis was truly ahead of her time.
And a bonus: "He should be so lucky, I am Brooke Davis!"
Because, accurate.
This article was originally published on