The Best Memes & Tweets From The 2022 Emmy Awards
Fans dissect the best moments from TV's biggest night.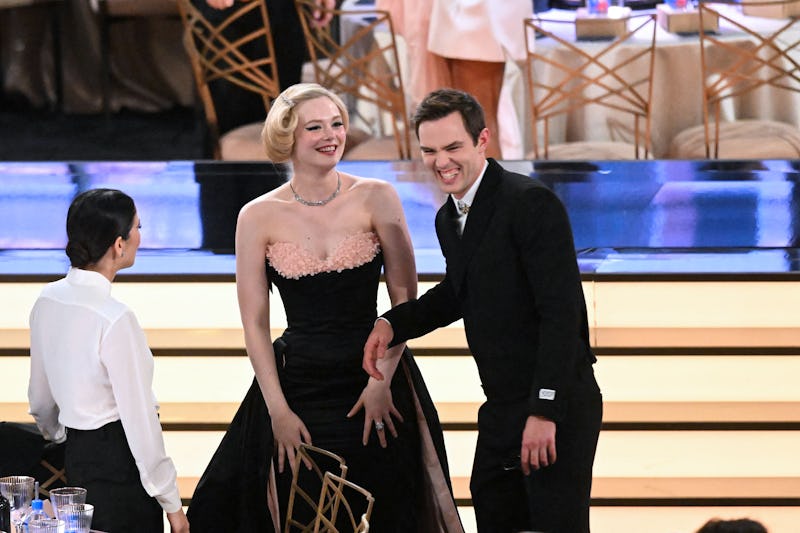 PATRICK T. FALLON/AFP via Getty Images
Tonight, the best and brightest from the small screen are getting together in one room to celebrate the 74th annual Emmy Awards. That means your favorite stars from Barry, Succession, The White Lotus, Stranger Things, Euphoria, Better Call Saul and more are all under one roof — and with that much talent packed into a single auditorium, there are sure to be some unexpected, highly memorable moments. Just as this past year's best shows have been etched into TV history, so too have the best memes and tweets from the 2022 Emmys. Below, check out some of the internet's best jokes about the show.
The Arrivals
The night started off started off strong during the red carpet pre-show. With the sheer number of characters, actors, shows and ensembles to keep track of, there was bound to be a couple slip ups and faux pas before the show even got going. For instance, one red carpet reporter kept mixing up the name of one of Law & Order: SVU.
Elsewhere, fans got in on the event, poking fun at some of the cast members who didn't show up, and also didn't show out.
Kenan's Not-A-Monologue
SNL legend Keenan Thompson kicked off the show with a couple of jokes, but never really launched into a full-on monologue. Instead, the show staged a serious of interpretive dance numbers to famous television theme songs, confusing more than a few viewers.
The White Lotus Supremacy
The White Lotus — perhaps the most talked-about limited series in years — was an unstoppable force at the Emmys, taking home awards for acting, direction, and writing.
Saul Gets Snubbed
The masterful Breaking Bad spin-off Better Call Saul was snubbed, much to the chagrin of its fans.
Zendaya Wins A Second Emmy
Zendaya took home another piece of hardware for her turn as Rue on Euphoria, and Twitter was loving it.
Jimmy Kimmel Distracts From Quinta Brunson's Big Moment
Jimmy Kimmel co-presented the award for best writing in a comedy series... while pretending to be unconscious. (It was a gag planned with fellow co-presenter Will Arnett.) But even while Quinta Brunson accepted the Emmy, Kimmel didn't budge, leading many viewers to raise an eyebrow.
A Kenan & Kel Reunion
In a surprising moment from the evening, Kel Mitchell appeared alongside host Kenan Thompson, reuniting the Nickelodeon comedy duo for a very welcome Good Burger reunion.
Lizzo Keeps Winning
Continuing her hot streak from the 2022 MTV VMAs, Lizzo took home the Emmy for Best Performance on a Competition Show. Not to mention, she's halfway to an EGOT.
Jennifer Coolidge Wins Her Emmy
The fan favorite from The White Lotus won, and the crowd went wild... and then got a little upset when they didn't let her finish her speech.
Sheryl Lee Ralph Sings Her Speech
The evening's first jaw-dropping moment came courtesy of Abbott Elementary star Sheryl Lee Ralph, who took the stage after winning for Best Supporting Actress in a Comedy Series. Before thanking her friends and family, the actor began belting out a tune that got everyone on their feet.
Tom Wins Again
Just as Tom Wambsgans came out on top at the end of Succession Season 3, so too did his real-life counterpart, Matthew Macfayden.
Hannah Einbinder Is All Of Us
While presenting an award with her Hacks co-star Jean Smart, Einbinder was reluctant to speak — thanks in large part to Zendaya's presence.
Succession Reigns
As the night wound down, the statue Best Drama Series was awarded to HBO's Succession. They all earned a kiss from daddy!