The Falcon & The Winter Soldier Fans Will Love These Anthony Mackie Roles
Mackie's filmography spans action, drama, and twisted sci-fi.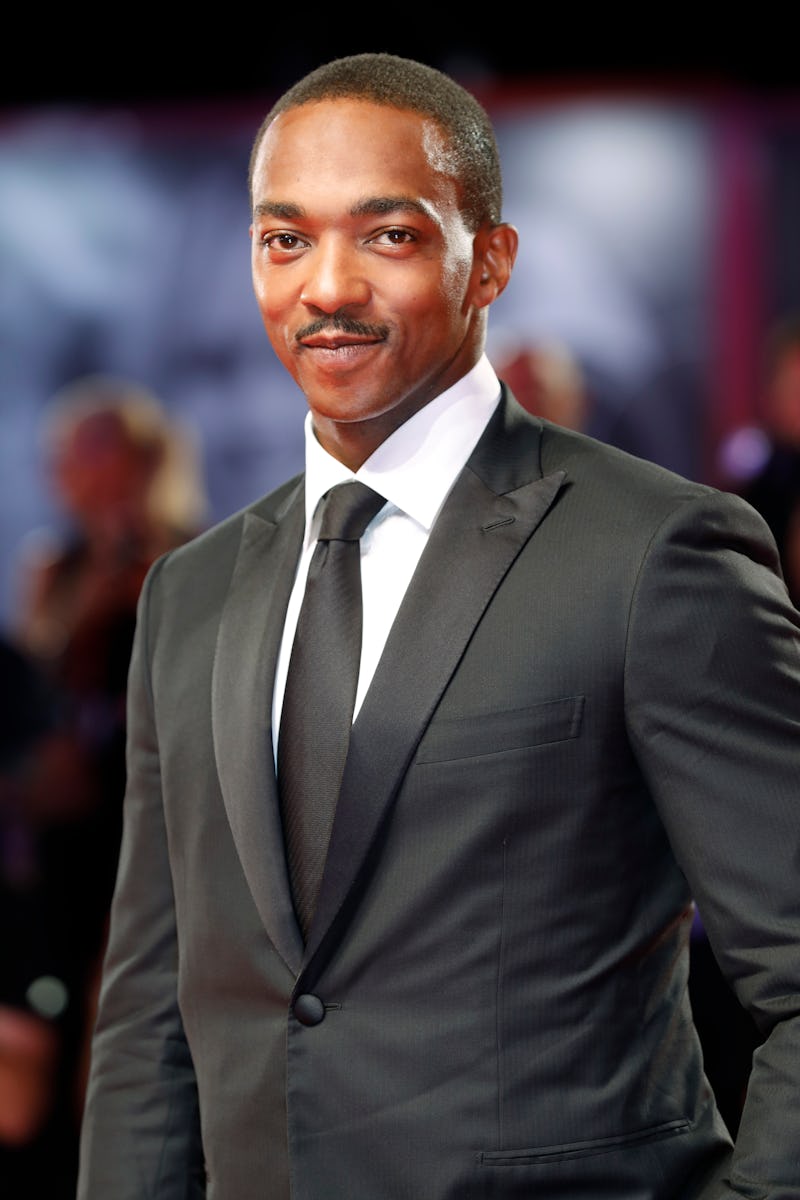 Kurt Krieger - Corbis/Corbis Entertainment/Getty Images
For nearly two decades, Anthony Mackie has won over audiences with his portrayals of rappers, military figures, and even Martin Luther King Jr. in HBO's All the Way. But ever since his first appearance as Sam Wilson, aka Falcon, in Marvel's Captain America: The Winter Soldier in 2014, Mackie has gained a copious amount of MCU stans. He currently plays the character as the lead role on The Falcon and the Winter Soldier, a Disney+ series that takes place after the events of 2019's Avengers: Endgame. Following its March 19 premiere, the series became the streaming platform's most-watched title globally. In a recent interview with Variety, Mackie spoke of his doubts about taking the MCU to the small screen.
"I didn't think we could do on the television what we'd been doing on the big screen. I didn't want to be the face of the first Marvel franchise to fail. Like, 'See? We cast the Black dude, and now this shit is awful,'" the actor told the publication. "That was a huge fear of mine and also a huge responsibility with playing a Marvel character." The Falcon and the Winter Soldier is set to run for six episodes on Disney+ and has been a massive hit.
While its potential renewal is yet to be announced, Mackie also told Variety that he longs to play a very different role in the future. "My team gets mad at me for saying this, but I would love to do a cheesy old-school When Harry Met Sally-type of project," he said. "One of those movies where I'm working outside and have to take my shirt off because it's too hot. I want a romantic comedy. I want to do every movie written for Matthew McConaughey that he passed on."
The final episode of The Falcon and the Winter Soldier airs on April 23, but if you're longing for more content starring Mackie, we've rounded up six of the actor's most notable roles for you to watch next.
8 Mile
8 Mile stars Eminem as aspiring rapper B-Rabbit, who is determined to make it big in hip-hop despite the fact that he's a white man in a largely Black-dominated genre. In his first-ever movie role, Mackie appears as Papa Doc, a rapper and a gang leader with a vendetta against B-Rabbit. Also featuring Kim Basinger and the late Brittany Murphy as B-Rabbit's mother and love interest, respectively, the film has been widely regarded as one of the best of 2002.
Watch it on Amazon Prime Video
The Hurt Locker
Mackie stars alongside his Avengers co-star Jeremy Renner in this 2009 war thriller that follows an Iraq War Explosive Ordnance Disposal team as its members are targeted by insurgents, highlighting how the soldiers are psychologically affected by war combat. While The Hurt Locker received mixed responses from some veterans who claimed its portrayal of wartime conditions was inaccurate, the film took home six Academy Awards in 2010, including Best Picture. In 2020, the Library of Congress selected it to be preserved in the National Film Registry for being "culturally, historically, or aesthetically significant."
Watch it on Amazon Prime Video
Night Catches Us
If this year's Judas and the Black Messiah or The Trial of the Chicago 7 sparked your interest in the Black Panther party, you should definitely check out Night Catches Us. Mackie stars as Marcus, a former Black Panther who returns home for his father's funeral only to encounter many of his fellow Panthers, who believe he was responsible for the death of one of their party leaders. While attempting to convince his peers of his innocence, he gets wrapped up in a romance with Patricia, the late leader's widow, played by Kerry Washington. The 2010 film may have flown under the radar commercially, but it earned several nominations at the NAACP Image Awards, two honors from the African-American Film Critics Association, and five Black Reel Awards.
Stream it on Amazon Prime Video
The Hate U Give
Based on Angie Thomas' 2017 novel of the same name, The Hate U Give follows teen Starr Carter (Amandla Stenberg), who lives in a poor, mostly Black neighborhood but attends an elite, mostly white prep school. Her entire world changes after losing a friend at the hands of police brutality, and due to pressure from both sides of the community, she decides to use her voice to stand up for justice. Mackie stars as the father of one of her classmates, and the rest of the cast includes Regina Hall, Issa Rae, Common, and KJ Apa, among other celebrities. The film was honored at several film festivals across the country, and it earned Stenberg an NAACP Image Award for her performance.
Watch it on Amazon Prime Video
Black Mirror, "Striking Vipers"
In this episode of Black Mirror, Mackie stars as a man in his late twenties who spends his evenings playing video games after his girlfriend goes to sleep. When he starts playing a new, extremely lifelike virtual reality game with a married male friend, a romantic bond between their in-game avatars creeps into their real lives. From the same director as the beloved "San Junipero" and "Be Right Back" installments of the anthology series, "Striking Vipers" explores forbidden romance in an unexpected realm.
Avengers: Endgame
Prior to this installment of the Avengers franchise, Mackie had previously appeared as Sam Wilson, aka Falcon, in five Marvel films — but his performance in Endgame is especially significant, especially for The Falcon and the Winter Soldier fans. As you likely remember, Captain America passes his shield onto Mackie's character after traveling back in time to return the infinity stones and deciding to remain there to live rather than returning to present day. Though, as you know from the Disney+ series, Wilson is reluctant to keep it. If the show leaves you with unanswered questions, or simply desiring more Marvel content, consider returning to Endgame for another watch.
After The Falcon and the Winter Soldier, Mackie's next roles include The Woman In The Window thriller, which will drop on Netflix come May, and Solos, a timely series about isolation.