Jenna Ortega Isn't In You Season 4 Because Of Wednesday
There is a subtle reference to her character, though.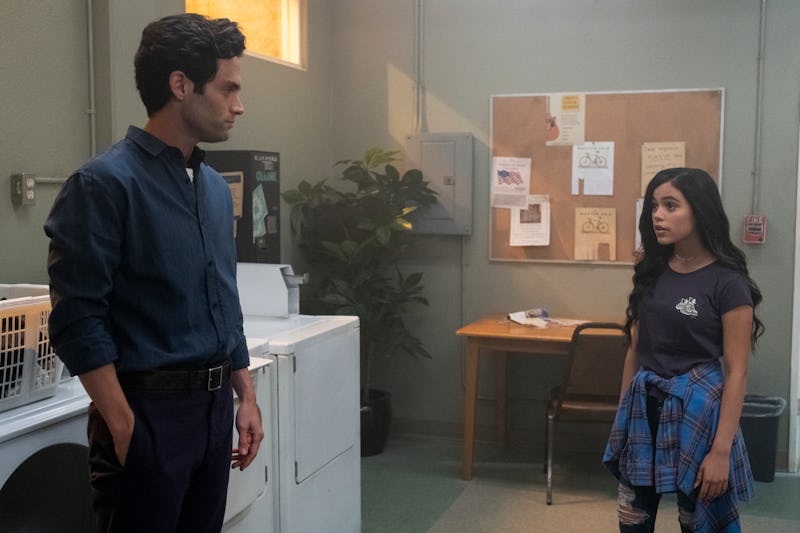 Beth Dubber/Netflix
Spoilers ahead for You Season 4 Part 1. At the end of You Season 2, Joe Goldberg set his teenage neighbor Ellie (played by Jenna Ortega) up with a new life in Sarasota — partly because he was fond of her and partly because he got her sister murdered. Since then, viewers have wondered what happened to Ellie. Though Joe was still sending her money as of Season 3, Ortega hasn't actually reprised her role since Season 2. Fans hoped that would change in Season 4, and Ortega herself seemed game.
"I love that set," she told Cosmopolitan in 2021. "The team behind it, the writers are so witty and so funny, and then also just to work with Penn Badgley again. I had such an incredible time there that if they would like to have me back, I'm more than happy to take a few digs at Joe again."
If you've watched the first part of You Season 4, you know that Ellie is absent yet again. However, as showrunner Sera Gamble told IndieWire, that wasn't always the plan.
"We wanted to bring Ellie back and we heard, 'Oh, Jenna is doing some show,'" she said. Indeed, filming for Wednesday took place over the course of seven months in Romania, as star Joy Sunday told Bustle last year. Given the fact that Ortega plays the titular role, it would likely be tricky to coordinate side trips to London between filming episodes.
While Ortega's schedule seems to be even busier now, Gamble said the door is open for the Golden Globe nominee to return in the future. "It's been just such a pleasure to see Jenna this year," she said. "We have ideas for Ellie if her schedule allows her to visit us again."
Joe does plenty of globetrotting on You, so it's totally within the realm of possibility that he winds up in Florida, where Ellie may still be living. Fans theorized the Sunshine State might be on Joe's radar at some point because he does go there during Caroline Kepnes' third book, You Love Me — and after what we've seen in Season 4 so far, he could end up needing a vacation from his European vacation.
In the meantime, Joe definitely hasn't forgotten about Ellie while abroad. He actually references their time together during the first few minutes of You Season 4, while he's leading a class discussion as professor Jonathan Moore. "Most of my professor tricks are one trick I picked up spending time with a girl named Ellie," he says, in one of his internal monologues. "Wind them up, let them go. Teenagers will argue both sides for you."