Top Gun's Jennifer Connelly Has Been Married To Paul Bettany For Nearly 20 Years
Their relationship has everything, from a sweet teenage crush to a blink-and-you-miss-it MCU Easter Egg.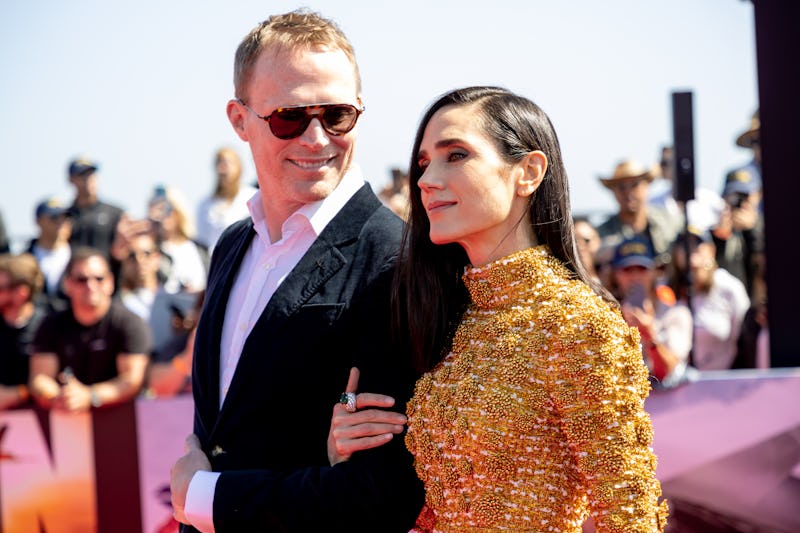 Emma McIntyre/WireImage/Getty Images
There's a lot to love about Top Gun: Maverick — from its embrace of summer blockbuster tradition, to a beach scene (you know the one) that's taken TikTok by storm. And then, of course, there's the involvement of national treasure Jennifer Connelly. In the film, she plays Penny, the love interest to Tom Cruise's Maverick — but what about in real life? As it turns out, she's married to fellow actor Paul Bettany, and has been for quite a while.
Connelly and Bettany's relationship timeline officially began in the early aughts, when they married after working together on A Beautiful Mind — but in a Hollywood fairytale sort of way, their pairing seemed fated from even earlier on. Ahead, the details on a serendipitous childhood crush and every other entry on their power couple love story.
1980s: A Teenage Crush
As Bettany told Larry King in 2015, he was crushing on Connelly from afar when they were both teenagers, citing her performances in Once Upon a Time in America ("Not a bad first film," he said) and Labyrinth, where she starred alongside David Bowie. But he was a kid in London, and she was a budding movie star in America — so, for a while, his crush was just that: a crush.
2000: They Work Together (But They're Dating Other People)
Connelly and Bettany connected IRL while working on the 2001 film, A Beautiful Mind. But a relationship was not in the cards just yet. "We liked each other, but we didn't do anything about it," she later told Glamour. "We were both in relationships. We didn't get together until months and months after that film."
2001: 9/11 & A Proposal
Eventually, Connelly explained, their respective relationships ended. "When I saw Paul again and we were both single, we got together really quickly," she said. But that may be an understatement — at least, as Bettany remembers it. The WandaVision star also revealed on Larry King that he proposed to Connelly without ever really dating her. He was abroad during 9/11, and spent two days trying to get in touch with his co-star (long after filming had wrapped). "I remember, very clearly, thinking to myself, 'What are you doing?' Oh... I realized I was in love. So I got her on the phone, and said I'm coming over, and let's get married."
Connelly — who had one child, Kai, from a previous relationship — told Glamour what made the decision a no-brainer. "It was something about the way that we were together," she said. "He stood out to me as someone singular and rare and beautiful, and I liked the way he was in the world. I liked the way he was with people. I liked the way he was with my son and the way he made me feel."
2003: They Get Married
As they confirmed to People in early 2003, Connelly and Bettany got married in Scotland over the winter holidays. "Marriage and children changed my life," Bettany told the same magazine 18 years later. "It really altered who I was and what I saw as my goals."
2003 & 2011: They Welcome 2 Children
In addition to raising Kai together, Connelly and Bettany's family grew with the birth of son Stellan in 2003, and daughter Agnes in 2011.
Unlike Bettany's WandaVision kids, these ones seem to be very real! As he told People last year, he treasures the moments "when I catch myself and realize the five of us are laughing together," adding that "there is nobody on earth with whom I could be having a better time."
2017: A "Meta" Marvel Connection
Connelly and Bettany's first collaboration may have been most pivotal to their relationship, but they've actually teamed up together since — in a true Avengers sense. Bettany famously plays Vision in the Marvel Cinematic Universe, but he also voiced Jarvis, the AI component of Tony Stark's Iron Man suit, before appearing as a physical character in Avengers: Age of Ultron.
When it came time to program a similar AI voice for Peter Parker's Spidey suit in Spider-Man: Homecoming, MCU boss Kevin Feige cast Connelly in the role of Karen. "One, she's a great actress, can do anything she wants," Feige explained to Slashfilm in 2017. "Two, she inhabits some of the classic '80s films that helped to inspire us behind the scenes. And three and most meta, she's married to Jarvis."
So even though Connelly and Bettany haven't technically appeared together in the MCU, this adorable Easter egg is just one more example of their Hollywood fairytale.