9 Cringeworthy Moments From The Love Is Blind Season 4 Pods, Ranked
Basically, don't perform an original song if you're ever in the pods.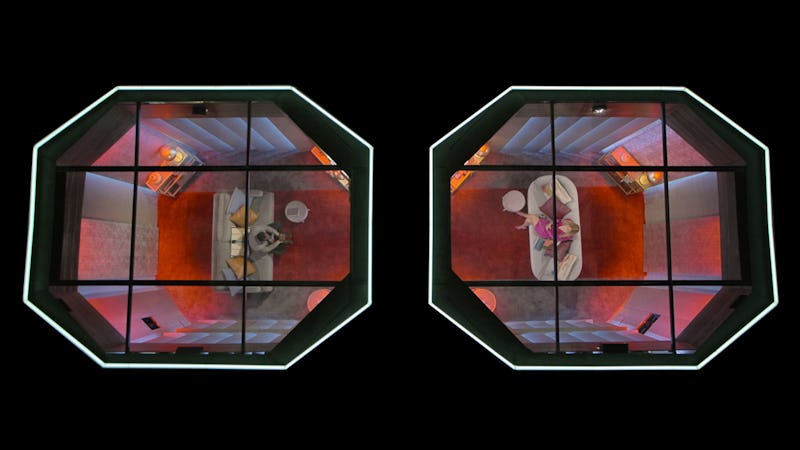 Netflix
Love Is Blind Season 4 premiered on March 24, and not without drama. As the show's premise states, a cast of 30 singles enter the pods to date blindly. They don't get to meet IRL until there's an engagement. Sounds totally normal, right? Like any blind date setup, blips and adjustments come with the territory. But on this dating reality show, it can get awkward pretty quickly in the pods, especially without visual queues, body language, or facial expressions to draw from.
Some of these awkward moments are brutal and specific to Love Is Blind since the contestants are dating each other throughout the 10-day courting period before hopefully securing an engagement. However, when you cannot make eye contact with the person singing an original song to you, that's sometimes for the better — except for the viewers at home. Have fans watched each episode between their fingers, shielding their eyes from the awkward moments? Yes. Would fans still watch 20 more seasons of Love Is Blind because they love mess? Absolutely.
Without further ado, here are the most cringeworthy moments in the pods, ranked from wincing and cringing to watching between your fingers and mouth agape. Of course, spoilers ahead for Love Is Blind Season 4.
Tiffany Falls Asleep While Brett Professes His Love
Early on in the pods, Tiffany says she's falling for Brett, and he feels the same, connecting on a deep level. Brett confesses to Tiffany how he feels at the end of the first episode. As he pours his heart out and tells her they are the perfect match, there's silence on the other side of the wall. Cut to the other pod: Tiffany is wrapped up in a blanket, asleep unbeknownst to Brett! He leaves the pods defeated.
At the start of the second episode, Tiffany is awoken by the other girls and realizes what happened, mortified. She enters the pod frazzled and explains what happened to Brett. They ultimately get engaged — but that cliffhanger had everyone sweating.
The show reportedly has long filming hours and shoots the pod segments in 10 days, so exhaustion is expected!
We watched this: wincing
Paul Dumps Amber
When Kwame expresses interest in Micah, Paul feels he needs to make a move on Micah before the moment passes. Paul and Micah mutually agree to go for each other and terminate any other relationships. Paul struggles with breaking up with Amber after seeming to lead her on. "I think I have to go with another connection," he tells her, physically struggling. Amber says: "I'm not going to say good luck or say I wish you the best, because I really don't feel that right now." When Paul responds that nothing he said was a lie, Amber fires back: "f*ck you, Paul."
We watched this: wincing
Micah Breaks Up With Kwame & Moves On Fast
In one love triangle, Kwame is torn between Micah and Chelsea. Initially, Kwame is really into Micah, but she doesn't give him the same validation in the pods as Chelsea. He plans to propose to her in the second episode, but Micah beats him to the punch, telling him that they should "explore other connections" even though she really likes him. Kwame doesn't take it well. "Thank you for being transparent with me, and it's been real. Have a great rest of your night, okay?" he says and promptly leaves the pod. Though he seems to handle it with grace and GTFO before getting emotional, he was pretty curt with Micah.
In a confessional, Kwame reflects on the moment calling it "kind of f*cked up." Micah, meanwhile, returns to the Women's Living Quarters with a smile, brushes it off, and turns her attention directly to Paul and Amber's impending breakup.
We watched this: cringing
Irina & Bliss Meet Zack's Childhood Stuffed Animal
Sure, opening up to someone and being vulnerable is an important part of any relationship. So that's why Zack broke out Ralph, his beloved childhood stuffed animal, to show his romantic prospects, Irina and Bliss. Zack explains he's had Ralph since he was three years old, and was a symbol of stability throughout a tough childhood. Irina asks Zack if Bliss met Ralph, and he says yes. Upon hearing this, Irina says she wants to go home, explaining how hard everything is for her. Read the room!
We watched this: cringing
Kwame Writes A Song & Sings For Chelsea
Kwame breaks out his guitar to serenade Chelsea in the pods during the third episode. He writes an original song for her on the spot that has her in (happy) tears. Titled "Real Thing," Chelsea sings the chorus while he improvises the verse. It's not half bad, but it's also not the only original song sung in the pods...
We watched this: holding our heads in our hand
Irina Asks Bliss For A Candle For Zack's Birthday
One of the other central love triangles of Season 4 is Zack feeling torn between Irina and Bliss. In the second episode, it's Zack's 32nd birthday. Bliss decides to bake cupcakes for Zack, a kind gesture. Irina, meanwhile, appeared to have nothing planned. "I have a huge favor and if you wanna say no, you can say no," Irina tells Bliss. "Can I have one of your candles?" Bliss is shocked. "I'm not gonna make anything but can I have one of your candles?" Irina explains. Bliss calls Irina's suggestion "icky" and says she doesn't want to discuss Zack with her and hopes she can respect that. Spoiler: Irina doesn't.
We watched this: audibly gasping
Zack Sings An Original Song For Irina When Proposing
In the third episode, Zack proposes to Irina — but not without an original song, sans any instrumental accompaniment. "Irina, you take my blues away, I love you forever and ever and ever, I do," he croons before getting down on one knee. Though the song is short, it feels like the longest minute of one's life. Irina seems hesitant but tells Zack she can't wait to "change the world with him" and accepts. Alright!
We watched this: between our fingers
Irina's Comments On Zack's Appearance
In the third episode, Irina tells Zack: "I don't care how you f*cking look like Zack. I don't care if you're a dweeb or a nerd or tall or short. No matter what, I'm always going to think the world of you." Basically, that love is blind. However, after he proposes and they meet in IRL at the start of the fourth episode, she seems to think otherwise. "I don't know why you look like a fictional character. You look like something from out of a cartoon." Zack doesn't seem fazed by the comment and assumes it was a compliment. She also comments in a confessional that it will take some time to get used to what he looks like.
They don't kiss right away like other couples, or even before he proposes with the ring in hand. He also asks her if she wants to kiss, and she insists on just a hug for now. Yikes.
We watched this: between our fingers
Irina Spies On Amber Sobbing Over Paul
Irina is arguably the villain of Season 4, and she was the most cringe-worthy contestant to follow in the pods. She directly and indirectly sabotaged relationships, including her own with Zack. After Amber gets dumped by Paul, who Irina's pod BFF Micah is into, she scurries away and spies on Chelsea consoling Amber. Takeout food in hand, she conspicuously crouches beneath a countertop to listen in and laughs as she listens to Amber vent.
We watched this: mouth agape, speechless