5 Striking Parallels Between Princess Diana & Prince Harry's TV Interviews
The mother and son passionately discussed the same topics, albeit decades apart.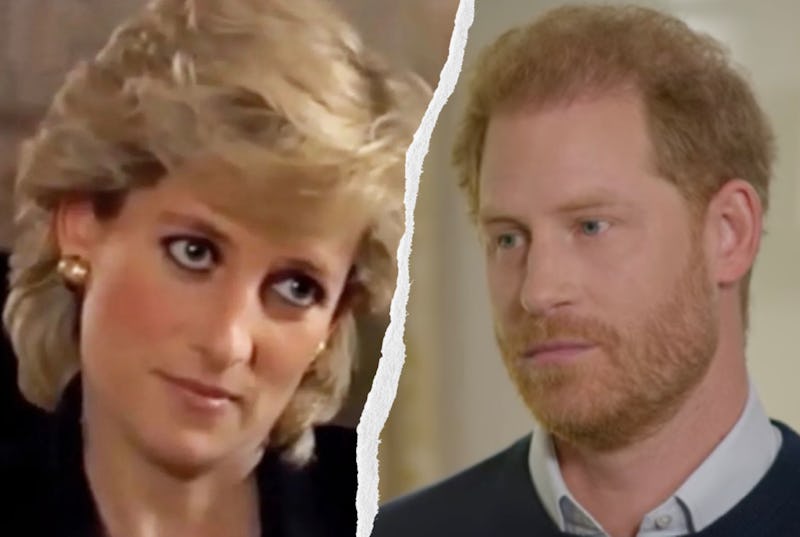 BBC/ITV
For a public figure who values his privacy, media attention on Prince Harry appears to be at an all-time high recently. The Duke of Sussex released his memoir Spare on Jan. 10, which sold more than 1.4 million copies on its first day of publication, hitting the largest first-day sales total for any nonfiction book published in the history of Penguin Random House.
To promote the book, the royal has sat down for four interviews — with ITV, CBS News, Good Morning America, and The Late Show With Stephen Colbert. Keeping with the nature of his tell-all book, he hasn't held back during these frank talks. This, of course, brings to mind an interview his mother, Princess Diana, participated in back in 1995 with BBC's Panorama, which made waves for her unvarnished thoughts on her marriage and the monarchy.
As viewers may have noticed, there are some striking similarities between the mother and son's interviews, set almost three decades apart. Below, are some of the most notable topics that both Princess Diana and Prince Harry found worthy of discussion.
On The British Press & Tabloid Media
Princess Diana was a figure subjected to intense media scrutiny for years. In her BBC Panorama interview with Martin Bashir, the royal repeatedly brought up how the British media had played a large part in causing strain within her marriage and personal life.
"The most daunting aspect [of being Princess of Wales] was the media attention, because my husband and I, we were told when we got engaged that the media would go quietly, and it didn't; and then when we were married they said it would go quietly, and it didn't," she said. "And then it started to focus very much on me, and I seemed to be on the front of a newspaper every single day [...] The higher the media place you, the bigger the drop."
Diana also went on to explain that the difference in media interest between her and then-Prince Charles was problematic, causing rifts when they were supposed to be united. "With the media attention came a lot of jealousy, a great deal of complicated situations arose because of that."
Prince Harry expressed similar claims — albeit in a more critical way — on the media being culpable in the breakdown of his relationship with the royal family. A major thread in his interviews was how he felt the British press had pitted his family against each other, whether it be Prince William against himself, or Kate Middleton against Meghan Markle.
"I always hoped that the four of us would get on. But very quickly, it became Meghan versus Kate. And that, when it plays out so publicly, you can't hide from that [...] it creates this competition," he said.
Referring to the British press as an "antagonist," Harry stated, "Knowing the monarchy as I know it, from something that I was brought up in, for me it's always been about uniting people. And it breaks my heart that the British tabloid press have so successfully managed to create this divide and this conflict at the same time as a culture war in the UK."
On Camilla Parker Bowles
One of the most famous lines from Princess Diana's Panorama interview was about Camilla Parker-Bowles, now Queen Consort, being a factor in the breakdown of her marriage: "There were three of us in this marriage, so it was a bit crowded."
In his interview on 60 minutes, Harry claimed that both him and William asked their dad not to marry Camilla. "We didn't think it was necessary. We thought it was going to cause more harm than good," he shared.
The royal also made claims about Camilla's relationship with the British press. "She was the villain, she was a third person in the marriage, she needed to rehabilitate her image... The need for her to rehabilitate her image... that made her dangerous because of the connections that she was forging within the British press," Harry said.
"And there was open willingness on both sides to trade information and with a family built on hierarchy, and with her on the way to being Queen Consort, there was going to be people or bodies left in the street because of that."
On Mental Health
Of the many bombshells that she had dropped in her interview, one of the most controversial topics that Diana highlighted was her mental health. In a brutally honest manner that was rare for the time, the royal opened up about having post-natal depression, bulimia, and self-harm.
She had also shared that instead of receiving help from the royal family, her mental health issues had actually caused her to be more isolated, saying that perhaps she was "the first person ever to be in this family who ever had a depression [sic] or was ever openly tearful."
"It gave everybody a wonderful new label — Diana's unstable and Diana's mentally unbalanced. And unfortunately that seems to have stuck on and off over the years."
In an excerpt from Spare, aired during his ITV interview, Harry paints a slightly more accepting picture of mental health within the royal family in recent years, where he recounts telling Charles about his issues, to which the monarch had replied, "I suppose it's my fault. I should have got you the help you needed years ago."
On Parenthood
Diana recounted to Bashir how she had personally gone to her sons' school to break the news of Charles' publicised admission of adultery, and how she was most worried about her children's reactions.
"My first concern was to the children, because they were able to understand what was coming out, and I wanted to protect them," she said. "William asked me what had been going on, and could I answer his questions, which I did [...] he's a child that's a deep thinker, and we don't know for a few years how it's gone in. But I put it in gently, without resentment or any anger."
In his interviews with ITV and CBS, Harry discussed how his father had visited him in bed at Balmoral Castle, to break the news of Diana's death as gently as possible. Now that he is also a father himself, the 38-year-old has a new-found compassion for the emotional turmoil that Charles must have been in at the time.
On Not Staying Silent
Perhaps the most striking of all in this look back through the years is the resemblance between mother and son, particularly in their refusal to be silenced. In Diana's interview, she had said that she had landed in trouble with the royal institution.
But despite being seen as "a threat," Diana said that her goal in doing the interview was never to take revenge on how she might have been wronged over the years. "I don't sit here with resentment: I sit here with sadness because a marriage hasn't worked. I sit here with hope because there's a future ahead: a future for my husband, a future for myself and a future for the monarchy," she remarked.
Similarly, Harry has reiterated through his book and interviews that he would like nothing more than to be reconciled with his family — but there first needs to be frank conversations about how to improve in the future.
"I have a lot of compassion and even understanding as to why certain members of my family need to have that relationship with the tabloid press. I do, I understand it. I don't agree with it, but I do understand it. And there have been decisions that have happened on the other side that have been incredibly hurtful. I wish that it would stop. I want reconciliation, but first there needs to be some accountability."