Rachel Lindsay Revealed How Her Bachelorette Finale Really Went Down
"Now, I wouldn't come back and talk about something if they paid me."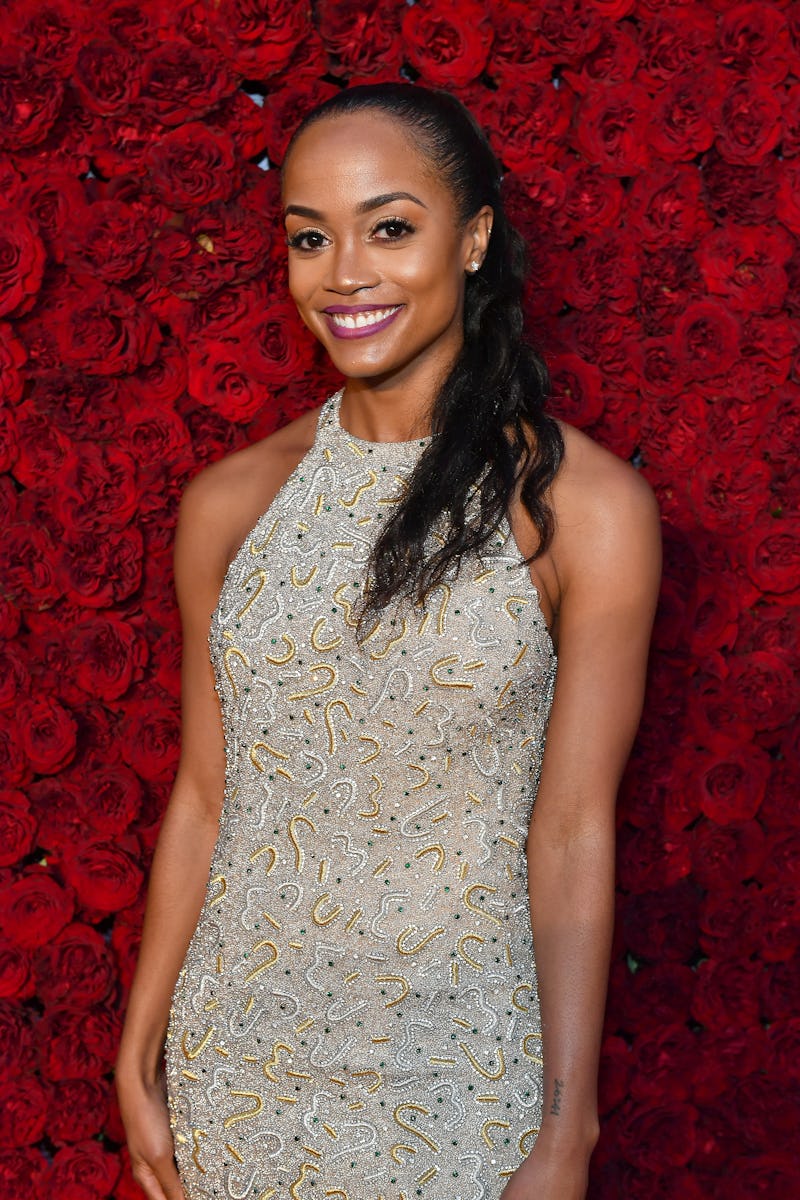 Paras Griffin/Getty Images Entertainment/Getty Images
Months after Rachel Lindsay's revelatory interview with former Bachelor host Chris Harrison that sparked his racism controversy, the former Bachelorette penned an op-ed for this week's New York Magazine cover story — and spilled a lot of tea about her time in the franchise. Lindsay opened up about her reluctance toward joining The Bachelor as a Black woman contestant and wrote extensively about moments in which she felt the show tokenized her and other people of color. She also claimed that Bachelorette producers unrealistically edited her season to make it seem as though she settled for her now-husband over Peter Kraus.
Noting that she found true love at the end of her Bachelorette season with Bryan Abasolo, Lindsay said the producers didn't show the same story on-air, portraying her now-husband as the runner-up. "There was a time, in the beginning, when I thought it could be [Peter]," she wrote. "Bryan was so charming, but viewers saw him as cheesy." A Latino man from Miami, Lindsay says producers portrayed him as a "playboy" and placed a heavy emphasis on his identity. "He told me he never felt more Latino than when he was on the show because of the way producers edited him and what they wanted him to talk about," she continued. "Practically every time he walked in, they played Latino music."
She added that while Peter was a fan favorite on the show, after a closer look, she realized he "didn't offer anything other than being a fine physical specimen," claiming that Bachelor Nation values goodhearted "mediocrity" in the show's contestants, especially white men. After producers set her up on a "contrived" date with Peter and his friends — two other mixed-race couples — Lindsay "felt exploited" by producers. On top of that, she didn't connect well with Peter's friends and began to lose romantic interest in him. After he chose not to propose despite claiming to love Lindsay, an infamous scene in her Bachelorette finale, she seemingly settled for Bryan, though she was interested in him the whole time.
In addition to times in which Lindsay felt exploited, she also described scenes from her Bachelor season that producers cut to protect her onscreen image, as they were already considering her to be the next Bachelorette. Reflecting on her formerly tense relationship with contestant Vanessa Grimaldi, she recalled a conversation in which she accused Lindsay of "bullying" and "ostraciz[ing]" her from the rest of the cast. Lindsay remained composed for the confrontation while Grimaldi was crying but hashed out her thoughts with producers afterward.
"I was bawling. I tried to explain, 'You do not understand what it is to be a Black woman in this house full of white folks and for a white woman to cry in your face and call you a bully.' Did she call any of the other women a bully? No, she picked me," she detailed. "One, because she knew I was a threat — Nick liked me the second most. Two, I felt she was projecting an unconscious bias onto me. I said, 'I hope y'all show this in its entirety.' An executive producer pulled me to the side and said, 'This will never air.'"
Remembering another scene in which she had consumed "two mixed drinks" and was heavily intoxicated, Lindsay said fellow contestant Astrid Loch held her hair back while they were in the bathroom. "They could've brought cameras in there. They didn't," she explained, noting that she was tired with "disheveled hair," resting her head on Loch's shoulder during that night's rose ceremony. "I wasn't always like that, but all it takes is one mess-up," she continued. "They could have taken those clips and depicted me as a wild Jezebel. They didn't because I would never come out on top."
While Lindsay's experience in the Bachelor franchise was clearly nuanced, she assured fans that she doesn't regret being the Bachelorette. However, she explained that if she could go back, she would further highlight other contestants of color in order to give them better storylines on the show, which she claims often shows Black men as stereotypically "angry, absentee, or worthless." But don't expect her to return to the franchise anytime soon: "Now, I wouldn't come back and talk about something if they paid me. Well, maybe if they paid me eight figures…"