7 Regé-Jean Page Moments Guaranteed To Make You Swoon
We must discuss the corset video.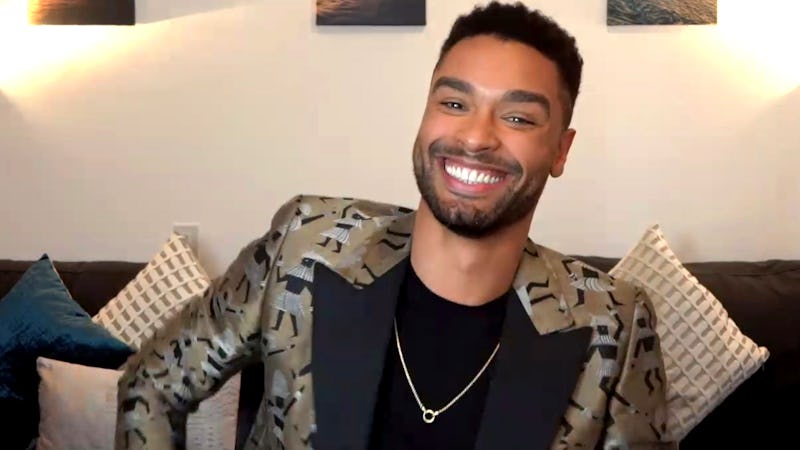 Getty Images/Getty Images Entertainment/Getty Images
Since starring on Bridgerton as the dreamy Duke of Hastings, Regé-Jean Page has captivated the world — in Regency garb and beyond, stealing hearts with memorable talk show spots, an SNL hosting gig, and plenty more to come. (Get excited for The Gray Man on Netflix.) The devastatingly handsome actor crushed Bridgerton fans when it became apparent that he would not return for Season 2. But if you have the Bridgerton blues after the announcement, don't worry: In addition to watching Page in other movies and TV shows, you can also check out some of his most swoon-worthy moments below.
"I Burn For You"
One of Page's most famous quotes, naturally, came from Bridgerton — an instant-classic love confession that put all others to shame and endeared us to Page forever. During the duke and Daphne's honeymoon, initially off to a rocky start, Simon cleared things up by telling his new bride, "I burn for you" in a passionate, fire-lit speech. There's a reason why this scene is among the most-viewed Bridgerton content, from YouTube to the show's official Instagram. The duke's dreamy declaration even inspired a TikTok musical moment. Of course, words could never do this scene justice, so watch it for yourself below.
Life's Like A Corset
If you felt the heat during Simon's steamy confession, you're not alone — Drew Barrymore is also a major Bridgerton fan and made no secret of that during Page and costar Phoebe Dynevor's appearance on her talk show. "Bridgerton is just unashamed of its own joy," Page said. "It's unashamed of its own indulgences ... a show that allows us to get close to each other, not just physically, but emotionally in ways that normally we are in some ways, mildly ashamed of. Releasing that corset, if you will, has been ... powerful at this moment in time." Did you catch the very end of that quote? Because Barrymore almost didn't, instantly fluttering her eyelashes and nearly blushing (same) at the mention of the corset. Skip to 8:27 to see for yourself.
Smoldering On SNL
During his February 2021 appearance on Saturday Night Live, Page leaned into his Bridgerton reputation in a major way — especially with that monologue in which he sang, unleashed the classic "burn for you" line, and won over the audience with a series of sensual zoom-ins. On stage, Chloe Fineman, Aidy Bryant, and Ego Nwodim's reactions said it all — they were physically flustered before they rushed off to rewrite some sketches since they were all apparently about Page "being an extremely hot sex man." But would that be such a bad thing?
More Singing
Viewers got a delightful snippet of Page's singing skills on SNL, first performing some "Unchained Melody" before diving into Olivia Rodrigo's "Driver's License" later in the show. But showcasing his singing chops wasn't just a bit — Page is part of a musical duo called Tunya with his brother, Tose Page. He belts out an emotional performance in Lanre Malaolu's short film Don't Wait, a gripping display that proves Page's voice beautifully backs up his acting skills.
His Emotional NAACP Image Award Win
On March 27, Page won his first major award for Bridgerton: Outstanding Actor in a Drama Series at the NAACP Image Awards. Not only was it heartwarming to see him accept the award in the passionate way we've come to know and love, but he was also audibly, gleefully shocked. Still, he took time to celebrate his Bridgerton team, fellow nominees, and those the win represents. "It is the highest honor, the highest honor — it is the highest honor to represent us," he said, "and the fullness of our humanity, of our beauty, of our joy, of our glamour, of our splendor, of our royalty, of our romance, of our love."
The Style Icon
Some of Page's most swoon-worthy sartorial moments can be found on his Instagram, where the Bridgerton star has shared everything from behind-the-scenes candids to stylish shoots in cozy turtlenecks. As Page told Who What Wear in December, "[fashion is] your first introduction to people and a very intimate way of expressing yourself."
"I think that is very much another part of [Bridgerton] as well is that it's important not to be bound by so-called rules of masculinity and femininity," he said. "In fact, the lines are so restricted that they make you unable to be your full self. And so I think the reason that mostly came to mind is to push at those forced lines and expose them for the lies that they are." Page continued, "It's allowed people to be a wider, more colorful, brighter version of themselves than they thought they could be before. I think that's what art, fashion, and culture are all about."
A Beautiful Bedtime Story
For the UK's Mother's Day on March 14, Page teamed up with CBeebies to narrate one of their Bedtime Stories installments, Smriti Prasadam Halls' Rain Before Rainbows. The story itself is a touching one about how tough times can precede beautiful moments. If you didn't get the message the first time around because you were too intently focused on the narrator, just give it another listen or two. The storytime moment is perfect for kids, parents, and those of us who are neither and just here for Page's calming vibe and storytelling.