Regé-Jean Page Explained Why He Had "Horrendous Coffee Breath" On Bridgerton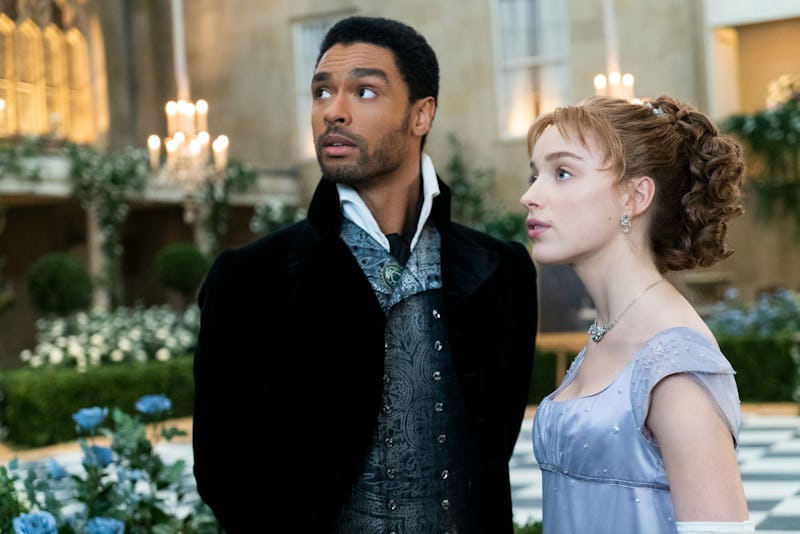 Liam Daniel/Netflix
You've heard about Bridgerton Boob — but apparently, there's such a thing as Bridgerton Breath, too. During a new interview with Stephen Colbert, Regé-Jean Page said he and Phoebe Dynevor both had "horrendous coffee breath" while filming their swoon-worthy scenes together on Season 1 of the Netflix series.
"We made a pact early on," Page explained. "That's one of the things you do. You approach your other actor, and you go, 'Hey, so, this scene's after lunch, what are our rules? Are we no onions, are we no garlic, do I have to get the coffee in early?'"
Ultimately, though, they decided against any coffee stipulations.
"We both were like, 'Actually, I really like coffee, so I don't mind that,'" Page recalled. "It was like, thank God! So we had a coffee-safe space, the whole way through that show."
So while it may not have smelled like roses and lilies, it sounds like the freshly brewed aroma didn't bother the stars too much. Dynevor actually mentioned the pair's mutual love of coffee in a 2021 Glamour interview. "We both drink a lot of coffee, so sometimes we both smell like that, which was fine," she said, adding that her scene partner is "unscented in a good way."
Page and Dynevor won't be reprising their roles as Simon and Daphne anytime soon. Page has been vocal about closing the Bridgerton chapter of his life, telling Variety he and Shonda Rhimes were "quite happy" with how things ended up. "I think we did so well on that redemptive arc, people forget that Simon was kind of horrific for most of that series," Page said. "He was the best example of a Regency f*ckboy that any of us have come across. And because we brought that round full-circle, because we stuck that landing, you're left with this great feeling. And I think you really do have to be brave about ending stories like that."
Dynevor, for her part, returned for Season 2 — but don't expect to see her during Colin and Penelope's love story. Dynevor recently told Screen Rant she wouldn't be back for Season 3 and was simply "excited to watch as a viewer" this time around.
While Simon and Daphne began Bridgerton's reign on Netflix, they were just one of the series' many love stories — which now include Kate and Anthony (Kanthony) and, in Season 3, Penelope and Colin (Polin, of course).