Sarah Jessica Parker Thinks Her Alleged "Catfight" With Kim Cattrall Is One-Sided
"I just wish that they would stop calling this a catfight ... There has been one person talking."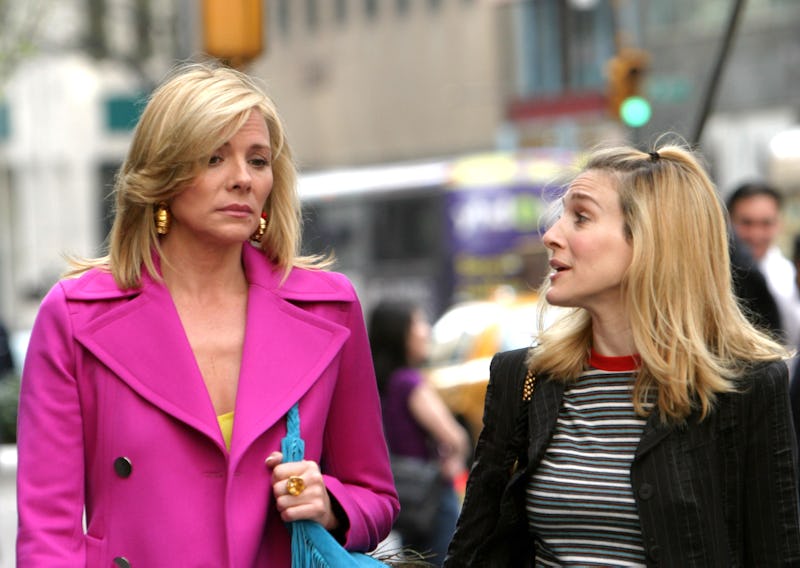 James Devaney/WireImage/Getty Images
Sex and the City fans know all about the long-running feud between co-stars Sarah Jessica Parker and Kim Cattrall, who play best friends Carrie Bradshaw and Samantha Jones. Despite the HBO series wrapping in 2004 and two sequel movies coming out by 2010, rumors and news about their strained relationship have kept surfacing over the years. Cattrall has been vocal about the way her castmates allegedly treated her, calling the cast "toxic" in 2017 and calling out Parker as "cruel" in 2018. Meanwhile, Parker has consistently denied the existence of a feud in recent years.
On June 2, Parker once again reiterated why there isn't a feud, a "catfight," or any fight at all. "It's so painful for people to keep talking about this catfight — a fight, a fight, a fight," the 57-year-old And Just Like That star said on THR's Awards Chatter podcast. "I've never uttered fighting words in my life about anybody that I've worked with, ever. There is not a fight going on. There has been no public dispute or spat or conversations or allegations made by me or anybody on my behalf. I wouldn't do it. That is not the way I would have it. So I just wish that they would stop calling this a catfight or an argument because it doesn't reflect actuality. There has been one person talking."
Parker found Cattrall's comments to be "very painful." Parker defended her own reputation by adding, "I've spent a lot of years working really hard to always be decent to everybody on the set, to take care of people ... and there just isn't anyone else who's ever talked about me this way."
After HBO Max announced its plans for SATC reboot And Just Like That in early 2021, the discourse about Parker and Cattrall's alleged feud flamed anew. When Samantha was notably absent from the reboot, despite the show consistently including her character only in dialogue and not onscreen, fans guessed why Cattrall was missing, concluding that she likely passed on the project like she famously passed on the third Sex and the City film. In May 2022, however, Cattrall opened up to Variety about not being invited to join the reboot. "I was never asked to be part of the reboot," Cattrall said. "I found out about it like everyone else did — on social media."
Parker, in her June 2022 THR podcast, also confirmed that Cattrall wasn't invited to join AJLT. "She made it clear that that wasn't something she wanted to pursue, and it no longer felt comfortable for us, and so it didn't occur to us. That's not 'slamming' her, it's just learning. You've got to listen to somebody, and if they're publicly talking about something and it doesn't suggest it's some place they want to be, or a person they want to play, or an environment in which they want to be, you get to an age where you're like, 'Well, we hear that.'"
Through the years, Cattrall has been adamant about not wanting to reprise her role as the fan-favorite PR executive after the second movie was made. "The answer was always no and a respectful, firm no," she said in a 2017 interview with Piers Morgan. "Me playing her, that I can assure you will never happen. For me, it's over. It's over with no regrets."
As for the alleged feud, Parker never acknowledged that there was any rivalry between her and Cattrall, even calling the rumored fight "fabricated" in 2018. But last February, Parker finally addressed their fraught relationship publicly via an interview with Variety. When asked if she would be OK with Cattrall joining AJLT, she said, "I don't think I would, because I think there's just too much public history of feelings on her part that she's shared."
Still, despite not inviting Cattrall, Season 1 of And Just Like That ended on a cliffhanger that leaves the door wide open for a Samantha comeback after Carrie and Samantha agree via text to meet up in Paris. It's unclear how AJLT is going to navigate that if there's actually no Samantha to meet up with (maybe she ghosts Carrie again), but after all that's transpired between the former co-stars, if Samantha does appear, it's unlikely that it'll be Cattrall playing her.