Every Bachelor In Paradise Couple Still Together After The Show
Apparently, you can find love on a beach full of singles on reality TV.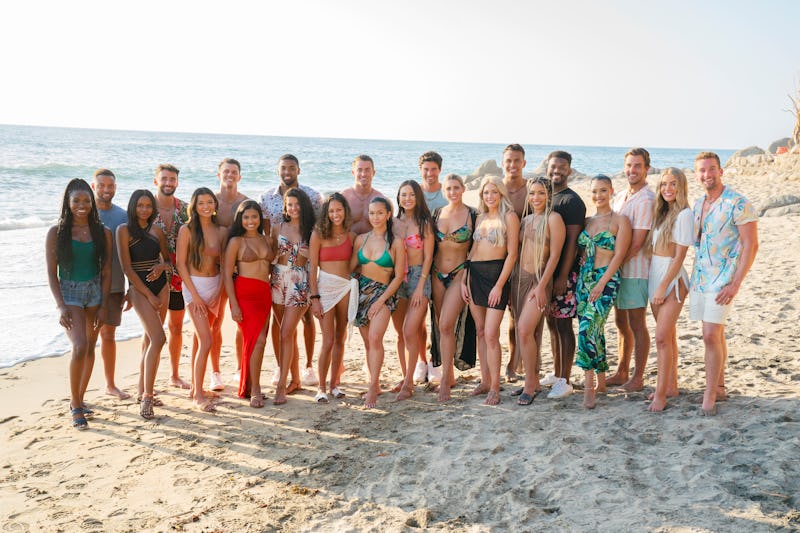 ABC/Craig Sjodin
Across seven seasons, Bachelor in Paradise has had its fair share of breakups. But for a handful couples, the process of searching for love on a sweltering beach in Mexico has actually worked. While not all of those couples remain together long after Paradise, there are still several relationships going strong. Here's everyone who's still together from Bachelor in Paradise.
Serena Pitt & Joe Amabile
Serena and Joe were one of the first couples to get together in Season 7, but they faced their fair share of adversity. An apprehensive Joe initially miscalculated how much being back on the beach would remind him of his ex-girlfriend, Kendall Long, who he met and fell in love with in Season 5. Still, he forged ahead with Serena. Just as the two began settling into their relationship, Kendall arrived on the beach and confronted Joe in an attempt to get back together. But there wasn't anything left to fix, causing a distraught Kendall to leave and allowing Joe and Serena to get closer. Serena revealed on the Bachelor Happy Hour podcast that she and Joe made plans to leave Paradise in a relationship, not engaged, but Joe decided to take the plunge and propose during the final rose ceremony. Kendall also returned for a final time to give Joe her final blessing, closing that chapter of their lives moments before Joe started a new one with Serena as his fiancé. The couple commemorated their engagement anniversary on Instagram in June 2022, and they took a trip to British Columbia in September.
Pieper James & Brendan Morais
By the end of their stint in Paradise Season 7, it was a little unclear what was on the horizon for Brendan and Pieper. She was a late addition to the season, coming in after Brendan had spent several episodes courting Natasha Parker, only to promptly switch to Pieper the second she got to the beach. The couple took their fair share of criticism for their actions and even left the show early when it appeared the rest of the cast had turned on them. Since then, however, the duo appears to be going strong. In July 2022, Pieper posted a video of the couple, titled "feelin' good," and in August, Brendan shared a video tribute, calling Pieper "the most amazing person in the world."
Mari Pepin & Kenny Braasch
Of the three couples that got engaged in Season 7, Kenny and Mari may have had the most turbulent journey. Their relationship started out as a love triangle involving Demi Burnett, but that mostly faded away after Mari threw Demi's birthday cake for Kenny into a bonfire. Then came Tia Booth, who arrived on the beach and pulled Kenny for a date that consisted of naked volleyball. Though Kenny and Tia had some chemistry, Kenny seemed intent on making things work with Mari. During a conversation later in the season, the future fiancés admitted to one another that they'd be happy leaving together, even if it was before the finale. They remained on the beach nonetheless, building their relationship and enjoying an odd date where they ate tacos off of each another. There didn't seem to be any apprehension by the time they got to their engagement ceremony; the only obstacle was Kenny and his "old bones" still being able to get down on one knee. Months later, the couple still appears to be going strong and appeared on the Dear Shandy podcast in September 2022 to discuss how they've made their relationship work.
Becca Kufrin & Thomas Jacobs
Coming into Bachelor in Paradise, Thomas was still shaking off the sour taste left by his departure from Katie's season of The Bachelorette, meaning that his reception on the beach was mostly polarizing. That didn't stop him from trying to pursue the likes of Tammy Ly and Serena P., only to ultimately find a connection with Becca Kufrin. When the former Bachelorette arrived, she and Thomas bonded almost immediately. In fact, their relationship seemed rock solid until the finale, when Becca got scared that their connection was too good to be true and dumped Thomas. It's understandable that she was wary, given that her last two Bachelor Nation relationships ended in heartbreak. But after the show finished filming, Becca and Thomas got back together, and she apologized for breaking his heart on national television. In May 2022, the couple officially got engaged, and in June, Becca took to Instagram to celebrate their 365 days together.
Abigail Heringer & Noah Erb
Abigail and Noah were the first to go on a date in Season 7, and for most of the season they seemed on the path to a strong relationship. However, once they started pressing each other for reassurance, the cracks started to show. They just couldn't get on the same page: Noah couldn't gauge how Abigail was feeling, and Abigail couldn't tell if Noah was who she really wanted. Ultimately, things came to a head in the season's penultimate episode, where Noah broke up with Abigail at a party thrown for the whole cast. Though viewers knew there was some tension, the breakup came as a shock, especially after the two were voted most likely to succeed as a couple in the real world by their castmates. Despite their tearful departure, the two found their way back to one another and are once again a happy couple. And they remain happy and together over a year later. In July 2022, Noah shouted out the couple's one year of engagement, and a couple of months later, Abigail posted a photo of Noah, captioned "my forever beach date."
Dean Unglert & Caelynn Miller-Keyes
Dean and Caelynn met on Season 6 of Paradise in 2019. After some drama involving Blake Horstmann, the two made a strong connection. But in the middle of the season, Dean decided he couldn't give Caelynn the type of relationship she was looking for and decided to eliminate himself from the show. However, Dean returned to the beach several weeks later and asked Caelynn to leave with him. She was initially hesitant, but Dean promised he was committed to giving a relationship a chance, and she eventually agreed before following him off the beach. Two years later, the two are still together, and Dean was even spotted wearing a wedding band in June 2020. However, he later clarified that it's simply a sign of commitment and he and Caelynn aren't legally married. In April 2021, they bought a house together in Las Vegas.
Dylan Barbour & Hannah Godwin
Dylan and Hannah also met on Season 6 of Paradise in 2019. At first, Hannah was torn between Dylan and Blake Hortsmann — yes, even after his messy love triangle with Caelynn and Kristina Schulman. But Dylan made clear that he only had eyes for Hannah, wooing her with an elaborate birthday date before eventually proposing. The two have been engaged since 2019 and are still together, and while no wedding date has been set, they did buy a house together in 2022.
Tanner Tolbert & Jade Roper
Tanner and Jade are the gold standard for a Paradise couple. They got together almost immediately during Season 2 of Paradise in 2015 and never strayed, choosing one another even as new arrivals came to the beach. After getting engaged at the end of the show, the two got married in a televised Paradise wedding in 2016 and now have three children together.
Kevin Wendt & Astrid Loch
Kevin and Astrid met on Season 5 of Paradise in 2018. Despite ending their relationship just before the Fantasy Suites portion of Paradise, they reconciled a few months later and got engaged in 2019. Their plans for a 2020 wedding had to be pushed back due to the coronavirus pandemic, but in the meantime, Astrid and Kevin welcomed their son Auggy in August 2021.
Adam Gottschalk & Raven Gates
Adam and Raven met on Season 4 of Paradise in 2017. Although many couples end their time on the show with an engagement, Adam opted not to get down on one knee, instead choosing to explore his relationship with Raven a little further outside of the show. Nearly two years later, Adam did ultimately propose to Raven, and the two finally got married in April 2021 after having to postpone their wedding three times amid the pandemic. And in January of 2022, they welcomed their son Gates.
Jared Haibon & Ashley Iaconetti
Jared and Ashley had a will they, won't they romance straight out of a rom-com. After meeting on the second season of Paradise in 2015, Ashley fell hard for Jared, but he simply didn't seem as interested in her. Their relationship from there is so complicated that they released a 45-minute explainer video in 2018, but the long and short of it is that Jared kept waffling about his feelings for Ashley and was hesitant to move their relationship fully from friendship to romance. It was ultimately worth the emotional back and forth: The pair got engaged in 2018 and tied the knot in August 2019 during a ceremony in Rhode Island. In January 2022, the couple welcomed their first child, Dawson Demitri Haibon.
This article was originally published on