Courteney Cox's Relationship With A Famous Musician Is Still Going Strong
The Scream star reconciled with her former fiancé in 2016, "and it's actually better than it was before."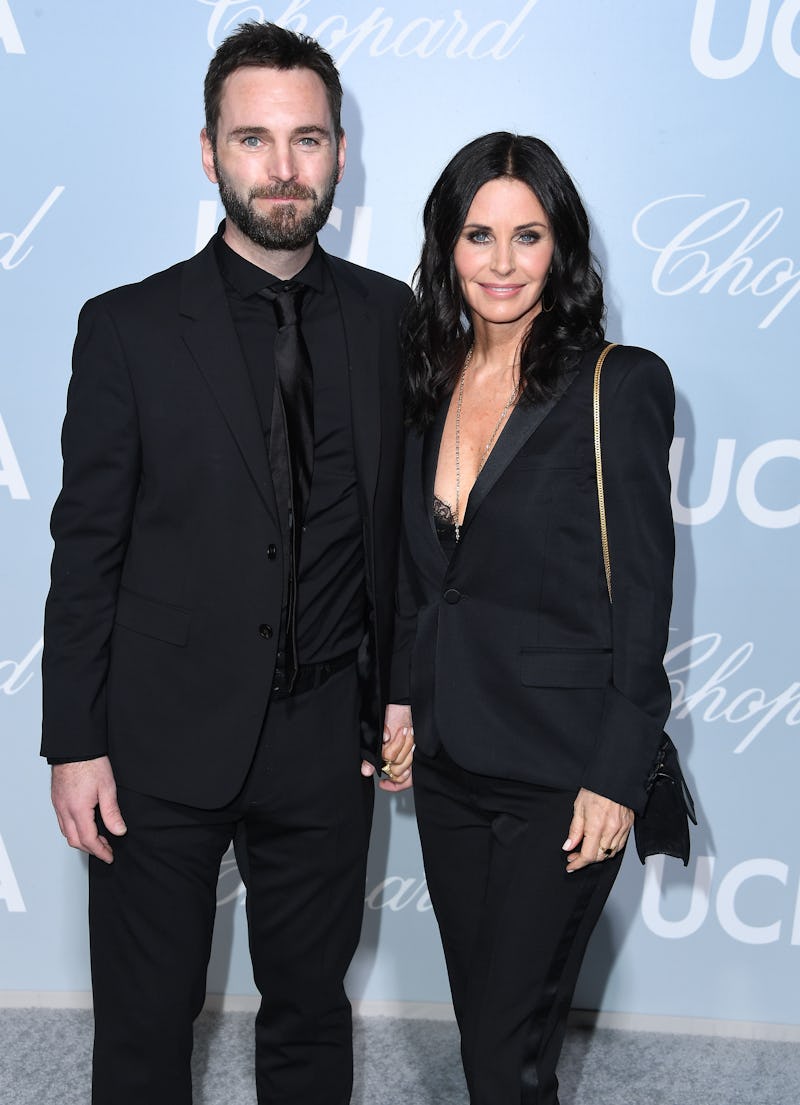 Steve Granitz/WireImage/Getty Images
Things haven't always been easy for Friends alum Courteney Cox and her rocker boyfriend Johnny McDaid of Snow Patrol and Vega4. From an ended engagement to a lengthy break in their relationship, the two have endured a lot. Now, as Cox returns to the big screen in 2022 to reprise her role as Gale Weathers-Riley in the latest installment in the Scream film franchise, her fans are wondering how their relationship is doing. Well, it seems as though their bond is still strong.
The two reportedly spent both Christmas and New Year's 2021 together at Lough Cutra Castle, a stunning 600-acre estate in McDaid's native Ireland. While a representative for the locale wouldn't comment on whether the stars were there, several people spotted them. Cox and McDaid made sure to savor their time together in 2021 after the lovers spent nine months apart in 2020 because McDaid was stuck in England and Ireland due to COVID-19 travel restrictions. Cox passed the time doing TikTok dance challenges, learning to cook, and FaceTiming McDaid until the two reunited.
"He's not my fiancé. We were engaged to be married, but now we're just together. We broke off our engagement ... and it's actually better than it was before."
In 2021, Cox and McDaid were also snapped by photographers heading into celebrity-adored Malibu hotspot Nobu in November. Cox also took to Instagram around the same time to congratulate her love on his Grammy nomination for Song of the Year. The Snow Patrol star often writes songs for other artists in his spare time, including for Cox's longtime friend Ed Sheeran, and McDaid and Sheeran co-wrote and co-produced Sheeran's nominated hit "Bad Habits."
Cox and McDaid began dating in late 2013 after Sheeran introduced them at Jennifer Aniston's holiday soiree. Sheeran and McDaid were once roommates, and McDaid is credited for co-writing seven songs on Sheeran's Multiply album and eight songs on Divide, including hits like "Photograph" and "Shape of You."
The former Friends star also recently traveled with McDaid to the Isle of Wight for a music festival, where Snow Patrol was playing in September 2021. In the VIP area, Cox took time to meet fans and even take several selfies, including one with a security guard working the event. A few days before they embarked to the island, Cox shared a photo with her man, captioning the Instagram post with, "1st night in London with my @jmd_snowpatrol."
After Cox and McDaid started dated in 2013, they announced their engagement in January 2014. Cox tweeted, "I'm engaged to him!" while sharing an intimate photo of her and McDaid. He shared the same picture with the message, "I'm engaged to her!"
Later, Cox described how McDaid proposed to her on Jimmy Kimmel Live! Her daughter Coco apparently helped plan the special moment that took place at Aniston's house. Cox recalled: "Johnny first asked Coco. He said, 'I'd like to marry your mom' and gave her a little diamond ring and got on his knee. And she said, 'Great! I'm going to camp tomorrow. Let's do it right now! It was just beautiful. No one knew this was gonna happen 'cause it was just a dinner for me and Coco."
In a surprising turn of events, Cox and McDaid called off their engagement one year later.
Following their split, Cox was linked to her Friends co-star and onscreen love interest Matthew Perry. The rumor was especially juicy because Cox and Perry's Friends characters eventually married. While at the time it was reported that Perry had "always been in love" with Cox, it appears that a real-life relationship never actually materialized between the two, per Us Weekly.
Not long after their separation, Cox and McDaid publicly confirmed their reconciliation as a couple with a red carpet appearance at the 2016 BMI Pop Awards, where Snow Patrol was honored with the BMI Million-Air Award. During an appearance on The Ellen DeGeneres Show that year, she explained, "He's not my fiancé. We were engaged to be married, but now we're just together. We broke off our engagement ... and it's actually better than it was before."
This article was originally published on