These 4 Zodiac Signs Should Prep For December's Full "Cold" Moon
A few of us will simply not be vibing.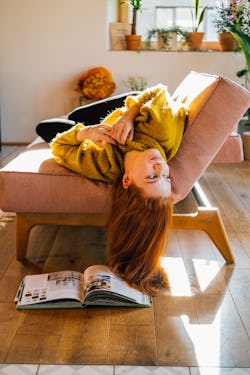 Counter/Photodisc/Getty Images
It seems like closing out the year can't come soon enough. But we can't quite break out the party horns just yet, because the December 2021 full cold moon is pressing us to finally face those uncomfortable conversations we've been methodically avoiding. This full moon will take place in the quick-witted and shapeshifting sign of Gemini on Dec. 18, giving us all a reality check as we fine-tune our communication skills. And if you're one of the zodiac signs most affected by the December 2021 full cold moon, you may feel these revelations a lot heavier as you navigate uncomfy head-to-head encounters and meticulous self-reflection.
According to astrology, full moons indicate a time of completion, emotional release, and dramatic tension. Because this full moon is moving into Gemini, aka the communicator of the zodiac, some signs may notice a bit of extra pressure surrounding expression and how they articulate their thoughts and ideas. This lunation is all about facing those unpleasant or even hard discussions, so it's important to put focus on making proper adjustments to communication style to avoid mishaps.
The celestial theatrics of the full moon is hardly a one-man show, as it comes just before the dramatic Venus retrograde on Dec. 19, which puts a bigger strain on our social lives. To better prepare for the cosmic mayhem that will ensue, it's a good idea to look closely at the quality and sustainability of your relationships.
If the thought of confrontation or tough talks fills you with dread, you might find solace in knowing that they're meant to help you grow and improve the quality of company and even self-expression — even if it doesn't seem like it at first. Read on to find out if you're one of the zodiac signs most affected by the December full cold moon, and how to get through it with grace.