21 Questions That Can Help You Find Clarity In Your Relationship
BTW: It's normal to feel unsure.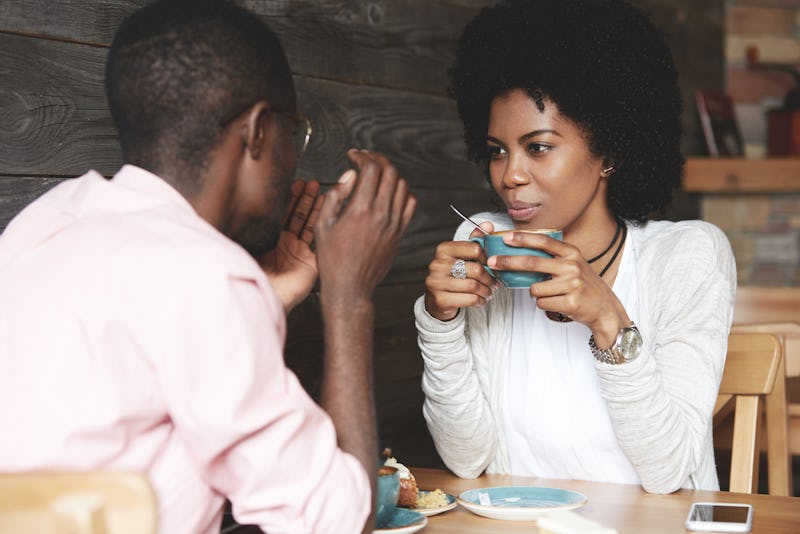 WAYHOME studio/Shutterstock
It's only natural to occasionally feel unsure about your relationship. It'll most certainly happen in the early days of dating when you're still deciding if you're right for one another. But it can also happen months or years down the line where one day you wake up and ask yourself, "Am I truly happy?"
While it can come as a shock, it isn't a question you'll want to ignore. In fact, "you should use the doubts and/or negative feelings you are having as a signpost indicating the need to take a pause and reflect," Kate Engler, LMFT, a licensed marriage and family therapist, tells Bustle. Jonathan Bennett, relationship and dating expert at Double Trust Dating, echoes this. "If you are feeling uncertainty about a relationship, it's important that you address the reasons for those feelings," he tells Bustle. "Usually, it's your gut telling you that there are unresolved problems."
Once you take a closer look and ask yourself a couple of questions, you may uncover why you aren't feeling totally sure about your relationship. Perhaps you and your partner need to learn how to communicate, find better ways to compromise, or offer each other more support. If you have an honest heart-to-heart and notice serious change, the doubt can fall away with time.
That said, you might realize that you feel unsure about your relationship because there are deep, unfixable problems, a lack of compatibility, or other toxic traits that you don't want to live with anymore. And that's OK. To determine the future of your relationship, take a step back and ask yourself a few of the questions below, which experts say may help you gain more clarity about the future of your relationship.
Sources:
Kate Engler, LMFT, licensed marriage and family therapist
Lesli Doares, couples consultant and coach
Shannon Gunnip, LMHC, licensed mental health counselor
Melissa M. Snow, relationship coach
Meredith Prescott, LCSW, psychotherapist
Dr. Benjamin Ritter,, life coach
Ann Ball, relationship coach
Dr. Molly Giorgio, licensed clinical psychologist
Jonathan Bennett, relationship and dating expert
This article was originally published on