June's New Moon Will Hit These 4 Zodiac Signs The Hardest
The mutable signs are feeling it.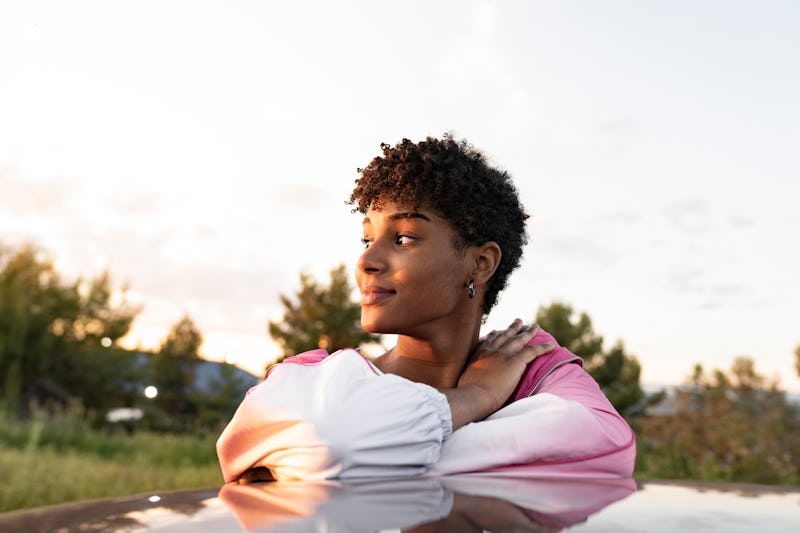 Westend61/Westend61/Getty Images
Eclipse season and Mercury retrograde are currently overlapping during Gemini season, and all the astrological chaos peaks on June 10 during the June 2021 new moon. This lunation is also a solar eclipse, which means it's even more powerful than a regular new moon — and the changes it heralds in will hit us even faster and harder than usual. Eclipses almost always bring about sudden new beginnings and twists in our path, but for the zodiac signs most affected by the June 2021 new moon eclipse, things might feel even more intense.
During this lunation, the sun and moon will align in the air sign of Gemini (one of the most communication-focused signs of the zodiac), which inspires us to get more inquisitive about our lives and the world around us. Right now, we're asking questions and refusing to let details slide in hopes of gaining a better understand of ourselves. This curious and mentally-focused energy is emphasized further by the fact that the new moon eclipse is forming a conjunction aspect with Mercury retrograde — an alignment that encourages us to spend time reviewing and revising our plans before moving forward. The dramatic planetary weather is likely to make it hard to make clear sense of everything that's happening, so trust your intuition and pay attention to all the new information that's surfacing before making any major decisions.
Gemini is one of the mutable zodiac signs, and with the eclipse taking place here, it's activating a lot of sensitive and significant life changes for the rest of the mutable signs, too. If you're one of the zodiac signs most affected by the June 2021 new moon eclipse, get ready.
Get ready to meet a new side of yourself, Gemini. This eclipse is taking place in your first house of self, which is directly related to your ego, identity, and manner of expressing yourself. That said, you might be undergoing some serious changes when it comes to who you are and how you show up in the world. It's OK to embrace different bits of your personality — let go of the need to please others and simply practice being yourself wholeheartedly. The real MVPs will support you in your quest for authenticity.
Your professional life is undergoing a period of change right now, Virgo, because this eclipse is hitting your house of career and public image. That said, you might find that you're suddenly exploring new avenues in your work life — whether that's in the form of growth opportunities within your current gig or possible openings in an entirely different field. Keep your options open and don't make any final decisions just yet. Shifts will happen quickly during this eclipse, but you'll want to wait until you have all the information you need before setting anything in stone.
Things are changing in your relationships right now, Sagittarius, and you're having to quickly learn how to adapt to the needs and desires of other people. With the eclipse in your house of commitment and partnerships, this is a period of flux when it comes to the way you relate to the people closest to you. Whether it's your partner, your boss, or your best friend, you'll find that honesty and transparency is the best policy. Open new channels of communication within your one-on-one connections and watch as things flourish.
With the eclipse shaking things up in the home and family sector of your chart, Pisces, you might find that your personal life is in a state of flux. And while the changes may feel destabilizing, they'll ultimate lead you to a more solid place. Seize opportunities to connect with loved ones or people from your past in a new way that allows you to heal old wounds. It's also a great time to embrace the possibility of living in a new place or changing something about your home life — perhaps a move, a home upgrade, or a redecoration session could help you feel more secure in your sanctuary.