All The Major Astrological Events Happening In June
Eclipse season and retrograde season are in full force.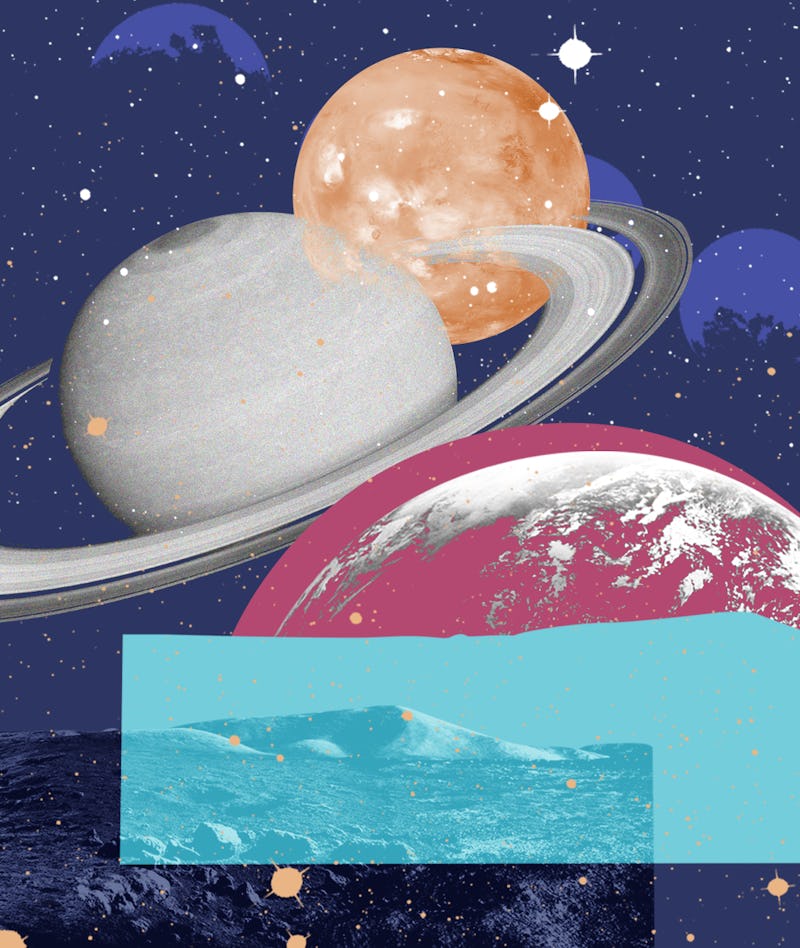 This month in astrology brings all kinds of exciting blessings, including the first day of summer and the end of the current Mercury retrograde period: Shot girl summer, here we come! But the magical astrology of June 2021 also comes with a side of mischief, as it'll serve up a solar eclipse, some intense planetary square-offs, and the start of two more retrogrades. The major astrological happenings in June 2021 are sure to affect all zodiac signs, so you'll want to mark your calendar for some key cosmic dates.
We kick off the month still in the thick of Gemini season 2021, which climaxes during the new moon solar eclipse in Gemini on June 10 and is amplified by Mercury retrograde spring 2021 (which is also in Gemini, the planet's home sign). But we'll also feel the airy vibes shifting, thanks to love planet Venus and action planet Mars switching signs within the first half of the month.
Our souls get a little more sensitive once Cancer season 2021 rolls around on June 20, which also marks the first day of summer. During this final third of the month, we'll bid adieu to Mercury retrograde (yay), but will welcome two more retrogrades in its place (womp womp). All said and done, by the end of the month, four out of the five transpersonal outer planets will be backspinning — meaning retrograde season is in full swing.
Ready for your June 2021 astrological overview? Read on.
Gemini Vibes & A New Moon Eclipse On June 10
The first few weeks of this month comprise the bulk of Gemini season 2021, which has us flitting from one social activity to another and multitasking on projects with more mental energy than usual. Communication planet Mercury is also in Gemini for the duration of the month (although its current retrograde period may prevent us from reaping the sharp-witted and socially-smooth benefits of this transit).
On June 10, we'll be blasted with an added dose of Gemini's airy energy via the June 2021 new moon, which is also the year's first solar eclipse. During this lunation, the sun and moon in Gemini will align with mentally-focused Mercury — making us feel extra communicative and curious about the world around us. As the last major lunation of the spring season, this new moon eclipse encourages us to keep an open mind to all the changes that eclipse season is ushering in.
Saturn Square Uranus On June 14
On June 14, we'll experience the second of three consecutive Saturn/Uranus squares that are taking place throughout the course of 2021. This planetary connection only happens about once every 20 years (the last ones took place in 2000), and they're likely to create some serious clashes and shifts when it comes to blending old structures with new ways of thinking. Saturn is the planet of rules, so during the course of these tense square aspects, its restrictive energy will try to find ways to maintain tradition and cling to the past. Meanwhile, rebellious Uranus (planet of sudden change) will encourage shake-ups of the status quo and futuristic innovations.
This aspect challenges us to be more progressive and question the authority figures in our life, while also completely rethinking what's possible as a collective. This could manifest as changes to the foundational elements of our lives or society at large that'll force us to face the future in some way. Pay attention to these vibes, as they'll be echoed back to us one more time in December, during the final Saturn/Uranus square of the year.
Emotional Wave Of Cancer Season
Venus enters Cancer on June 2, which softens our hearts and makes us extra sentimental about love, even with intellectual Gemini season in full force. This gentle and romantic energetic shift serves as a precursor to the sweet vibes flowing our way later in the month — as June 20 marks the first day of Cancer season 2021 and the first day of summer. This major solar shift into the emotional territory of water sign Cancer puts our feelings at the forefront and makes everyone more sensitive and protective of their energy. It's a good time to connect with family or close friends who you haven't been able to spend time with and plan some fun summer nights at home.
Full Moon In Capricorn On June 24
Days after Cancer season begins, we'll experience the first full moon of the summer on June 24. The June 2021 full moon rises in earth sign Capricorn, which is imbuing us with a newfound sense of discipline and putting a focus on our careers and work lives. This productive and hardworking vibe is perfect for putting a fire under our summer plans or bringing things in your professional life to an exciting climax.
June's full moon (which is also known as the annual Strawberry Moon) is also considered a supermoon by some definitions, which makes it the final supermoon of 2021. During a supermoon, a full moon peaks at a closer-than-usual proximity to the earth, making it look extra big and bright — and causing its energy to feel even more potent. The last full moon was a chaotic eclipse, which meant it wasn't a good time for any moon magic — so make sure to do some full moon manifesting this time around to make up for it!
Retrograde Season: Endings & Beginnings
In case you hadn't already noticed, Mercury retrograde spring 2021 spends the majority of June crossing our wires when it comes to mental and logistical matters. But cause for cosmic celebration is nigh, as Mercury will station direct on June 22 — putting an end to its retrograde antics and allowing us to resume some sense of normalcy within communication, timing, and tech.
However, during that very same week, both Jupiter and Neptune will begin their annual retrograde periods — which means that four out of five outer planets will be backspinning by the end of June. Thankfully, both Jupiter and Neptune's retrogrades are relatively chill. Jupiter retrograde 2021 on June 20 will help us to expand our minds, allowing us to integrate paradigm shifts and new philosophies on life. Neptune retrograde 2021, which begins on June 25, will pull down the veil on our fantasies, allowing us to see reality without the rose-colored glasses.
A Steamy Shake-Up For The Love & Sex Planets
Romance planet Venus and sex planet Mars — known collectively as the love planets in astrology — are steaming things up for us this summer, starting in June. That's because both planets are entering the flashy and fabulous fire sign Leo this month, which makes all zodiac signs feel more bold and expressive when it comes to romance and sexual connection. Goal-oriented Mars leads the way, entering Leo on June 11 and inspiring us to get more forward about our feelings. Venus follows suit on June 27, giving us a glamorous edge and a craving for romantic drama.
Venus and Mars' collective entry into Leo territory marks the lead-up to July's Venus/Mars conjunction, which will be a sexy and starry-eyed reset for our love lives — so pay attention to the vibes.