3 Zodiac Signs Most Affected By The Full "Strawberry" Moon
Rock the boat — don't tip the boat over.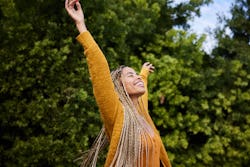 Goodboy Picture Company/E+/Getty Images
Whether you've got a bad case of wanderlust or are on a quest to expand your horizons, the next lunation is here to scratch your adventure itch. Illuminating the skies on June 14, la luna moves into philosophical Sagittarius, inspiring the collective to take the big ideas cooking up during Gemini season and take action on our goals. When it comes to the zodiac signs most affected by the 2022 June full moon, these shifts come with a bit of discomfort to help them move closer to defining their truth and their soul's purpose.
In astrology, full moons are about bringing things to completion. It's a period of high energy, intensity, and hypersensitivity to emotions — so while it can be chaotic, it's also a great time to tie up loose ends, finalize projects, and even manifest your dreams. The June 2022 full moon moves into brutally honest Sagittarius, inspiring us to take risks and explore new heights, but those zodiac signs affected the most will find that it takes stepping out of their comfort zones or sacrificing habits in order to get there.
This lunation is all about expansion and exploration, which can be an intense journey for some. Read on to find out if you're one of the select few zodiac signs most affected by the June 2022 full moon.