11 Starbucks Hacks To Upgrade Your Classic Holiday Drink
Including a DIY a Gingerbread Latte!
by Mia Mercado and Lauren Grant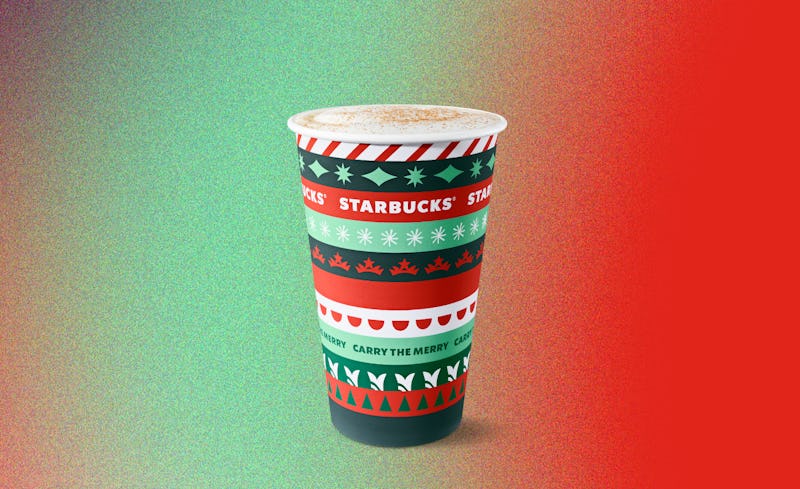 Starbucks has long established itself as the go-to for festive winter drinks. From Starbucks' special holiday cups to its announcement about which holiday drinks are coming back, you'll have to work hard to not hear about the 'bucks this season. If you're looking to spice up your standard order and indulge in some Starbucks holiday drink hacks, welcome. We've got just the orders for you.
The Starbucks secret menu is so well-known, calling it "secret" is more misnomer than secret code. Aside from your standard "sub in a pump of this for a pump of that," the Starbucks secret menu has expanded to include its own drink names and subcultures. There's the Starbucks secret menu Butterbeer Latte. There's the Jack Skellington Frappuccino, complete with espresso, chai syrup, whipped cream, and java chips. There's even a Maleficent Frappuccino, a Starbucks drink sweet enough to turn even the baddest Disney villain good.
In other words, if you're looking to make your classic holiday drink even better, you've got options. And those options have options. But before we dive into the drinks, a kind reminder to be kind to your barista. Tip them generously. Say "thank you for indulging in my buck wild drink order." Now, let's get into the drink hacks.
Get creative with how you choose to quench your holiday thirst and happy sipping!
This article was originally published on