19 Frappuccinos You Can Order Off Starbucks' Secret Menu
The Strawberry Shortcake Frapp will be your new fave.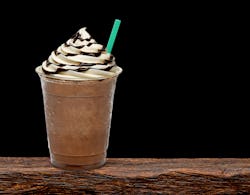 Shutterstock
There is a secret menu Frappuccino for most every occasion. Feeling spooky? Try the Starbucks IT Frappuccino, inspired by the nightmare fuel that is Pennywise. In the mood to dine like a Disney villain? Perhaps the Maleficent Frappuccino is more your style. Want to get caffeinated while repping your love for Friends? Yes, there is even a Friends Frappuccino for you. If you're looking to switch up your order, a Starbucks secret menu Frappuccino is a great place to start.
As you may have gleaned from the first three examples, many of these secret menu items are inspired by fandoms across the pop culture spectrum. There is both a Jack Skellington Frappuccino and a Frappuccino inspired by Sally from Nightmare Before Christmas. When Pokemon Go was taking over our lives in 2016, it also took over our drink orders with a Pokemon Go Frappuccino. There's even a Winnie The Pooh Frappuccino thanks to @CoffeeFanatics on TikTok.
So long as you're willing to shell out a little extra for add-ons and bold enough to look another person in the eye and say, "I'd like a Pooh Bear Frappuccino please, thanks" the Starbucks drive-thru line is your caffeinated oyster. Here are 19 secret menu Frappuccinos worth your time at Starbucks. If you want a more extensive list, check out the non-official Starbucks Secret Menu website.
The implied final step of each of these drinks is to thank your barista profusely and tip generously. Happy caffeinating!