5 Zodiac Signs That'll Get Lucky During The Holidays
The following signs won't be on the nice list this year.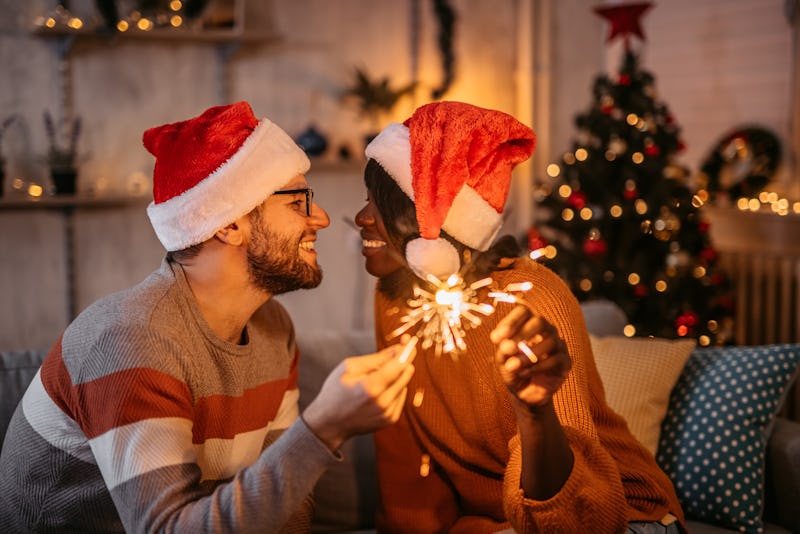 urbazon/E+/Getty Images
According to the stars, Santa won't be the only one coming this holiday season. Astrologers predict that five special zodiac signs may be getting lucky over the winter holidays. Regardless of whether or not your sign is destined to get down and dirty under the mistletoe, everyone will have something to look forward to when it comes to love, sex, and romance before the year ends.
To start, the energy from the November 2021 lunar eclipse in Taurus will bring some extra attention to our sex lives. "It invites all of us to shed any blocks to intimacy and find our way back to sensual pleasure," astrologer Celeste Brooks, tells Bustle. "So if sexy left, bring it back! The Scorpio Sun will shine a light on our deepest desires. The Taurus Moon will prompt our subconscious to satisfy our physical senses."
In early December, the solar eclipse in Sagittarius will bring one more chance for "magic" before the new year. If you're a Sagittarius, you'll be feeling it most. "Jupiter, the planet of luck, rules your sign, so the possibilities are endless," Brooks says. It'll be the last eclipse in Sagittarius for 19 years, so archers, take advantage of all that lucky energy and put yourself out there.
The same goes for Taurus and Scorpio. According to Brooks, "Eclipses are intense lunations that can bring unexpected seismic changes when visiting our zodiac sign. Taurus, Scorpio, and Sagittarius sun signs should stay ready for a potential meet-cute with a sexy stranger." If you receive an unexpected invitation, be sure to say yes.
Fortunately, these aren't the only signs that will be blessed by the stars. Here are the zodiac signs most likely to get lucky during the holidays, according to astrologers.
Sources:
Celeste Brooks, astrologer
Elisa Robyn, PhD, an astrologer and astrology transitions consultant
This article was originally published on