5 Zodiac Signs That Are Most Likely To Cheat & Hide It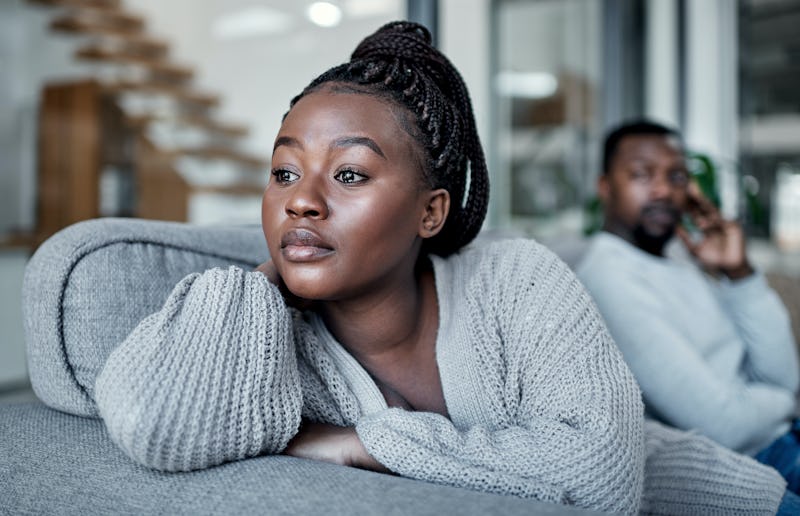 PeopleImages/E+/Getty Images
When you think about which zodiac signs are most likely to cheat, chances are, you probably have one or two that immediately come to mind. Sorry, Gemini. The reality is, all zodiac signs have their share of cheaters. But some zodiac signs are more likely to cheat than others, and some will even go the extra mile to make sure that they don't get caught.
"We all have our needs in a relationship, but for a number of people, faithfulness is their highest priority," astrologer Cindy Mckean tells Bustle. "Since we can't help who we fall in love with, sometimes we fall in love with people that are prone to being unfaithful."
To understand why some signs cheat more than others, it's important to know the basics of each sign. In the zodiac, there are three "main modalities," or ways in which a zodiac sign's characteristics are experienced, expressed, or approached. Cardinal signs (Aries, Cancer, Libra, and Capricorn) typically like taking the initiative. Fixed signs (Taurus, Leo, Scorpio, and Aquarius) like to keep the status quo, and mutable signs (Gemini, Virgo, Sagittarius, and Pisces) tend to be very adaptable.
Because of this, fixed signs are much more likely to stay faithful in relationships than everyone else. "These are signs that generally do not like change. One of their main roles in their existence is stability," Mckean says. "That's not to say that all of them will only be faithful — we're all subject to the complex nature of being human — but there's a much higher chance of fixed signs being faithful than other signs."
Of course, not every person who falls under a certain sign is destined to be unfaithful. Digging deeper into someone's birth chart can give you a better idea of how likely it is for them to cheat. But if you're just looking at sun signs, here's a rundown on the five most unfaithful signs in the zodiac.
If you're dating any of the above "cheater signs," you don't have to worry. Just because they're known for cheating, it doesn't mean your partner is going to cheat eventually. So many other factors go into whether or not a person will cheat. When it comes to astrology, some people may have other aspects in their birth chart that can possibly counteract the cheater effect of their Sun sign. But at the end of the day, anyone is capable of cheating. It doesn't matter which zodiac sign you are. Gemini, Scorpio, Libra, Pisces, and Aries are just the select few who are more likely to do it and will try to hide it.
Sources
Cindy Mckean, astrologer
Amy Tripp, astrologer
Clarisse Monahan, astrologer and owner of Venus in Retrograde
This article was originally published on